Friday, 6/27/2014, I took the day off from work to do some largemouth bass fishing. Bass fishing never ceases to amaze me. Every time I think I've had the best day of bass fishing I somehow manage to top it. I set out Friday morning with only two rods. One with a top water frog, and the other with a green pumpkin chigger craw jig. With all the pop up storms we have had recently producing torrential downpours I was a little nervous the lakes would be muddy. Fortunately the lake I chose was fairly clear with 1-2' of visibility.
At this point in the year, weeds and algae are in full force which can make the fishing a little more difficult. Bass will often relate to weed lines so getting your bait in and on the edge of these weeds can be essential. This often leads to picking weeds off your bait after each cast. Here's a couple techniques I've picked up over the years for dealing the weeds.
One, if you feel your bait hit weeds, don't yank the bait but simply just apply slow pressure. Yanking the bait in a hook setting fashion to free it only uproots the weeds leaving them attached to your bait. Applying slow pressure can sometimes free your bait without ripping the weeds out. Of course this isn't full proof, some types of weeds are tougher to deal with than others, but does help in my experience. This also keeps your bait looking more realistic and not screaming through the water potentially spooking fish.
Two, if you do pull in a ball of weeds try slapping your bait on the surface of the water. This can sometimes free the weeds from your bait. Again this is not full proof but can be much quicker than picking the weeds off with your fingers. Of course I don't advice this method if you are in a situation where stealth is essential. This is best utilized if sitting in deeper water far away from the bank or whatever you might be fishing.
Anyway, on to my day of fishing. When I arrived the water temperature was already a warm 82 degrees. As I often like to do I started out throwing the frog in the shallows searching for any active bass. After 30 minutes with no bites on the frog I made the switch to the jig. Another 30 minutes went by before I got my first bite of the day on jig. As I set the hook I felt my bait bury into a snag. After freeing my jig I continued on. Two hours went by without a single bite. Thoughts of "post spawn funk" were going through my head. At this point I decided it was time to step out of my comfort zone and try something different. After digging through my tackle box I came out with a chartreuse spinnerbait. I liked the idea of the spinnerbait as I could fish it at various depths and it was a bright color versus the natural color I had been using. 30 minutes went by with no bites on the spinnerbait. This day wasn't looking good.
Finally I got my first bite on the spinnerbait. As I set the hook I felt nothing. I dropped my rod tip back down and reeled up the slack when I felt the pressure of a fish. I set the hook and the fight was on. It didn't feel very big at first but as the bass surfaced for its first of many leaps I found that it was much bigger than expected. I worked the bass back in forth beside my nucanoe as I reached down for my net all the while fearing the hook popping free. I quickly guided the bass into my net. I hadn't caught a fish in over 3 hours of fishing and just like that I had a 20.5" 3lb 13oz largemouth in my grasp.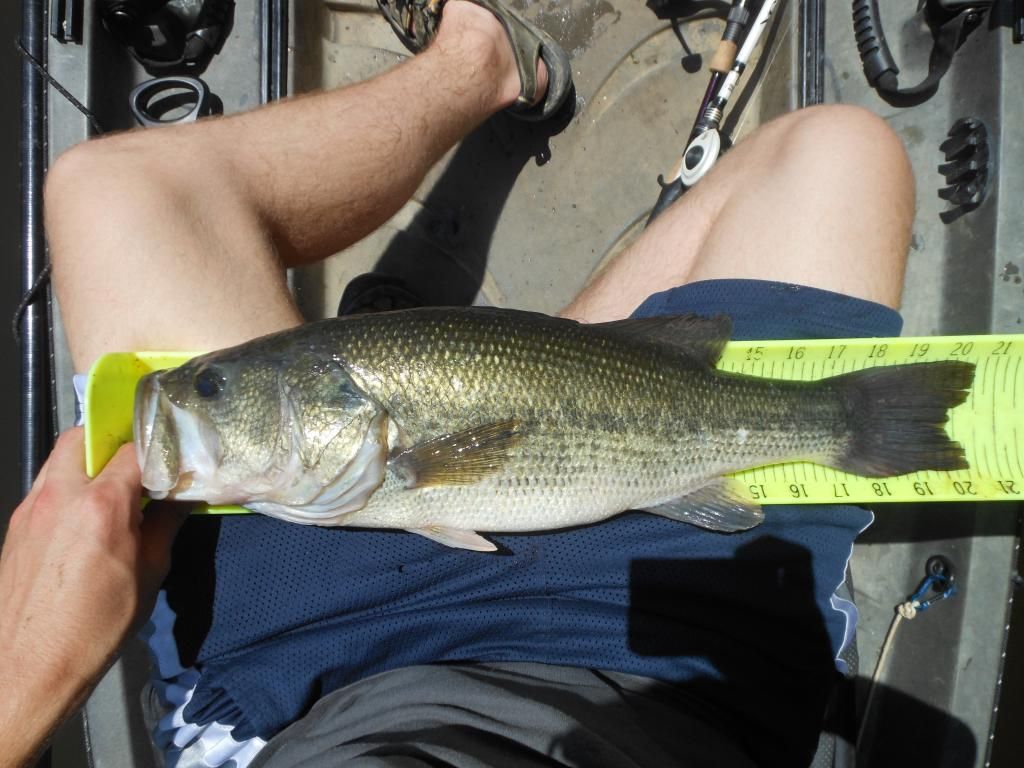 20.5" 3lb 13oz Largemouth Bass
20.5" 3lb 13oz Largemouth Bass
20.5" 3lb 13oz Largemouth Bass Release
My day had went from potential skunk to great in an instant. I continued on casting the spinnerbait. Five casts later in nearly the same spot I had another strike. This time I had a good hook set from the get go and immediately knew this was another nice fish. It took off down the bank and pulled me face first into an overhanging limb. I held on to my rod with one arm behind me while I tried to free myself from the limb. Incredibly this fish appeared to be bigger than the first one. I eventually managed to push myself away from the limb and luckily the fish was still hooked. I grabbed my net and made one quick swoop and had yet another monster bass landed. This bass went 21.75" and 4lb 14oz.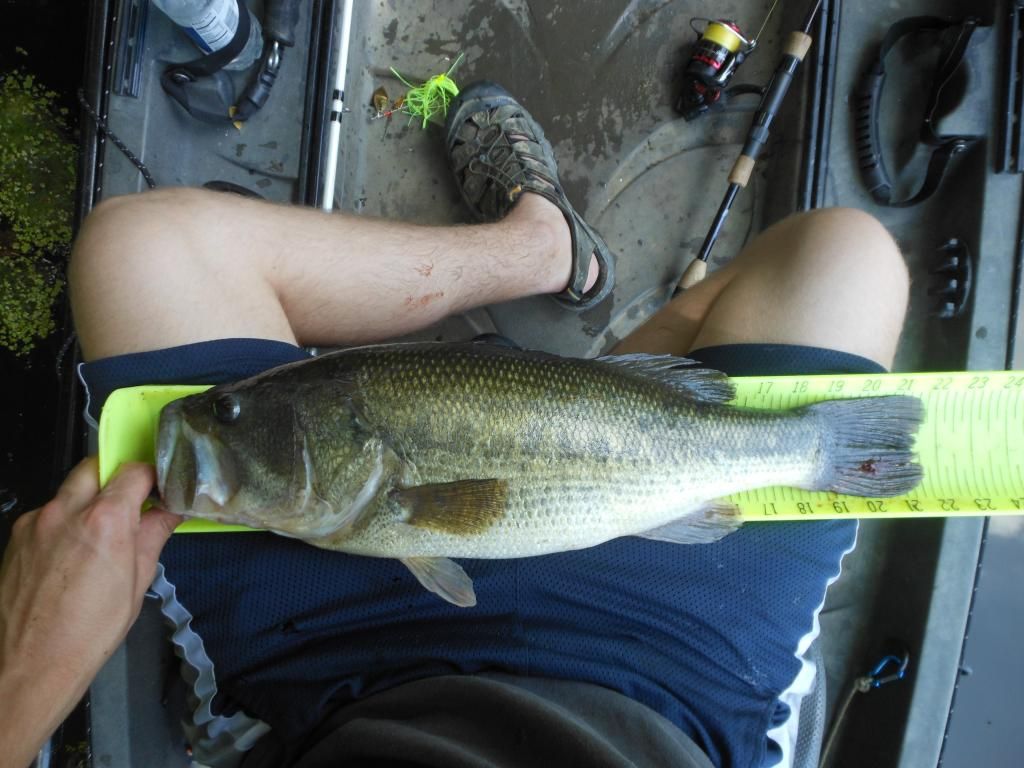 21.75" 4lb 14oz Largemouth Bass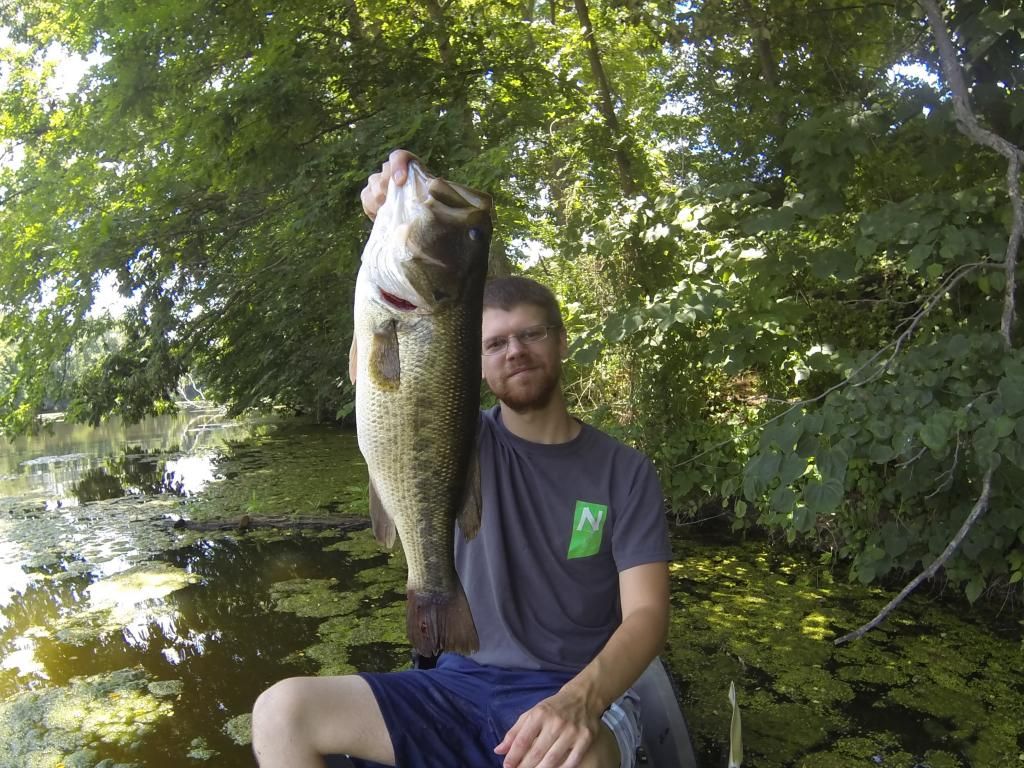 21.75" 4lb 14oz Largemouth Bass
I continued to cast my spinnerbait in this area for another 20 casts or so without any bites before I moved on. As I moved down the bank I managed to catch an over zealous 8" crappie on my spinnerbait.
Another 30 minutes go by. As I'm slowly reeling in my spinnerbait in some deeper water I get another big strike. After a short and uneventful battle I had yet another decent largemouth in my net. To my surprise this one also broke the 20" mark and weighed in at 3lb 9oz.
20" 3lb 9oz Largemouth Bass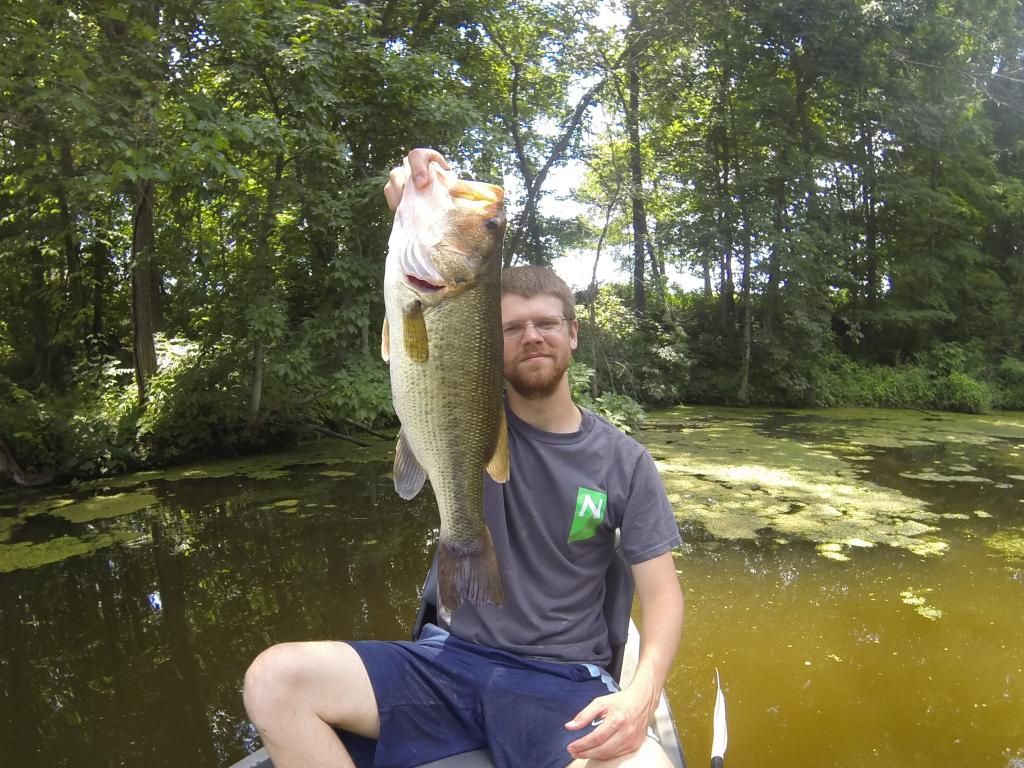 20" 3lb 9oz Largemouth Bass
I had caught three largemouth over 20" in less than an hour! This was crazy because I hadn't even caught any under 20" the entire day. Typically if the big ones are biting the smaller ones are also biting pretty well. All three of these bass were fairly deep in the 6-8ft range and near where I have known them to spawn. This all makes perfect sense if you read about post spawn females.
I continued fishing the spinnerbait for another hour without any bites. By this point the sun was beating down as the temperature had risen into the upper 80's. It was hot and humid so I decided that I would start fishing my way back to the boat ramp. At this point the surface water temperature was up to 87 degrees. As I made my way back to the boat ramp I finally managed to catch my first average size 12" bass of the day. Not sure where all the average size bass were hiding, was definitely a peculiar day in that fact. Soon thereafter I loaded up and headed home. No doubt the best day of bass fishing I have had to date. I can't imagine what it will take to top it, at least in Ohio. Then again maybe my first 6 pounder would do it...