In the past week I've caught a little bit of everything but nothing really notable. Last Saturday I did some bass fishing. I went to a lake that I have not known to hold very many big bass and the 10-12" bass are abundant. I chose this lake for its water clarity. I expected significant rains the week prior had made many lakes muddy and this lake has very clear water normally so I figured it would be impacted less. The water visibility was about 1ft at this lake compared to the normal several feet so I made a good choice. 1ft of visibility was more than enough to catch a few bass. I used my green pumpkin jig for nearly the entire trip. The water temperature varied from 69-80 degrees depending on location and time of day. Early in the day I got a decent bass, quite possibly the biggest bass I have caught from this particular lake. It went 16.75" and 1lb 13oz.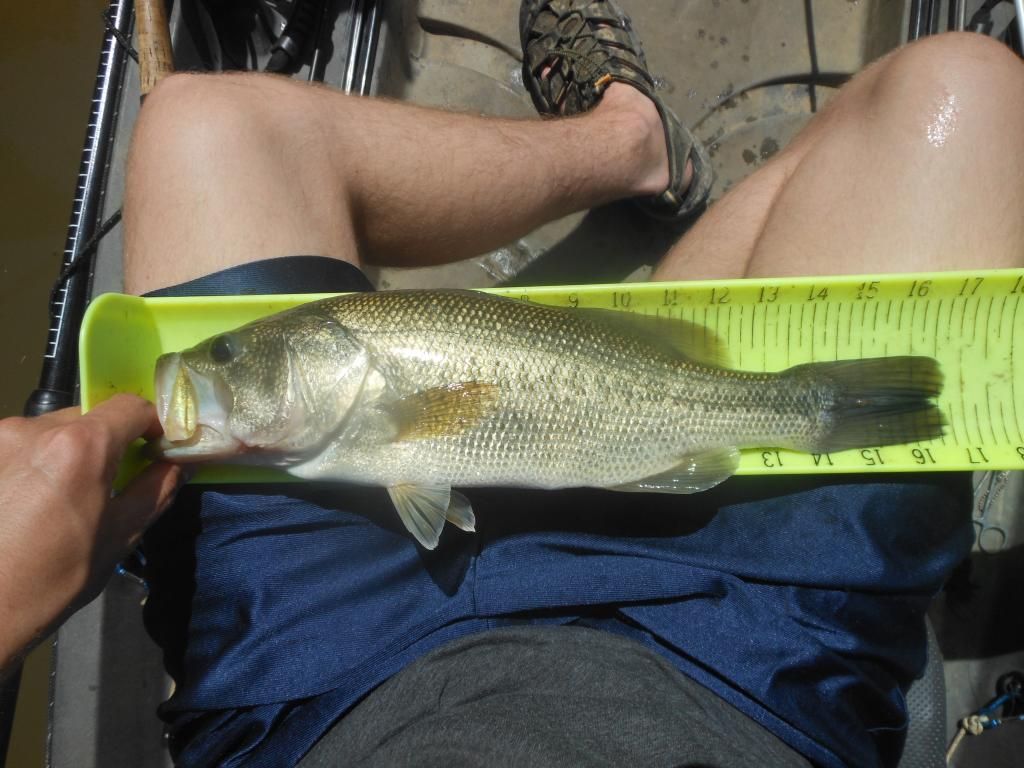 16.75" 1lb 13oz Largemouth Bass
Midway through the day I hooked what I thought was another decent bass but it turned out to be a small flathead catfish. I always enjoy catching flathead as they are such majestic creatures.
Flathead Catfish
Flathead Catfish
Flathead Catfish
On the day I ended up catching 9 bass.
Thursday after work this week I decided I wanted to try trolling, specifically for saugeye at Rocky Fork Lake. I had three bait options in mind going in. Crankbaits, swimbaits, or jigs tipped with nightcrawler. I decided to try crankbaits first and if that didn't work switch up. I started out using crayfish and fire tiger colors. I couldn't tell you how deep the crankbaits were rated to dive but I would guess in the 6-12ft range. I knew the key for saugeye would be to find flats and main lake points and to keep my bait near or bumping bottom. The water temperature was 76-77 degrees. When I started trolling I quickly found success with the crappie. I caught several crappie in the first couple hours all in the 9-10" range. I've never really fished for crappie in June but this appeared to be a very effective method as the crappie were out in open water chasing baitfish. A couple hours in I noticed a squirrel swimming across the lake, a sight I had never seen before. I tried to get a picture but It didn't turn out great.
Not long after seeing the squirrel I snagged and lost the fire tiger colored crank and retied a bluegill/bass colored crankbait. Thus far I hadn't noticed either color being better than the other. Not long after that I finally got my first and second saugeye of the day, both on the crayfish colored crank. They weren't big, 10-12", but at least I had caught my target species.
Saugeye
As the sun was setting I was trolling a main lake point that drops from 6 to 20ft rather quickly when I caught the biggest crappie of the day at 12.75".
12.75" White Crappie
I then journeyed to a point that I had avoided all evening due to the waves and boat traffic. As I crossed the point for the first time one of my rods got slammed, by far the strongest hit of the day. As I reeled the fish in it felt like a definite saugeye and a bigger one too. To my surprise it turned out to be a really nice yellow perch at 10" 6oz. That may not seem like much compared to the perch they catch on Lake Erie but from Rocky Fork Lake, that is a big one. It was good enough to tie my personal best.
10" Yellow Perch
Soon after I called it quits as it was almost 10pm and I had work in the morning. On the day I had caught around 20 crappie which I believe all but one were keeper size.