Sunday, 6/1/2014, I planned on doing some bluegill fishing. I needed one more Fish OH trophy to qualify for the master angler pin. In years past, bluegill has been one of the easier Fish OH's to catch and I had yet to target bluegill this year. I set out with 4 rods rigged. One with a slip float for nightcrawlers, a 1/32oz jig for nightcrawlers, my usual green pumpkin jig for for bass, and a swimbait for bass. My plan was to fish for bluegill until it got close to dark, then switch up to bass until dark.
I got on the water around 3:00pm. The water temperature was 82 degrees. My plan was to start shallow for bluegill. As I made my way past one of my favorite areas for bass I decided I'd cast the jig a few times just to see if there was a hot largemouth bite before starting on the bluegill. After 10 casts or so I hooked up with a nice bass. I quickly pulled the bass near and steered it into my net. This bass looked to be in the 3lb range so the day was starting off great. I removed my jig from the bass and laid it on my hawg trough for measurement. As soon as I see the tail hit the board between 18 and 19" the bass went crazy and flopped right back in the water... I'd lost a nice bass a week or two ago and now a let one jump back into the water without a picture. This was very disheartening but it would soon all be made it for.
I continued on down the bank casting my jig. Another 10 casts and I hooked another nice bass. Looks like the bluegill fishing was going to be put on hold as the bass were definitely biting. As the bass surfaced my heart stopped as I seen a monster largemouth on the end of my line. This bass had some serious girth to it and looked to be an easy 5lbs if not my first ever 6 pounder. It made a leap into the air and all I could picture was my jig flying out of its mouth. Two more leaps and a couple laps around my Nucanoe and I had the hog in my net and let out a yell of excitement. The bass still appeared to be an easy 5lbs but I wasn't sure if it would hit the 21" Fish OH mark. This time around I left my jig in its mouth for safety as I laid it on my hawg trough for measurement. It went 21.5", which was good enough for my fourth Fish OH species of the year and master angler pin. I was underwhelmed by the weight which was only 4lbs 11oz. It must have just laid its eggs and had an empty stomach.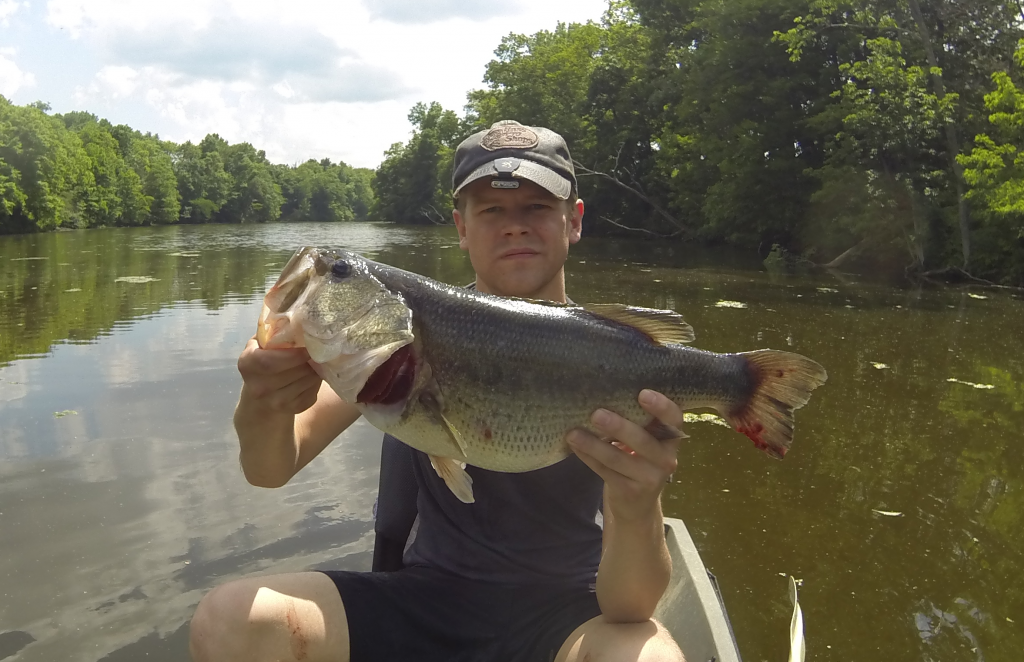 21.5" 4lb 11oz Largemouth Bass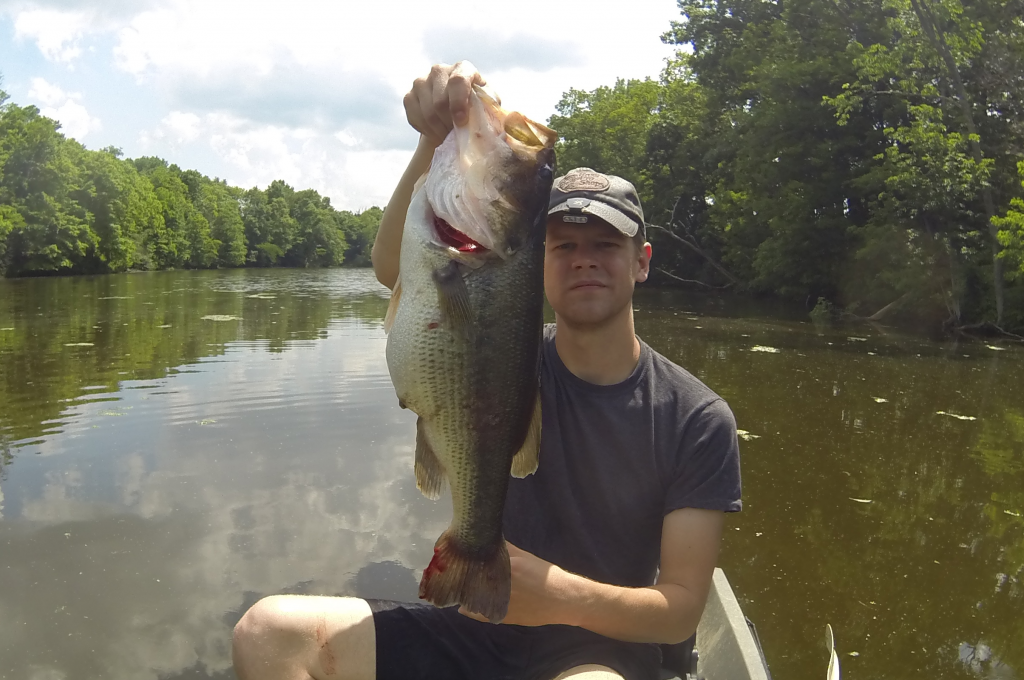 21.5" 4lb 11oz Largemouth Bass
21.5" 4lb 11oz Largemouth Bass
For the next 2.5 hours I bass fished and managed 3 more largemouth all around 14" all of which were caught on jig. I then finally decided to switch to bluegill fishing. Maybe I could get a Fish OH largemouth and bluegill in one day? Fish OH bluegill size is 9". I started out using nightcrawlers on the slip float set about 2ft deep and I had immediate success. For two hours I caught bluegill every few minutes. Just about everywhere along the bank I had success but I wasn't finding the size I was looking for. The majority were 6-7" and I had yet to break the 8" mark. When I hit the 40 bluegill mark it was after 8pm and I was ready to switch back to bass for the remainder of the evening. I don't know why but I decided to take one more cast with my slip float and nightcrawler to a piece of structure that looked good. This was a good choice as I finally got my first and second bluegill over 8" on the day. Here was the biggest one, a thick 8.5".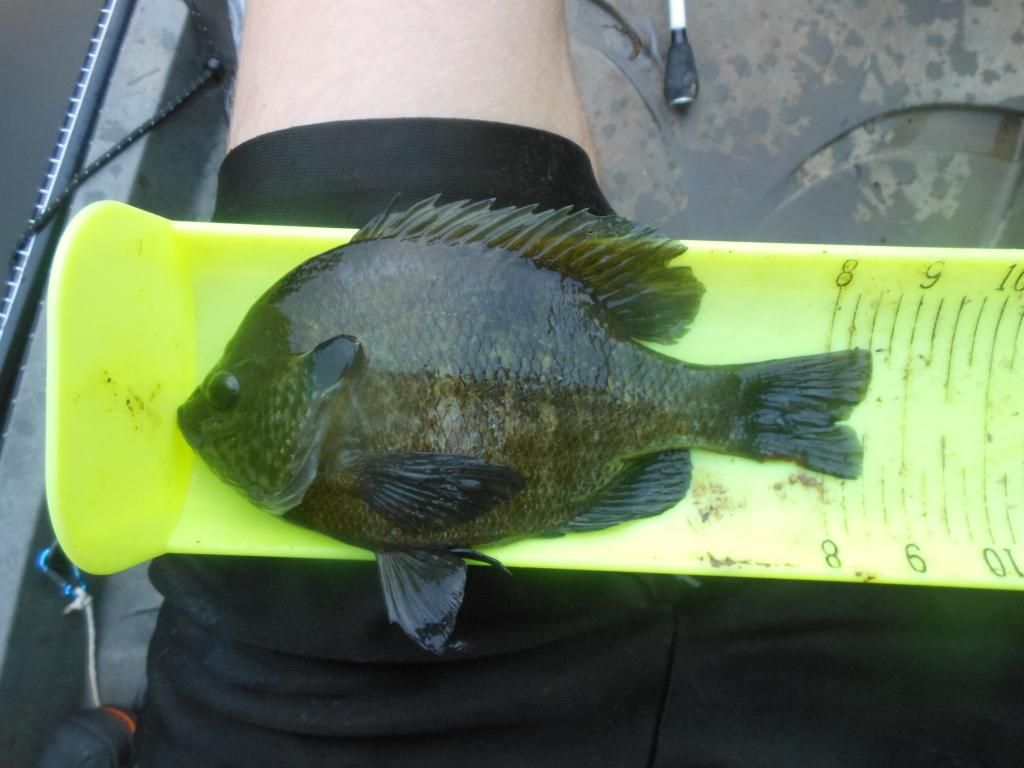 8.5" Bluegill
I threw my jig for the remainder of daylight and managed one 16" 1lb 11oz largemouth.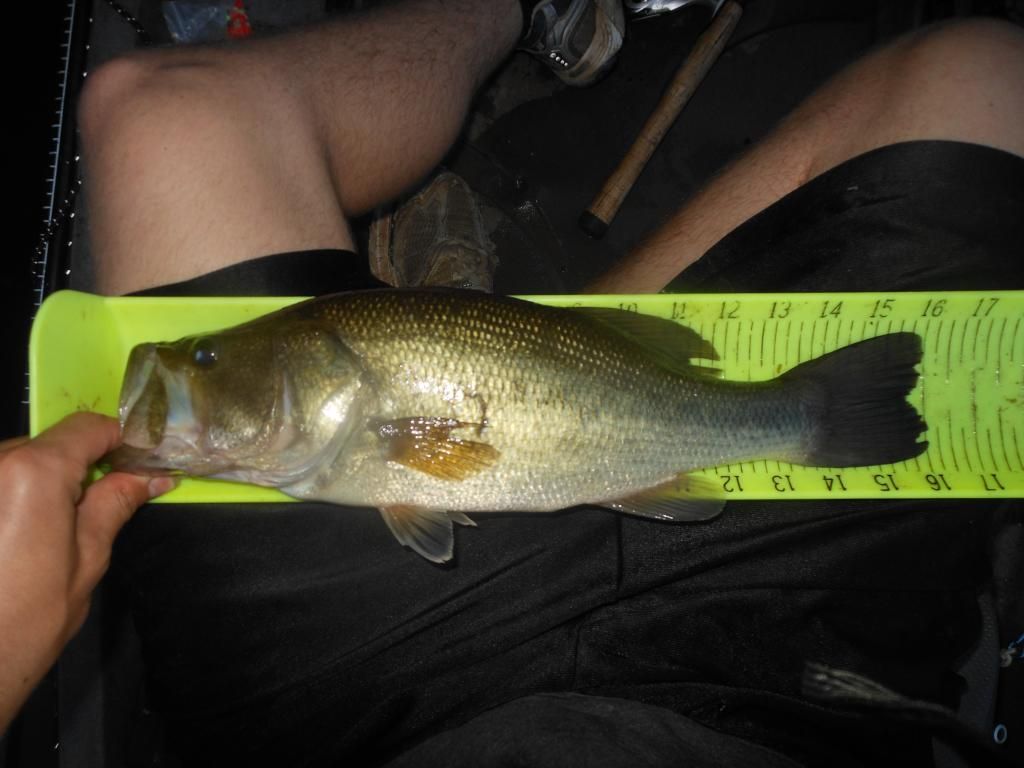 16" 1lb 11oz Largemouth Bass