Last Friday, 5/23/2014, I decided to do some bank fishing for carp and catfish. It was the beginning of memorial day weekend so I knew the lakes would be packed with boats. Stephanie joined me for this trip. We arrived at Rocky Fork Lake around 8pm. We counted nearly 40 boat trailers in the parking lot of the north shore drive boat ramp. I was glad I chose to leave the Nucanoe at home and was excited about bank fishing.
My plan was to fish for carp with one rod and bass, crappie, and bluegill with the other rod until dark. Once it was dark I'd throw the cast net for some shad. If I was able to get shad I would then throw out one catfish rod, otherwise I would go duel carp. So I chummed some corn and Stephanie and I both put out a rod for carp. I then began working a jig and chigger craw combo for bass. In 30 minutes or so I had one bite but no hookups with the jig. Stephanie worked a 1/32oz jig and nightcrawler combo and managed to catch her first saugeye. I switched to a wobblehead to see if I could find any smaller fish. After 30 more minutes I was able to avoid the skunk with a fat 1lb 6oz largemouth. At this point It was dark so I grabbed the cast net. I managed to get a nice 10" shad on my first throw and then another on my third throw. We both threw out a piece of cut shad and I threw the net for another 30 minutes to get 2 more shad. During this process I had the first carp run of the night. As I fought the carp I told Stephanie that it wasn't that big, I figured 5-8lbs or so. Carp fights can be variable from my experience though. Sometimes a 5 pounder will run like a train and some times a 20 pounder will just about lay over and die. I finally surfaced the carp after a minute or two and it was a little bigger than I expected. The first thought in my head was, "That's the Fish OH I've been looking for". Another 30 seconds and Stephanie had the carp in the net. It measured 30" and weighed 11lbs 10oz. My third Fish OH species of the year, only one more to go for master angler.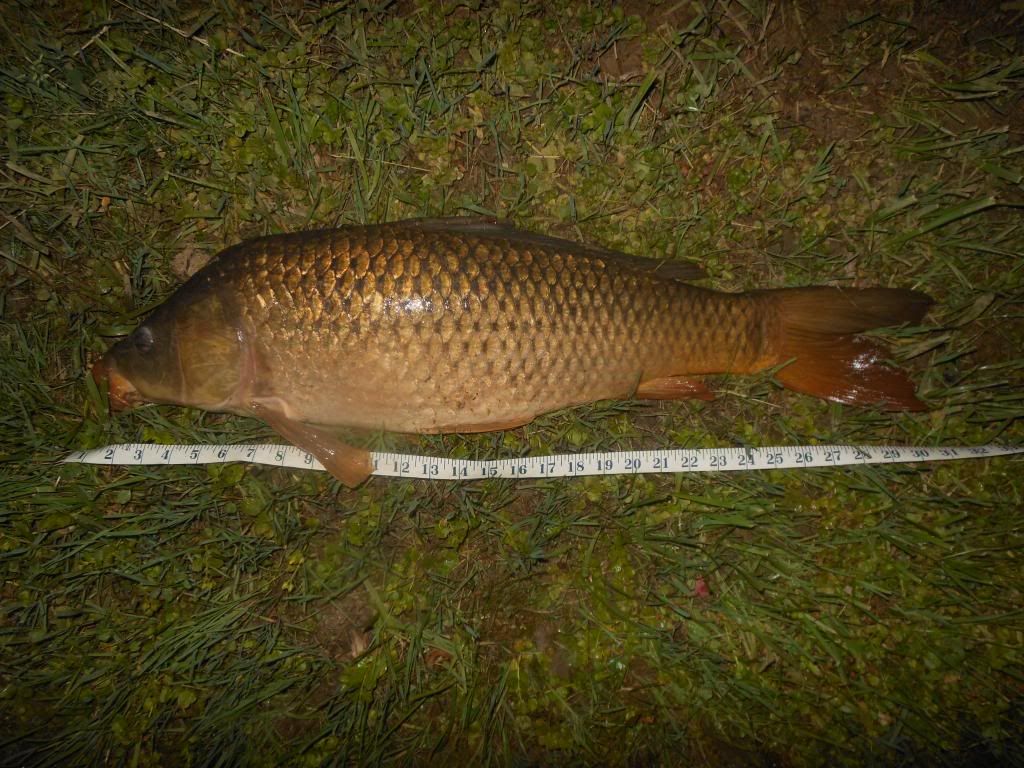 30" 11lb 10oz Carp
30" 11lb 10oz Carp
For the remainder of the evening we had 3 small runs on the cut shad but no hookups and no more carp runs. By 1am we decided to head home.
Sunday, 5/25/2014, I decided to do some bass fishing. I woke up at 5:30am and got on the water by 7:30am. The water temperature was 70 degrees. I started out working a frog in the shallows searching for any active bass. After an hour of throwing the frog I had zero bites. This was not a good sign. So I switched to the old faithful green pumpkin jig and chigger craw. I had my first bite in 15 minutes. An hour later I finally hooked my first bass of the day and it was a big one. After a few seconds it made a flying leap into the air and my jig went flying out of its mouth. This bass would have been in the 18-20" 3-4lb range. It was a disappointment but it had been a long time since I had lost a big bass so I guess I was due. I continued with the jig for another hour with no bites. So I got desperate and switched to a wobblehead. After 30 minutes I finally got my first bass, a 14" 1lb 2oz. As I passed by the spot where I had lost the big one I noticed a slightly smaller bass (maybe 2-3lbs), clearly guarding a nest in 1ft of water. The sun was shining bright at this point so it was obvious to see. So it became apparent that the bass were on beds and explained the slower fishing. I tried to sight fish this bass with no luck. Another hour went by with the wobblehead without nothing more than bluegill bites before I decided to call it quits for the day.