Sunday the wind was forecast to be 20mph so I decided to avoid getting blown around in the NuCanoe an opted for some bank fishing or wade fishing rather. Based on online gauges the creek temperatures had been hitting the 60's for several days so I knew the smallmouth would be nearing or starting spawning.
Despite the strong winds it was a beautiful April day with temperatures nearing 80 degrees. I brought two rods with me. One with a 1/4oz black and red jig with a matching Berkley Powerbait 3" black red fleck Chigger Craw. Last year I used large jigs with 4" Chigger Craws for the longest time for smallmouth but ultimately decided to downsize to slightly smaller jigs and the 3" Chigger Craws as I felt I was missing too many bites. My other rod was my plan B which I had a Rebel Wee Craw tied on.
My favorite technique for creek smallmouth is dragging my jig. Why work your bait when you can let the rocks do all the work for you? And if your not fishing on the rocks, you should be. Just slowly reel your jig across the rocks letting it bounce through all the little crevices. Anywhere near a riffle is typically a good spot. If the water is barely flowing, it is usually not worth the time. The paint on your jig will take a beating using this technique but the reward is well worth it. Also, be sure to retie often as the the rocks also take their toll on your line.
My day started strong with a 13-14" 1lb 1oz smallmouth in the first 10 minutes. An hour later I found my second fish.
1lb 13oz Smallmouth
This smallmouth was very healthy, most likely full of eggs, weighing in at 1lb 13oz. I didn't have a measuring device on me but I would guess it in the 16" range.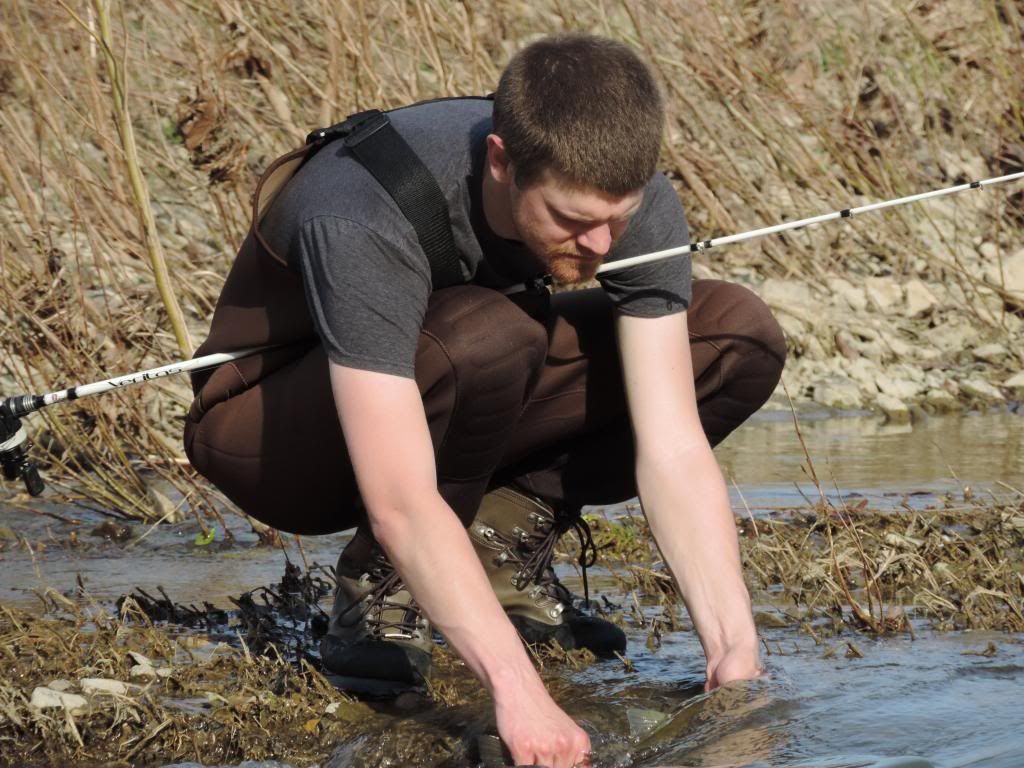 Revived to lay her eggs.
Throughout the rest of the day I got several more bites but nothing I could hook. After catching two decent ones I wasn't about to switch to the wee craw to catch these nibblers. At dusk I called it quits satisfied with two quality creek smallmouth.