Friday after thanksgiving I decided to give the Ohio River a break and target crappie. I was ready for another good fish fry and Rocky Fork Lake is my favorite lake for keeper size crappie. The weather was favorable, a little cold but sunny and minimal wind. I got on the water around 11am and headed to a good piece of structure and anchored up. The water temperature was 44 degrees. I started by tossing out a slip float with a minnow set at about 7ft. Minnows on slip floats set at 7-8ft has always been a good starting point at Rocky Fork Lake. The snag I was fishing was about 8ft deep in 12-14ft of water. Before I could even get a second rod in the water I had a bite. It was a nice fat black crappie at 12.25" and 14oz.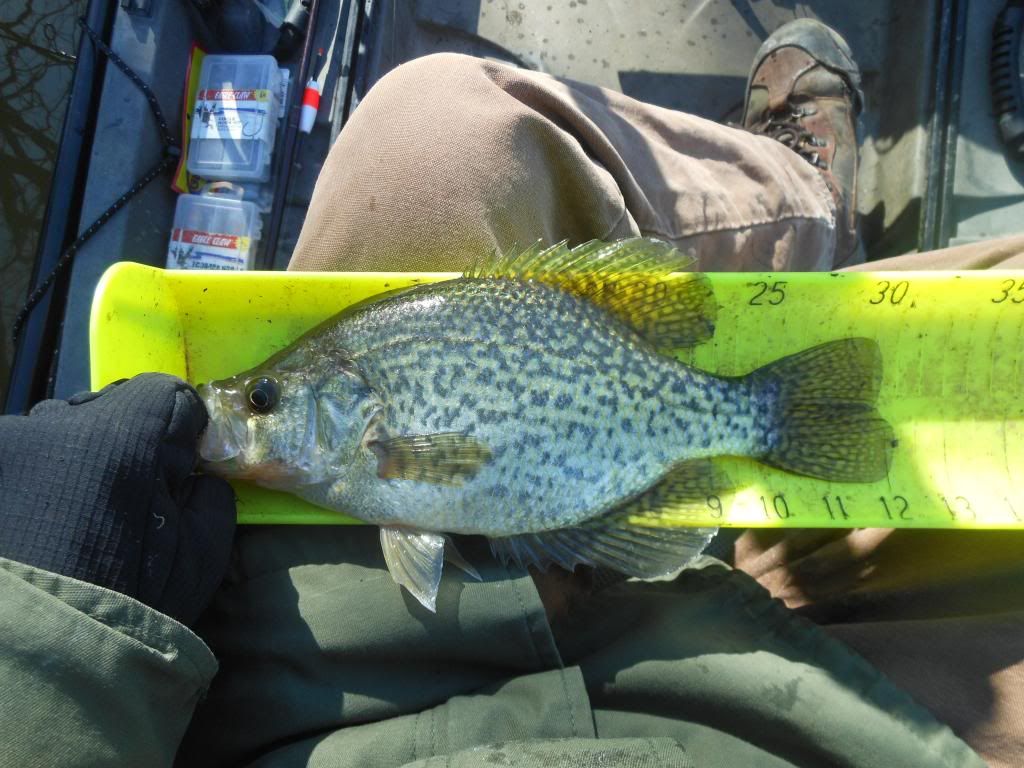 12.25" 14oz Black Crappie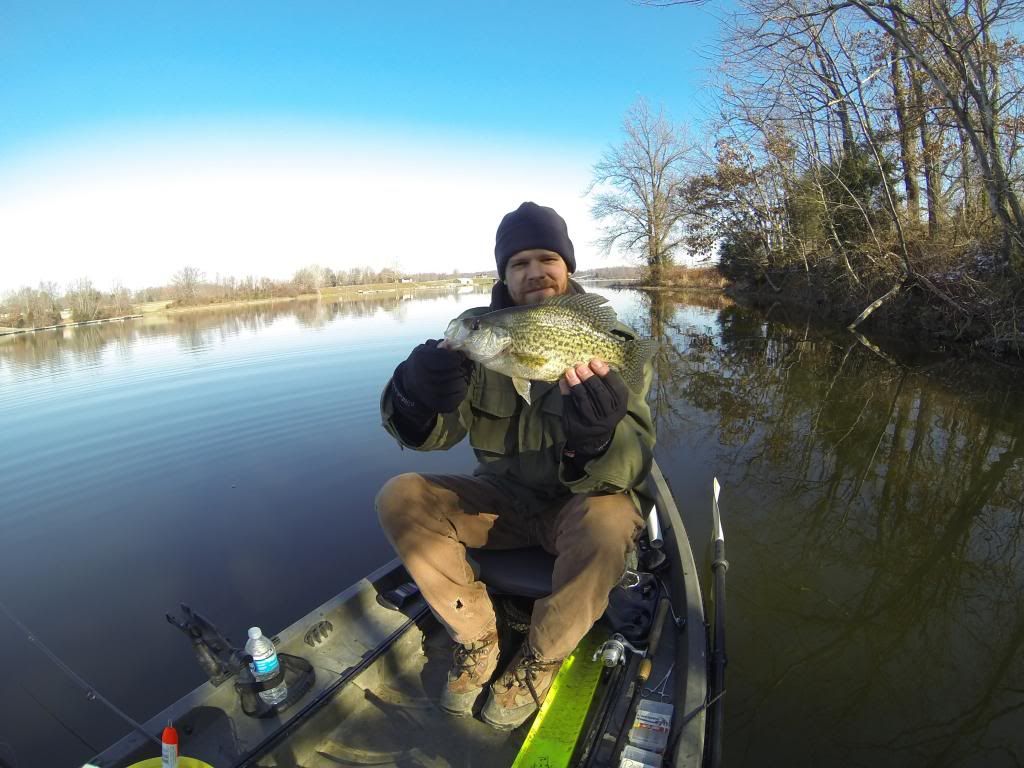 12.25" 14oz Black Crappie
This was a great start to what turned out to be a great day and made me completely forget about the cold temperatures. I reloaded my float with a minnow and cast back to the same spot. Again I had a bite before I even had a chance to pick up a second rod. It was another keeper size crappie. The bite continued to be hot for a few more crappie before dieing down. I ended up catching 6 or 7 crappie with 4 keepers off of this snag before I decided to move as it appeared I had caught most of the active fish. I continued on to another good snag.
Much like the first snag I got a bite almost immediately after casting my float and this snag ended up yielding a lot more crappie. For the first hour I didn't even bother using two rods as I was getting so many bites on just the one float. On top of that almost every other fish was keeper size. Eventually the bite slowed enough that I started using two floats. The 6-9ft range was the ticket. The bite remained decent until I could barely see my floats in the dark. At about 5:30pm I called it a day and headed in. As I was pulling anchor I snapped a picture of my fish basket to demonstrate how I keep my catch.
On the day I caught 41 crappie with 19 keepers, more than enough for a good fish fry and sharing with friends and family. Most of these crappie were very fat in preparation for the winter.
Before cleaning the fish I decided to challenge myself to get the most possible meat from these fish. I weighed the fish before cleaning at 8lbs 10oz. The final meat weight... 2lbs 4oz, not bad at all. That comes out to 26% meat vs total weight. Now all I got to do is fry them up and enjoy!