This past weekend I took advantage of some beautiful fall weather and fished three days in a row for crappie. When I say beautiful, it was 70's and the wind was very minimal. Early fall crappie is not something I've had a lot of experience with. Typically I'm focused on catfish or hybrid striped bass this time of year. November, when the crappie have moved deeper into or close to their wintering holes is when I usually start fishing for them.
Friday, October 11th, after getting off work I loaded up and headed to Rocky Fork Lake. First I picked up some crappie minnows, you can't go wrong with live bait. My thought was that the crappie might be a little shallower feasting on baitfish before the winter so I headed towards a boat ramp on the shallower side of the lake. I got on the water around 3:30pm, the water temperature was 72 degrees. I had two slip floats and a 1/32 jig for either a crappie tube or minnow. I started working the bank of a shallow cove. I would cast out a minnow float set around 3ft deep and jig a small chartreuse crappie tube around any structure. After a couple hours I had failed to find any crappie but I did manage one bluegill on the crappie tube. Throughout this time I tried setting my slip floats in the 2-5ft range around any downed trees I could find and a few docks which hold some crappie from time to time. Once it neared dusk I located some schools of baitfish but I failed to catch anything and called it a night a 7:30pm.
Saturday, October 12th, with plenty of minnows on hand I headed to a smaller lake that I had success at in the spring. I arrived and got on the water at 11:30am, the water temperature was 65 degrees. My game plan was pretty much the same as the previous day, minnow floats set in the 2-5ft range and jigging a crappie tube around wood. Three hours went by and I had yet to get a single bite. Where were all the crappie hiding? The only thing I hadn't tried was deeper. So I adjusted my slip floats down to the 6-8ft range, located a deeper submerged tree and waited. A short while later I finally had my first bite but failed to hook the fish. I thought to myself, "Huh, the crappie must be deeper than I expected". I have herd in the past that it is all about finding the right depth with crappie. Thirty minutes went by and I didn't get anymore bites so I moved on to another spot. The next spot was a downed tree in 12ft of water which is just about as deep as it gets in this lake. I located the top of the tree using my fish finder and set my floats out right on top of it, still set in the 6-8ft range. Not long after I finally landed my first crappie of the weekend, it was a nice 12 incher. Maybe I had finally found where the crappie were hiding. A few minutes later a float disappeared again. I hooked into another fish which felt a little bigger than the previous. After a short fight I had the slab in my NuCanoe. I knew this crappie was easily a 13"+ trophy. I laid it on my hawg trough measuring board and seen an astonishing 15" crappie. This was a half inch longer than the personal best 14.5" I had caught earlier in the spring. I then weighed the crappie at 1lb 1oz... this was much lower than I expected. The 14.5" I had caught in the spring weighed 1lb 12oz but this was during spawn. As usual, my camera on a timer has problems with brightness, so I didn't get many good pictures with me and the crappie.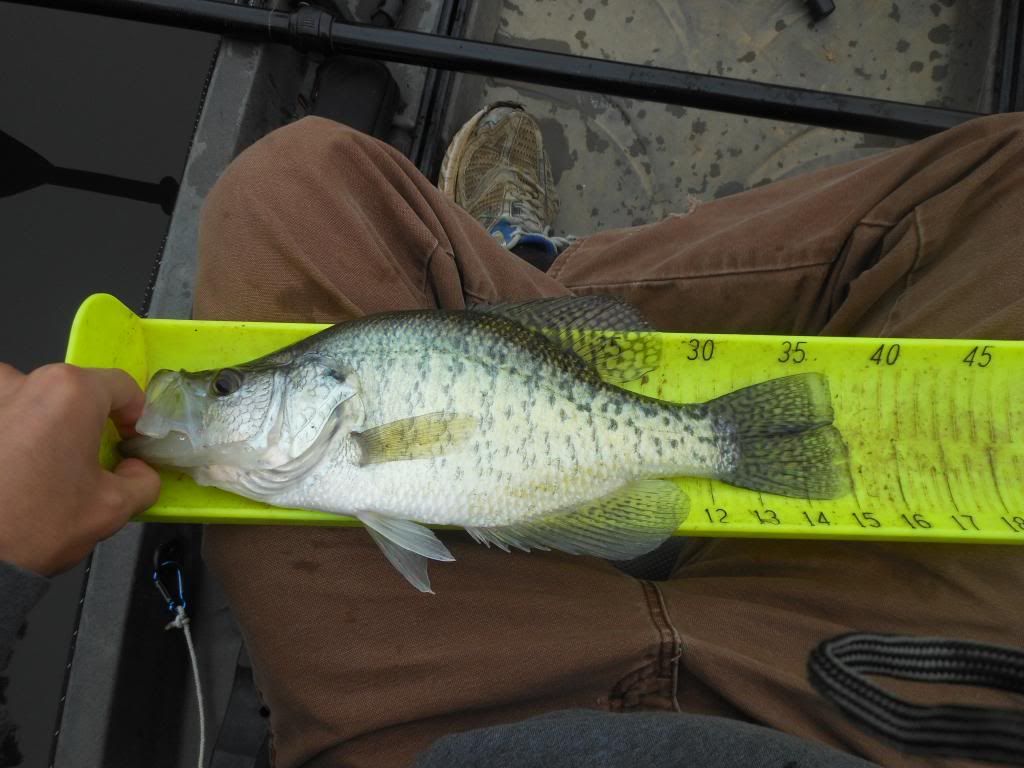 15" 1lb 1oz White Crappie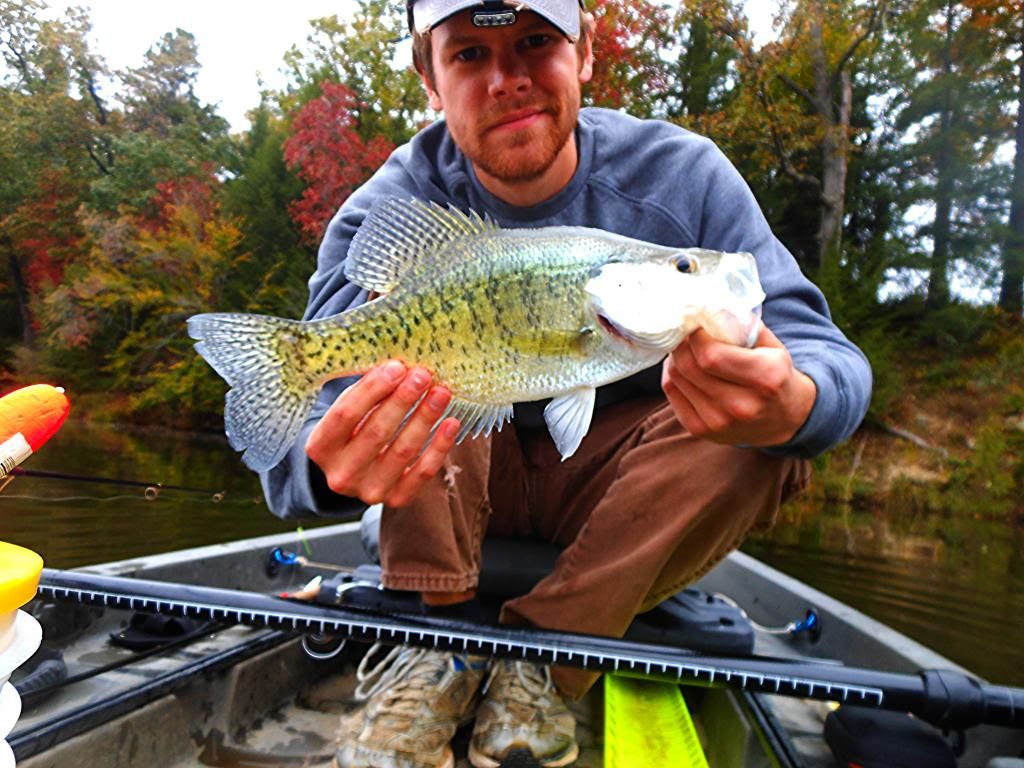 15" 1lb 1oz White Crappie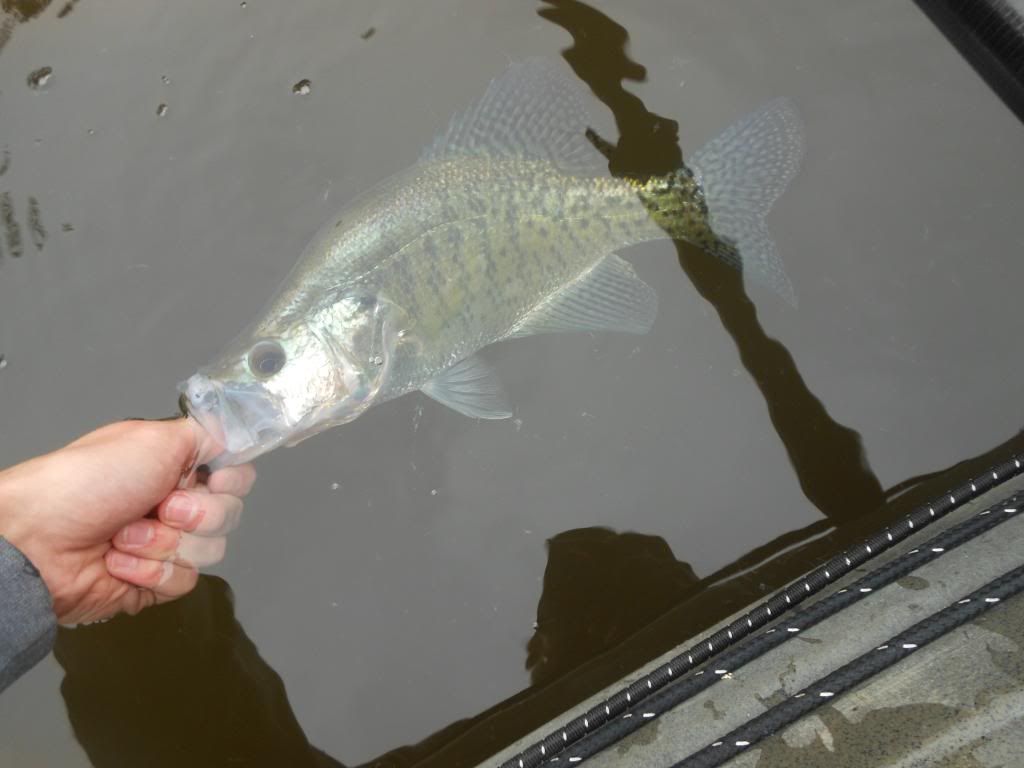 15" 1lb 1oz White Crappie
I had finally found the crappie, or so I thought. I waited another hour without any bites. It was a two bite wonder. Finally I got another bite but it was only a bonus largemouth.
Shortly after I called it quits for the day as I had plans that evening.
Sunday, October 13th, I decided to head back to the same small lake from Saturday to see if I could finally dial in on the crappie knowing that they were a little bit deeper from the start. I got on the water at around 2:00pm, the water temperature was 66 degrees. Again I spent nearly 3 hours without a bite. Finally I moved to the spot I had success at on Saturday. An hour went by without a bite at this spot as well. Finally a float disappeared... it was a decent 11.5" crappie. These crappie were few and far between. I stayed at the same spot for another hour without bites and was minutes away from moving on when I got yet another bite. It was another nice one, 14" 14oz. I was tired of the bad pictures using my cameras timer so I took a selfie this time.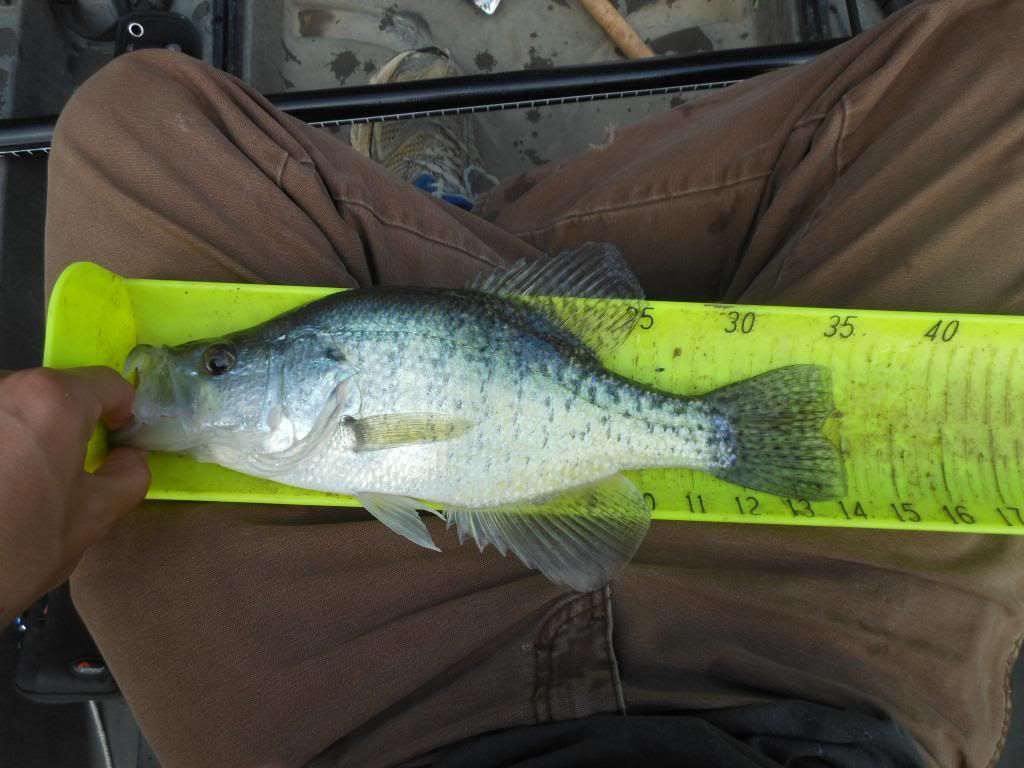 14" 14oz White Crappie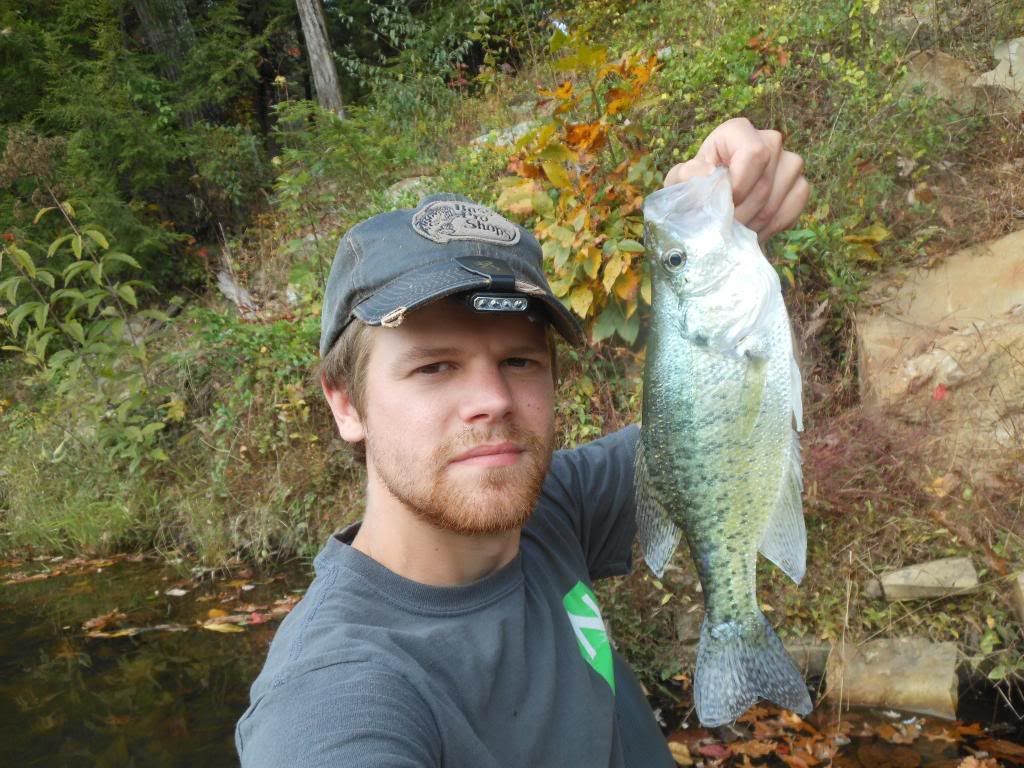 14" 14oz White Crappie
So after catching yet another trophy crappie from this tree I decided to stay on this spot until dark. Another hour went by and another crappie... a 10.5" incher this time. A couple minutes later and I got the smallest crappie of the weekend, less than 8". Two quick fish, maybe they were turning on at dusk? Nope, soon the sun set and I concluded the day with 4 crappie.
Three days of crappie fishing and I'd only caught 6. Definitely wasn't a numbers weekend but I'll take quality over numbers any day. My theory is that they are either spread out thin or roaming around deeper water right now. Regardless, I caught two very nice crappie and the weather was great so I couldn't ask for a better weekend of fishing.