Saturday, October 5th, I fished the final tournament of the Buckeye Kayak Fishing Trail, the Dayton Kayak Fishing Experience. Days before the tournament I had decided I didn't want to do the same float that we had did for prefishing the week before. That float was 7.5 miles with two portages which was way too long for the time given in the tournament in my opinion. I decided I wanted to fish only the last 3 mile section of that float. The offer was on the table with Sean to fish only this section together, otherwise I was just going to paddle upstream from the take out. Sean decided he still wanted to fish the entire 7.5 mile float so I was on my own.
So Saturday morning I woke up at 3am, took a shower, and made some breakfast. I'd decided I wanted to wake up extra early so I could make a good breakfast. You know what they say, a great day starts with a great breakfast. A Jimmy Dean breakfast skillet bag was my breakfast of choice.
By 4:30am I was on the road to Dayton. I arrived at the check in location shortly after 6am. Check in time was from 6:30am to 7:30am and was part of the Midwest Outdoor Experience event being held in Eastwood Park, Dayton. The event turned out to be much more extravagant than I had imagined but more on that later. I made my way to the Buckeye Kayak Fishing Trail's booth and signed up. At 6:45am tournament leader Neil Farley went over the general stuff and sent the early birds on their way. After a 15 minute drive I arrived at my put in, shortly after a couple other guys arrived that had the same idea as me which I fully expected. I quickly unloaded my gear and got on the water by 7:30am.
I'd developed a really specific game plan for the day and I stuck to that. Step one was trolling two paddle tail swimbaits upstream until I got to the area I wanted to target smallmouth in. This was in hopes to catch a bonus fish for the tournament which was a 12" crappie or a 14" saugeye. Also I didn't rule out the possibility of picking up a stray smallmouth chasing a school of baitfish either. After an hour of slowly paddling upstream and watching the sun rise I hadn't had any bites and I had arrived at the first area I wanted to hit for smallmouth. I quickly switched to my smallmouth bait of choice, a jig. Now the typical jig that I use for largemouth I have found to be a little large for smallmouth. I'll get dozens of bites without hooking the fish. So my plan was to downsize to a smaller jig, specifically the Strike King Bitsy Bug in watermelon color and 1/4oz, the largest weight they make them in. I paired the bitsy bug jig with my secret weapon, the Berkley Chigger Chunk in watermelon red fleck color, not to be confused with the Berkley Chigger Craw which has been a popular bait in the trail. The Chigger Chunk is shorter, fatter, and has two huge claws.
After I only a few casts with the jig... Wham! I had a fish on and it was a good one. It made a small leap and I saw that it was at least a 16" smallmouth. I had noticed another tournament angler was approaching and witnessed the entire battle, the angler was Jim Martin. I quickly pulled the smallmouth into my NuCanoe. Jim wasn't sure what I had caught as he was at a distance so I showed him the nice smallmouth. It wasn't a fat smallmouth but It was long and that is all that matters in the tournaments. I laid it on my hawg trough and it measured 17.75", tying my personal best I'd caught the week before. Jim then took a "hero shot" of me with the fish on his camera and I released it. This day was starting off really well.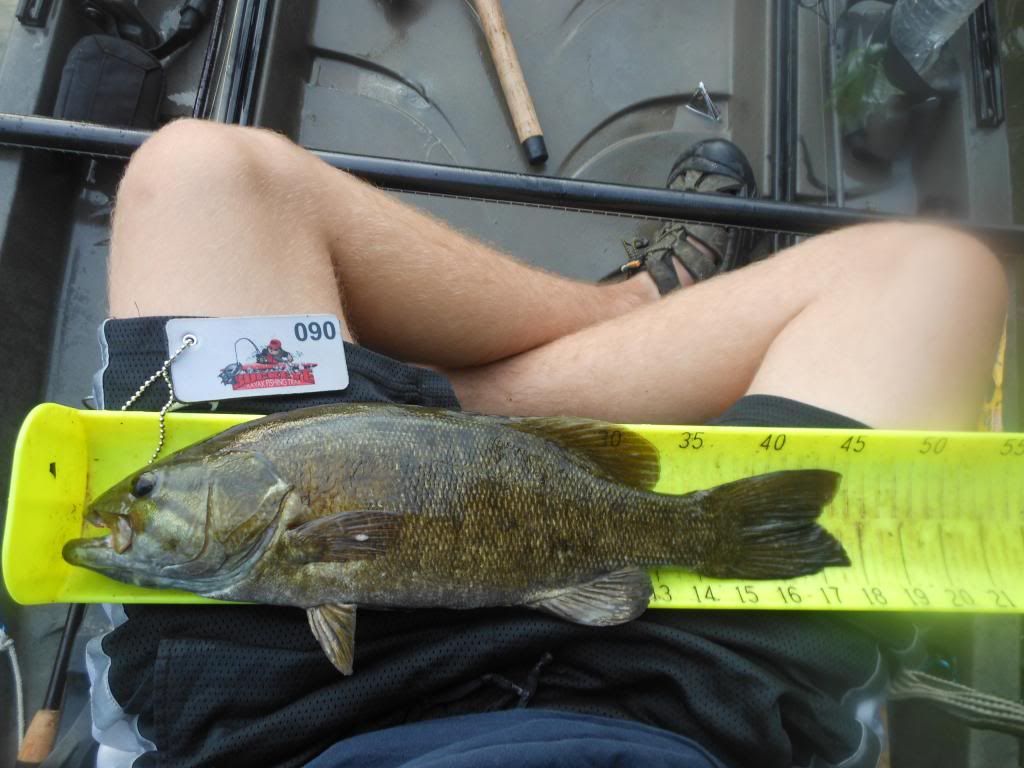 17.75" Smallmouth Bass
I regrouped and Jim continued on upstream. I took a few more casts and got another huge bite. This one felt different though. It was trying hard to stay on bottom and was giving me some serious head shakes, much like a catfish. So I expected I'd hooked a small catfish but to my surprise when I finally lifted the fish to the surface I seen the dark green color of yet another nice smallmouth. I quickly lifted the smallmouth aboard. To my surprise it was yet another 17.75". I thought to myself, "did I just catch the same smallmouth again? No... no way, a fish that old is way too smart to get caught twice in a row". I didn't take time to analyze the fish at the time to see if it was indeed the same fish as I wanted to return to what seemed like a hot bite. Upon looking at the photos, they definitely appear to be different fish.
Another 17.75" Smallmouth Bass
17.75" Smallmouth Bass
I continued to fish this same area for some time without any success. Eventually I continued on upstream. Fishing was pretty slow for some time after this. I spent nearly 3 hours with only a few nibbles. At one point it began to sprinkle rain and I noticed a rainbow on the horizon so I snapped a picture.
I was getting desperate to get a third 12" smallmouth, the minimum size for the tournament. With only a 12" for my third fish I would still be sitting in the upper 40's which would no doubt place well in the tournament. Finally I hooked into a small one. I put it on the board to see that it was only 11 inches... Shortly after I hooked yet another small one but it was a little bigger than the last... 11.5". Where were all the medium sized smallmouth I kept wondering? Another hour went by and I had only a couple nibbles. I took out my phone to look at the time for the first time... 12:30pm. I wanted to be back at the take out by 2pm so I had about an hour left before I needed to start paddling that way. After catching two nice ones I wasn't going to get a third fish... so I thought. I made one last ditch effort and paddled upstream into a riffle as far as I could get before it got too shallow. I took a cast... nothing. Another cast... nothing. A third cast... Strike! I had another good fish on and all I could think was please don't spit the hook, please don't spit the hook. This one was fighting harder than the first two but It was in current. I lifted the smallmouth up and into my NuCanoe and let out a yell of excitement and a sigh of relief. The fish appeared to be slightly bigger than the previous two but turns out it was just fatter. It was yet another 17.75" smallmouth. I weighed this one at 2lbs 6oz, 1oz bigger than the personal best I had set the week before.
17.75" 2lb 6oz Smallmouth Bass
17.75" 2lb 6oz Smallmouth Bass
I did the math and I found that I had 53.25", one of the best days of bass fishing I had ever had. I knew I had a really good chance of winning and would be happy regardless of the results. I tied on the swimbaits I had trolled upstream and began trolling them back downstream. I didn't get any bites. Soon I arrived at the take out and Sean, Amanda, and company had caught up as well. It sounded like they all did well too. I loaded up and headed to the measure in. We all turned in our camera cards and waited as it began to rain more significantly. As I waited I watched some of the many events going on at the Midwest Outdoor Experience. There was a dog jumping contest, something I had never seen before in person. A rock climbing wall, skateboard/bmx ramps, a wooden ramp covered in ice that people were tubing and snowboarding down, a 12 hour endurance run, and of course dozens of people paddling canoes and kayaks around a small stream in the park. Like I said before, the event was much bigger than I had imagined.
After an hour, the results were finally in. The top 10 received cash. At 5th place was Sean. At 2nd place was Amanda, who also got the big fish pot with a very impressive 19" smallmouth. Finally 1st place... It was me, I had won my second tournament of the year. The full results of the tournament will be posted in the next day or so at
http://www.buckeyekayakfishingtrail.com/#!midwest-river-experience/c171v
.
Since it was the last event of the year it was now time to award the Yak Ohio prizes. A Yak Ohio is the biggest fish in a given category caught by an angler throughout the entire year who participated in at least 2 in person events. I had been very fortunate with the big fish this year and knew I had won two categories, Largemouth Bass and a tie for Crappie. I had heard that the prize was going to be a t-shirt which would have been fine but to my surprise the trail team had acquired a trophy for each category along with a couple nice baits. You can see the complete list of Yak Ohio winners at
http://www.buckeyekayakfishingtrail.com/#!yak-ohio-leaders/cn30
. Here's a picture of the trophies I received, which were quite nice, and the baits I got along with them.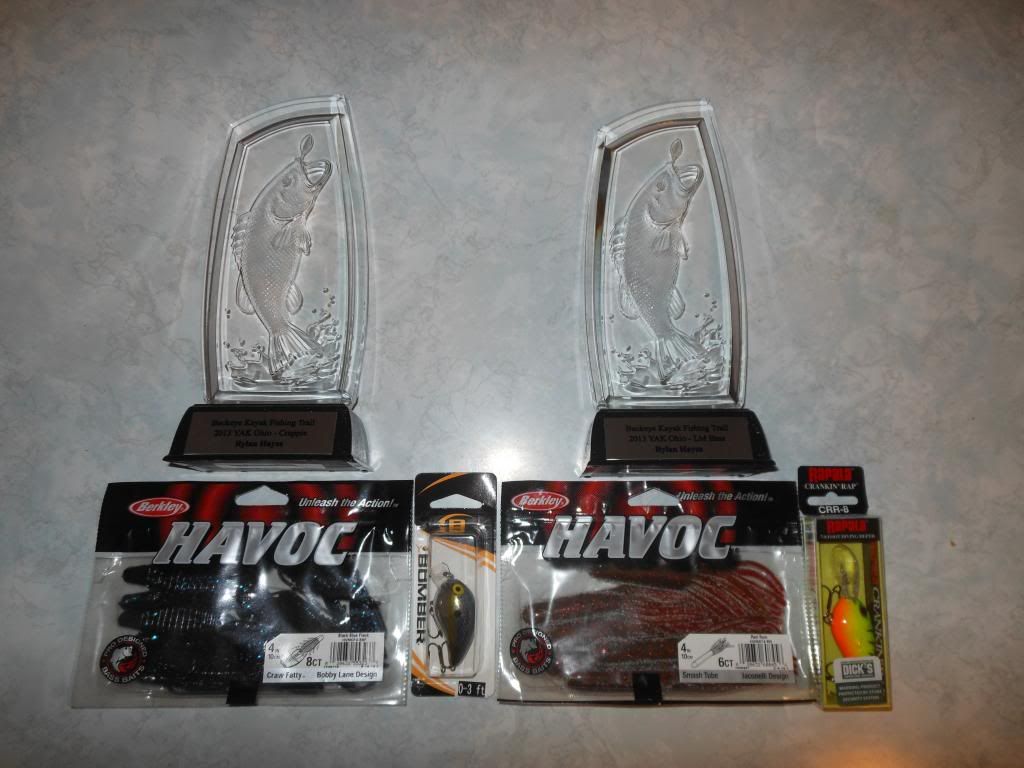 Finally, it was time to announce the overall trail standings winners. The top 5 were to all get prizes. 5th place was a tie and both anglers, Neil Farley and Travis Belcher, elected to give the prize to 6th place which happened to be Amanda. 4th place was Logan Estep, 3rd place was Sean, 2nd place was... wait it was a tie! With my win I had managed to come back from 5th place to tie leader Jeff Bennett. Since there was only one prize that wasn't splittable for 1st place, it had previously been decided that if there was a tie there would be a 1 on 1 fish off. It was then up to the two anglers to get together within three weeks of the tournament to compete for the win. It was also to be drawn from a hat whether it was to be on a lake or a river/stream. Rather than drawing from a hat we played the old pick a hand game. It was determined, we would be fishing a lake, which happened to be Kiser Lake. This was fine by me as Kiser Lake was where I had got my other tournament win. I'm sure it stood well with Jeff too as he had won an unofficial event at Kiser Lake. Neil then suggested, "Why don't we just have a full event at Kiser in two weeks and whoever places higher between Jeff and Rylan takes 1st place?". This was fine by me as well as everybody else. So the tournament will continue on for one final event on October 19th at Kiser Lake to determine the angler of the year.
As always, I want to thank all the tournament sponsors and the guys who put the tournaments together, they really do an exceptional job. Good luck to all who attend the Kiser Lake event.