Saturday, Sean, Amanda, and I decided to head to Dayton to prefish for the upcoming Buckeye Kayak Fishing Trail event, the Dayton Kayak Fishing Experience. We debated on wether to do this or try our luck with the catfish again. Ultimately we decided on the tournament prefishing. I don't want to give too many secrets away before the tournament so this blog is going to be short and sweet.
As usual, Amanda had the smallmouth figured out from the beginning. Midway through the day she found a hot stretch of water where she caught several smallmouth including a 16.75" and a 15.75". Nothing Sean and I weren't used to. Here's the hog 16.75".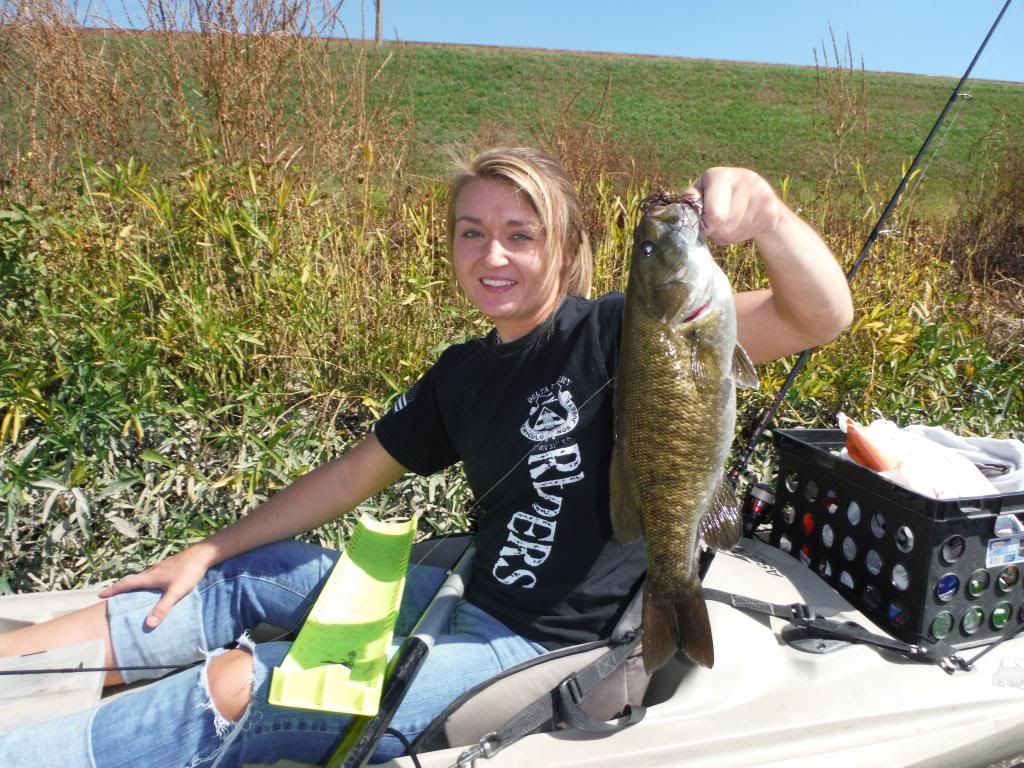 16.75" Smallmouth Bass
It was at this point I knew it was time to change tactics. Immediately I started getting 3 times as many bites as before and landed a few small ones around 10-12". Several more hours went by and I still hadn't found any size. Meanwhile Amanda had a top 3 of over 45", Sean had caught a few 14 inchers putting him in the low 40's. At one point Sean hooked into a decent Northern Pike but unfortunately it broke off before he could get it into his kayak. This was pretty disappointing as none of us have ever caught a pike, I've yet to even hook one. This was the second time Sean has been disappointed by a pike as he had hooked one at the Fall Finale tournament at Nettle Lake last week. He said it was well over 30" and probably 10lbs. Shortly after this I finally hooked into a nice bronze. As soon as I seen the fish I knew it would be a personal best for me. The fish surprisingly didn't jump as smallmouth are notorious for. Instead the fish fought downward which seems to be the trend for smallmouth this time of year. After a short fight I had the pig in my grasp. It went 17.75" and 2lbs 5oz, a new personal best and the second time I have broken my personal best smallmouth this year. Setting a decent personal best smallmouth was a goal of mine this year. The fish appeared to be very healthy and I expected it to weigh closer to 3lbs, must have had an empty stomach.
17.75" 2lb 5oz Smallmouth Bass
17.75" 2lb 5oz Smallmouth Bass
Soon after Sean hooked into yet another monster fish. This time Amanda and I were close by to witness. It didn't take long for us to realize this fish wasn't small as it just would not surface. A minute went by and we still didn't know what he had but I was guessing a decent size catfish. Then the worst happened, the hook popped free. Luck just was not on Sean's side this day.
I managed to pick up a couple more decent smallmouth soon after, a 13.5" and a 13". This put me up to 44.25" for my top three, a number I would be happy to get in the tournament this weekend. Finally we reached our take out point, loaded up, and called it a day. In the end I think we all learned something to prepare ourselves for the tournament this weekend. Then again the smallmouth could completely change patterns by this weekend.