Last weekend we had planned on hitting the Scioto River in search of trophy flathead catfish…..well Mother Nature had other plans for us. Wednesday and Thursday it rained on and off all day long, which brought many of the local rivers up and over their banks. The
NOAA
projected that the particular river we had planned on fishing was going to rise 6 feet Saturday morning. It soon became apparent that we weren't going to fish were we wanted, but we made up our minds that we were fishing somewhere. After a few conversations with Russ we decided to hit Rocky Fork lake in Highland County, Ohio and try for some of its larger channel cats.
We have landed many channel catfish exceeding 10 pounds out of this lake in our jon boat in the past so we figured that it would be worth a shot in the kayaks too. This spring we fished the lake over a dozen times in our kayaks, but never outside of its "No Wake Zones." The wind was blowing 10 mph which added to the chop on the water......throw in some recreational boaters and a few bass boats and we had a good evening of fighting rough water.
A passing bass boat running full throttle.
We ended up getting a few bites and landing one small channel cat. It seemed that we were on fish, but they weren't interested in our baits. After looking at the depth finder I wasn't quite sure we were on the right kind of fish. I was drifting a 12 foot ledge that dropped into 35 foot when I came across this school of fish. Here's a picture of my Hummingbird 346cDI. The top screen is normal sonar set on high sensitivity, and the bottom screen is down imaging.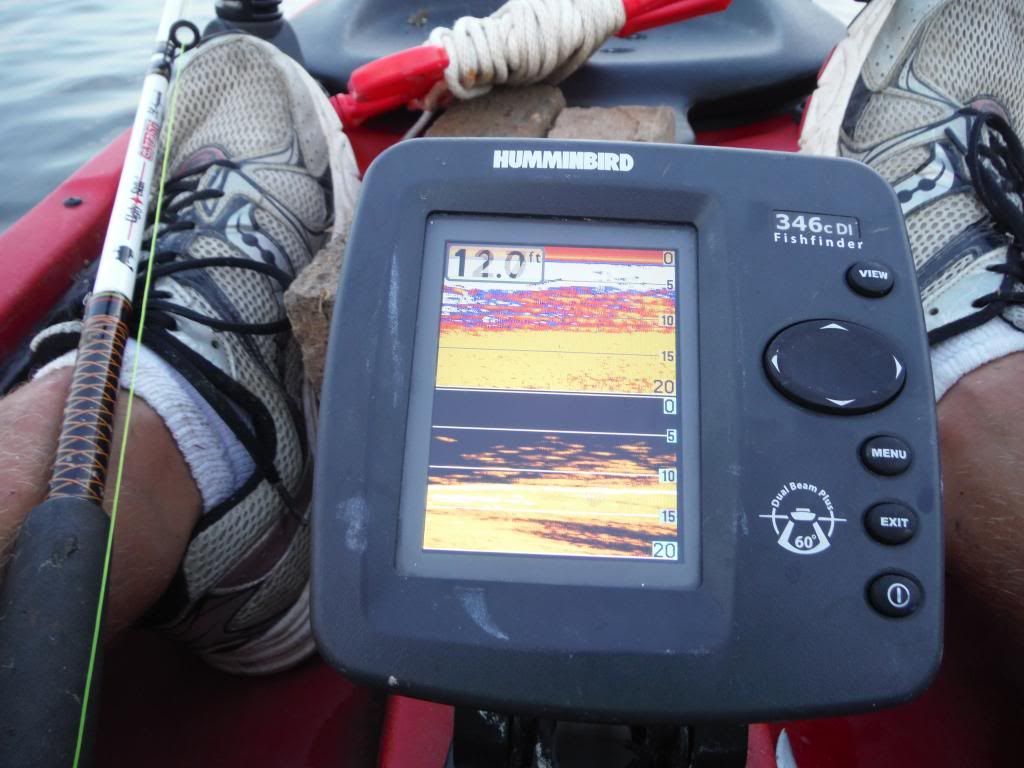 A massive school of fish near a main lake point.
I'm not 100% sure of what they were but they definitely weren't cats, my immediate guess was saugeye judging by the profile on the down imaging portion of the fish finder. (They were long and skinny.) At the end of the day we rode a few big waves that the recreation boaters threw off. Which in turn built our confidence up for Saturday's kayaking trip. Here's a cool picture of the sunset on the water.
Sunset on the big lake.
On Saturday, we hit the Ohio River for the first time in our kayaks, particularly we fished the Meldahl pool near Manchester, Ohio. We chose to fish this stretch, because when we get heavy rains down in southern Ohio all of our small rivers respond fairly quickly....while other larger rivers take a day or so. This stretch was only 1 foot higher than normal summer pool levels.
We hit every spot I thought would hold fish: flowing feeder creeks, barge tie offs, log jams, shallow flats, etc. None of which produced fish, however the gar seemed to be out in full force. I drifted cutbait 3 foot off of bottom using circle hooks with my rods in rod holders all day. On several occasions my rods would start to bend and just when I thought the fish had taken the bait they would let go. I would reel my bait in to see if I had lost my bait or to see if the hook turned back into itself. All I found were dozens of small puncture wounds, indicative of gar bites. I was intent on catching catfish so I left the gar alone, in hindsight I probably should have adapted to the situation and thrown a rope lure.
While I drifted the ledges, Russ and Jake anchored on key features in hopes that the fish would come to them rather than my approach of going to the fish.
Jake and Russ fishing a tied off barge and log jam.
The barges and pleasure boaters were out in full force once again so we got to experience the river at its finest. Even with the larger boats on the Ohio River I felt much safer than I did on Rocky Fork Lake. Waves seemed to dissipate much quicker on the Ohio River than they did in Rocky Fork Lake.
A passing barge on its way to Cincinnati.
All in all the weather was great and the fishing was terrible. Hopefully we find some quality catfish soon, my tolerance for long days and nights without decent fish is wearing thin on my patience.