Tuesday, July 30th, Amanda, Russ, and I decided to float a section of Ohio Brush Creek. The creek was probably at its lowest point its been all summer, so we ended up dragging our kayaks through quite a few riffles. The day started off with a 50 yard drag from our put in and then a couple hundred yards of 2' deep water. I quickly landed a good 15" smallmouth just below the second riffle. I figured with the low water levels that maybe we would be shooting fish in a barrel. A few riffles later and we had gotten to one of my favorite stretches in the creek.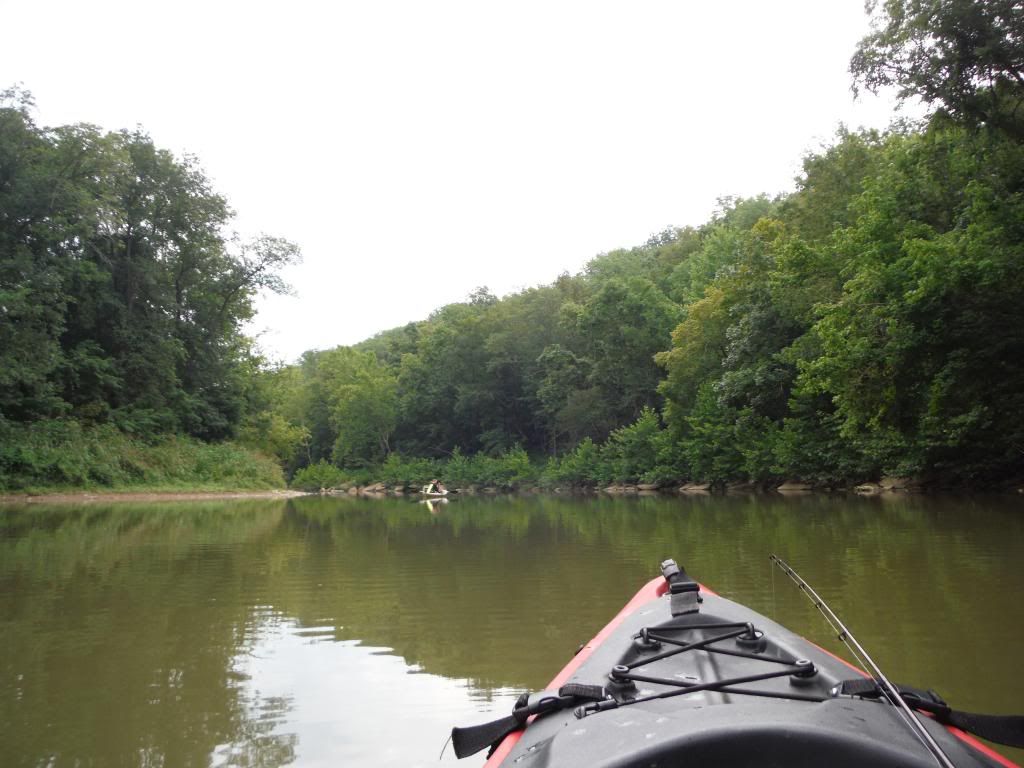 It was an outside bend of the creek, which meant it was much deeper than any other section of creek. The head of the hole starts at 3 foot and eventually drops down into 14 foot of water. Along the outside bend of the creek the bank is lined with car sized boulders. In the past I have learned that typically you can equate fish size to fish habitat....whether that be a flathead catfish in a log jam or a smallmouth in car sized boulders. So I had assumed this spot would hold some of the largest fish in that stretch of creek. This was our second time fishing this spot and we had yet to catch any fish of size. This time around we hooked into a good smallie, and by we I mean Amanda. She was tossing a jig and chigger craw combo when she hooked the smallie under the kayak. Unfortunately after a few quick bursts of drag and a few surfaces she tried to quickly land it by pulling the fish out of the water by the line. A very modest guess for that smallmouth would have been 18" or 3lbs.
She eventually landed a few nice smallmouth, with the largest just hitting the 15" mark. Russ on the other hand had an awful trip. For one he forgot his paddle, had to drag more than he liked, lost a half dozen baits, and then broke a paddle all while he failed to get his first kayak war smallmouth bass (15").
Friday, August 2nd, Jake, Amanda, and I decided to float the same section of creek that we had fished on Tuesday. The evening started out with a few long riffles and a couple smallmouth. We quickly got to the same spot where Amanda had lost her huge smallmouth on Tuesday. We fished the rocks hard but failed to land a smallmouth. However, Amanda did hook a rare catch for this section of creek....a sauger.
As the evening went on she had a shot at redemption with another decent smallie. This time around she brought the fish into the kayak. It went 16" and 1lb 15oz, her new personal best smallmouth.
With a couple decent smallmouth and a sauger we ended the trip.
Saturday, Jake, Amanda, and I decided to float a lower section of Ohio Brush Creek. We floated a 3 mile stretch and had 6 hours to do it. Saturday we found that the fish were relating to a different type of structure than in our previous trips. Before we were catching fish off of rocks, this time around we found fish off of wood. An hour into the float Jake had caught another rare catch not only for the creek but this time of the year.....a 13" crappie.
Jake then went on to catch spotted bass, largemouth, smallmouth, gar, and bluegill to have one of the best multi-species days of the year. Amanda and I went on to wear the 10-14" smallmouth bass and spotted bass out. It appeared that the lower stretch of the creek had more largemouth and spotted than the northern section. With no large smallmouth to show off, here's a picture worth bragging about.....the sheer beauty of Southern, Ohio.