Thursday I went out bass fishing once again at another local lake. Finally we had some sunshine in the forecast so I was just happy to not get wet for a change. Of course I was jigging once again, it's all I've wanted to do ever since the Kiser Lake tournament win. Tuesday I was using a black and blue jig as the water clarity on that lake is not great. This time the lake I was fishing had somewhat clear water so I switched it up to my favorite color green pumpkin.
I got on the water at 5:00pm and started making my way around flipping my jig along the bank, weed lines, and any submerged trees. 15 minutes or so In I got my first and what turned out to be my smallest bass of the day, an 11.5 inch. Another 30 minutes went by and I got a nice 15 incher. I went to weigh it as I do all bass that I believe to be over 1lb so I can keep track of points using our
Fishing Points System
for use in my fishing log. This was when I found out my scale had broke. It would turn on and display junk numbers no matter what I did. I tried replacing the battery as I keep a spare but it didn't help.
It wasn't a big deal as I knew about how much the bass weighed, 1.75lbs, but I always like to be exact. This scale has served me for many years, it is the scale that weighed all 4 of the fish in our banner. Unfortunately it has seen the end of its days and I'll be in the market for a new one.
I returned to fishing, casting back to almost the exact same spot where I caught the 15 inch and that's when it hit. I hooked into one big enough to pull some drag. Thankfully this didn't end up as one of those fish that got away stories and I managed to get the pig aboard. This largemouth measured in at 19.75 inches and I approximated its weight at 4lbs since my scale was broken.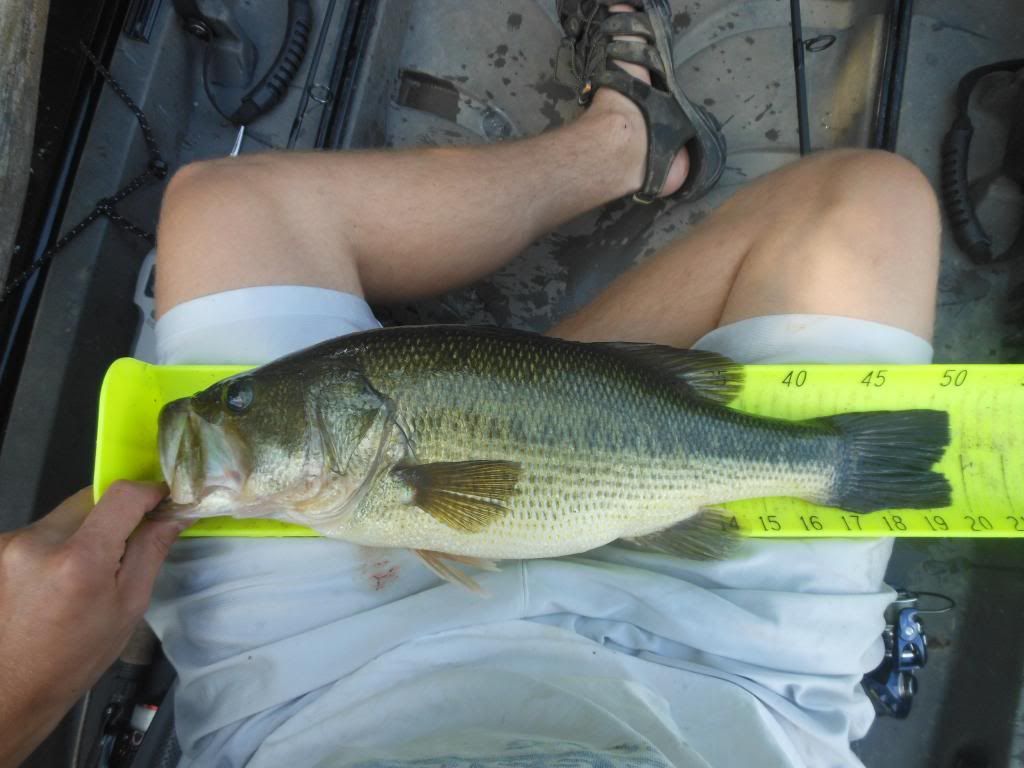 19.75 inch Largemouth Bass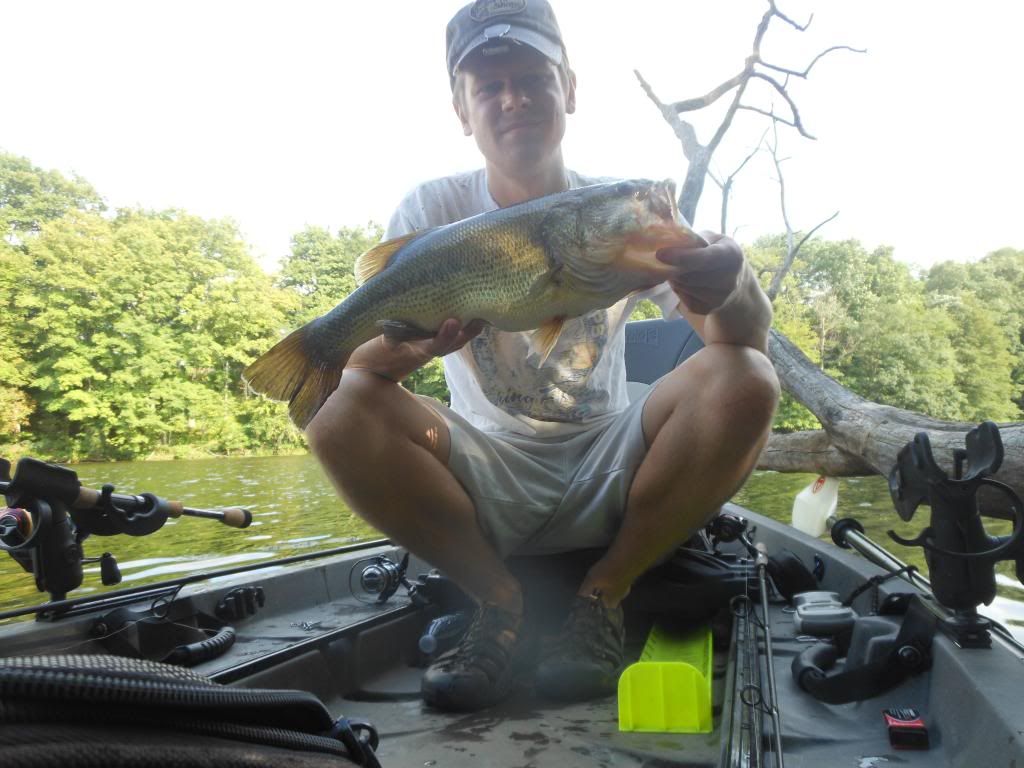 19.75 inch Largemouth Bass
I also took the liberty to get a release video.
I continued fishing on and not long after I got another decent one at 14 inches. Things slowed down for a while after that. A couple hours later I finally got my fifth and final bass of the day, a nice 16.5 incher. Upon removing my jig I noticed this one had a bluegill fin sticking out of its gullet and its belly was the bulging from the freshly eaten bluegill. This bass couldn't even resist the jig with a bluegill already filling its belly.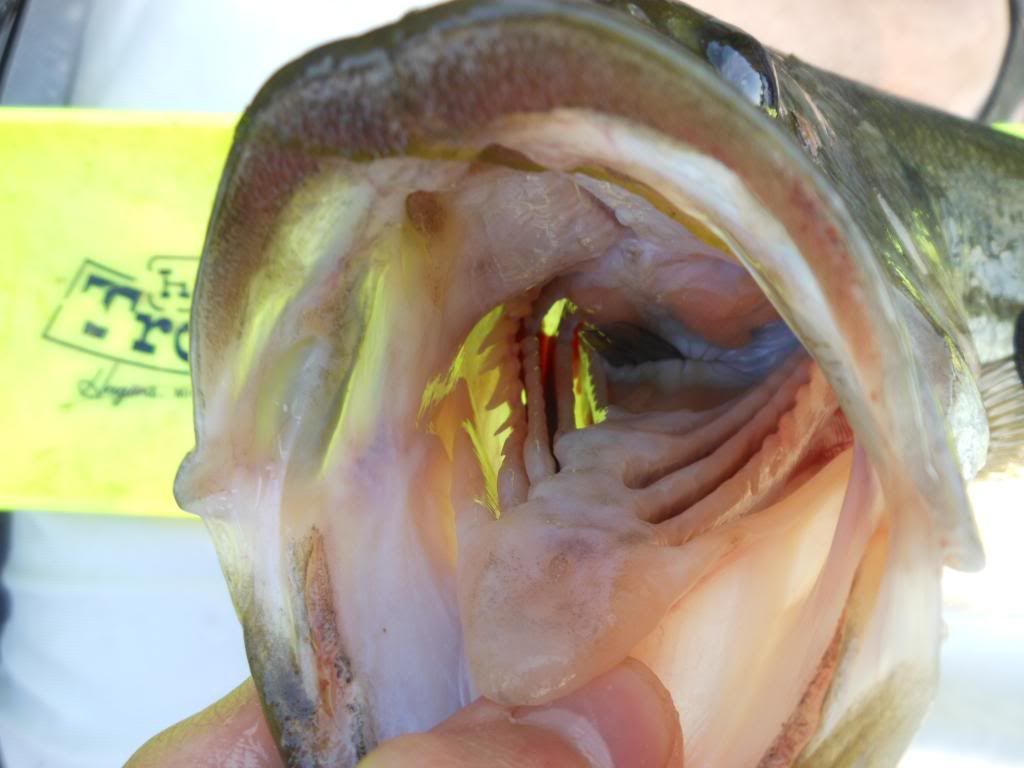 16.5 inch Largemouth Bass with a Bluegill in its throat.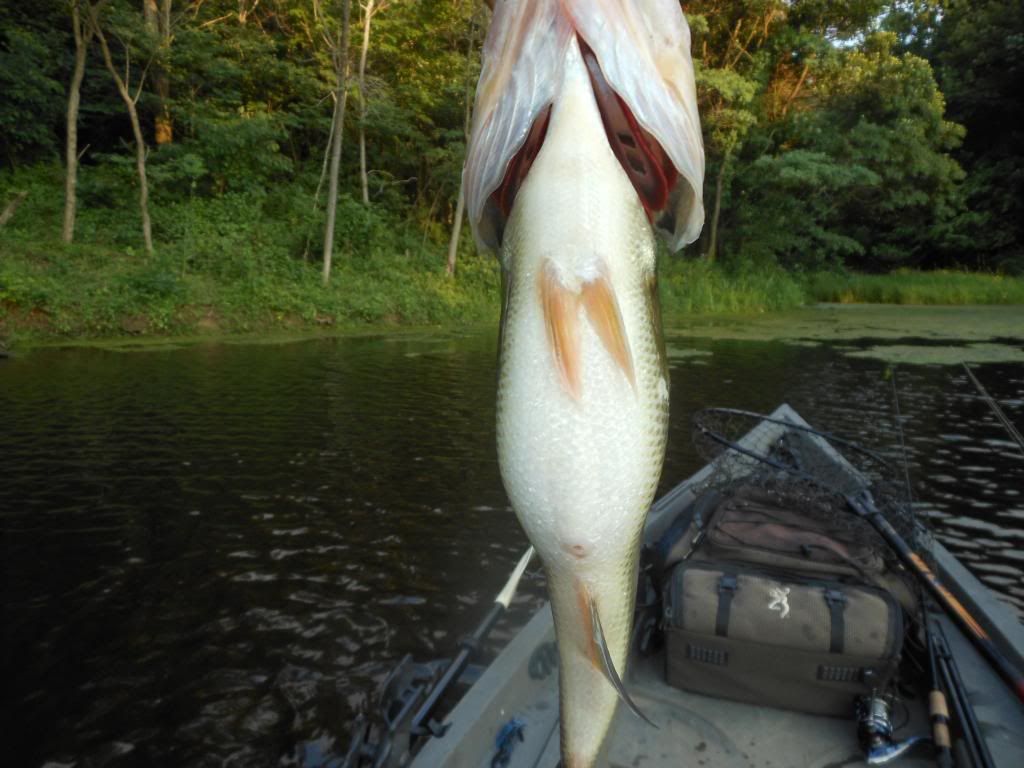 16.5 inch Largemouth Bass with Bluegill filled belly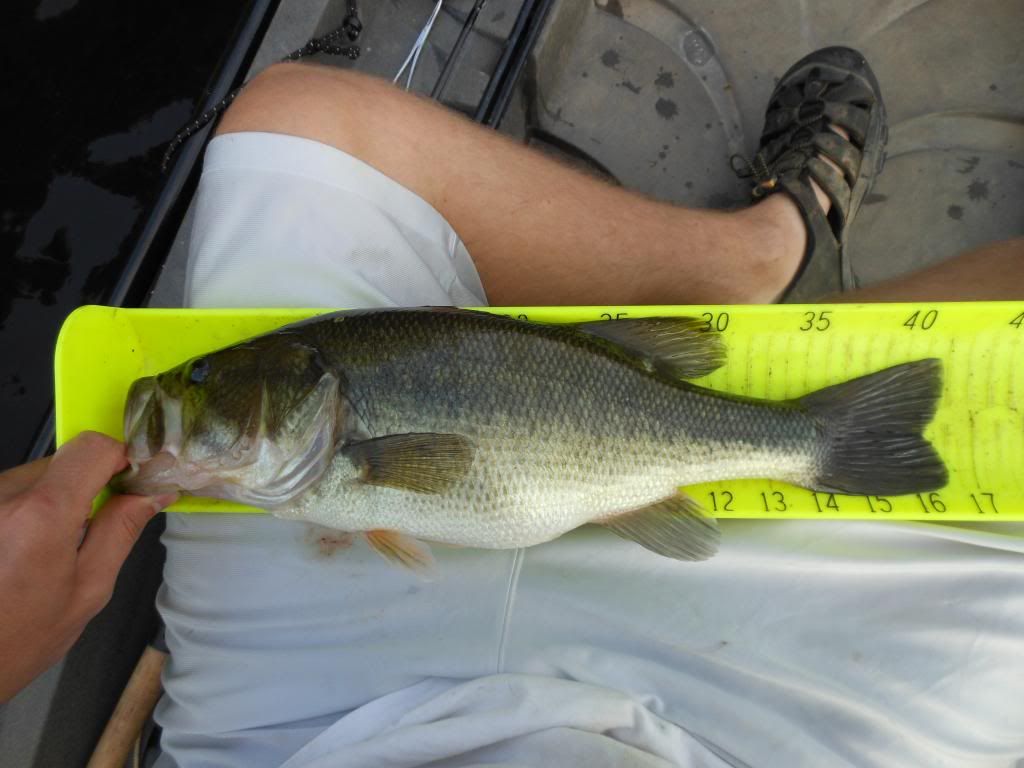 16.5 inch Largemouth Bass
At this point I decided to switch to a buzzbait as it was getting late in the day. After an hour with the buzzbait I only got a couple nibbles and at 9:00pm I decided to call it a day.
On the day I easily had over 10lbs of bass on 5 fish, a great day indeed.