Saturday, Rylan, Amanda, and I fished the Buckeye Kayak Fishing Trail tournament on Kiser Lake. Kiser lake is a nearly 400 acre lake located in Champaign County, Ohio. We knew ahead of time that the lake shoreline was primarily covered in lily pads and dense vegetation. Thursday and Friday, Amanda and I took the opportunity to fish some dense vegetation in preparation for Kiser Lake. Here's a picture of a bass I took out of a hole in a dense lily pad field.
The pre-fishing was very slow and each day I struggled to get 2 fish. I threw everything that I thought would work; heavy texas rigged creature baits, hollow body frogs, weedless swimbaits, etc. However, I failed to find a pattern after two days of fishing and with my confidence shattered I went home. As I tried to get some sleep I debated what I could do differently the next morning, and then the alarm went off. It was 2:30am and it was time to get on the road.
After a nearly 3 hour drive we had arrived at Kiser lake an hour before the start of the tournament. We quickly unloaded our gear and got our kayaks set up. From left to right: Rylan's NuCanoe Frontier 12, Amanda's Ascend fs12t, and my Malibu x-13.
Shortly after we got set up, others started showing up. Rylan took the opportunity to take a picture of the other early birds.
At 7am we were all called into a short meeting where we were told the event rules and regulations. We quickly went over how to measure fish, when and where to check in, and other housekeeping procedures. After a brief meeting we were off. Amanda and I decided to head toward the marina and fish for active fish on a bank that was semi-free of vegetation. My thought was that as the sun got higher in the sky the fish would push into the densest vegetation available, and during low light conditions they would be actively chasing bait around and cruising the shorelines. At this point I had made up my mind that I was going to use a hollow body frog, a bait that I had only used for the first time two days prior to the tournament.
The frog of choice was a Jackall Iobee hollow frog in bluegill color. On my third cast I hooked a 12 inch bass, a dozen casts later and I landed another one. Within an hour I had my three fish for the tournament, however all of them were small. As the evening wore on I hoped to cull the small bass with a few larger ones. Everything was going as planned.
At 1:30pm a storm had blown in and pushed everyone off of the lake. As the storm got close I took a quick picture.
Ten minutes later the wind had picked up and it began to absolutely pour so I decided to head back to the beach. I thought I was the last person in but as I looked up the lake I saw a pack of kayaks that had waited a few minutes too long before they decided to head back.
At this point I had spoke with a few other people and knew that most people were struggling to get three fish, let alone three fish of size. I was feeling that maybe I had a good shot of making the top five with three bass over 13", so I asked Rylan what he had. He replied, "Why, What do you have?" I confidently replied 40", he said he had 44" in his three fish. I then told Rylan what I had heard from other people on the water and, at that point I figured he had a good shot of making the top three. As we waited for the rain to clear, Rylan told me that he did not land his first fish until well after 10am. At that point he had tried just about every bait in his box. He then tied on a jig and started to catch fish deep in weeds, from there he started to find a pattern and catch 15" bass.
The rain quickly cleared and we got back on the water. I knew at this point that I had ground to make up so I went straight to a lily pad field where I had gotten a few bites which I felt were from larger fish. I quickly landed a few more small bass, but nothing much bigger than what I had already gotten. This was pretty much how the rest of my evening played out. I ended up catching 17 bass on the day, and getting well over 50 top water bites, some of which didn't get the frog in their mouth and others that I failed to hook. Rylan's evening seemed to fall into place as he picked up another decent bass. He landed an 18.25" bass, which happened to be his biggest of the day.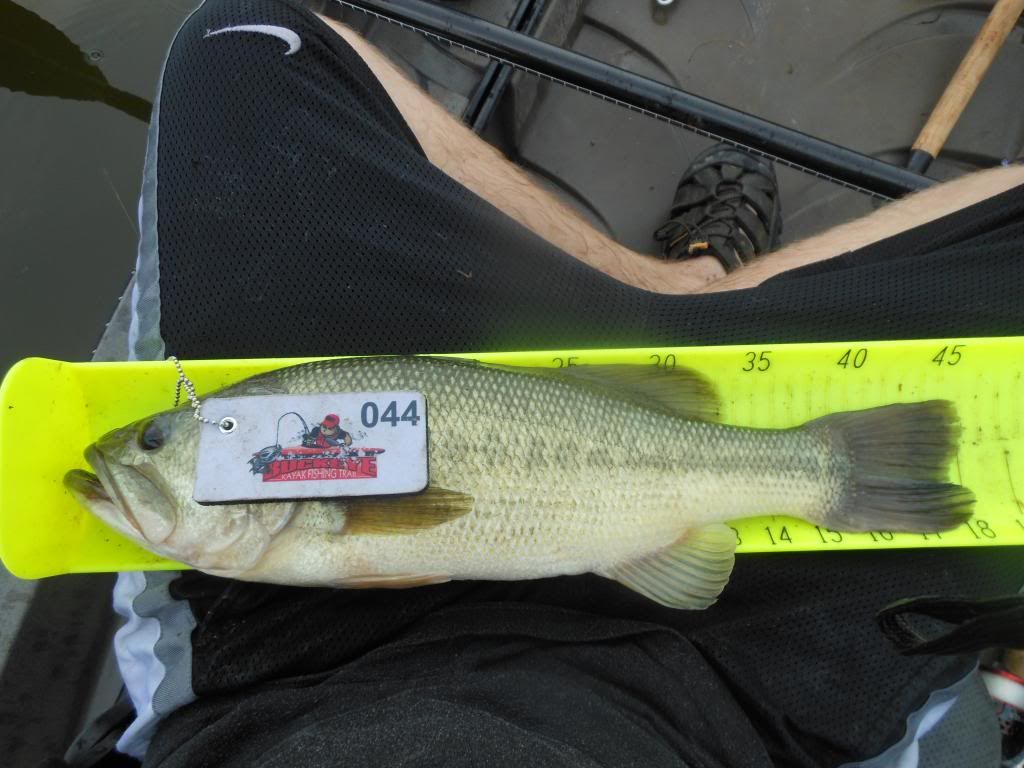 This fish would be very critical in determining his place in the tournament. Thirty minutes before 4pm, we started to make the journey back to the beach. We quickly loaded the kayaks up and went to submit our photos. We patiently waited as the guys checked each photo and tallied everyone's total. There was 28 people in the tournament. The top ten places all received money, and it wasn't long until I heard my name. I placed 10th with a combined total of 40.75" and received $20. Amanda had a rough day and didn't measure in any fish, so we knew that her name wasn't going to come up. At this point it was just a matter of waiting until we heard Rylan's name. 9th was called, 8th, 7th, 6th, and then 5th. At this point Rylan had made it into some serious money. 4th was called, then 3rd, and then the moment of truth....................2nd place, and it was not Rylan's name called. Rylan had managed to pull off a first place finish on a lake that he hadn't fished before against very tough competition. An accomplishment I'm sure he won't soon forget. Rylan ended up getting $200 for first place and missed the big fish pot by less than an inch. The big fish was 19". He ended up with 48" on his best 3 bass. Amanda and I both won some raffle prizes as well, both of which happened to be Yak Attack GearTrac's and tackle from J&M Tackle.
I want to thank everyone who helped to put on the tournament, the anglers who attended the tournament, all of the tournament sponsors, and the state parks for letting us use their facilities. Check the Buckeye Kayak Fishing Trail Team, their Sponsors, and the trail standings out by going to
www.buckeyekayakfishingtrail.com
See you guys at the Dayton Regional River Event.