This week we fished Thursday through Sunday, each trip we found ourselves facing adverse weather conditions.
Thursday, May 30th
Thursday, Jake, Amanda, and I fished a local creek after work. We decided to float a three and a half mile section of the creek in the five hours we had before dark. It was rather windy, 10-15mph, but the creek was well sheltered so it didnt affect our fishing. As Jake and I were unloading the kayaks at the drop off point, Amanda thought she'd take a few casts. Sure enough she caught one on the first cast....next time she'll unload her own kayak.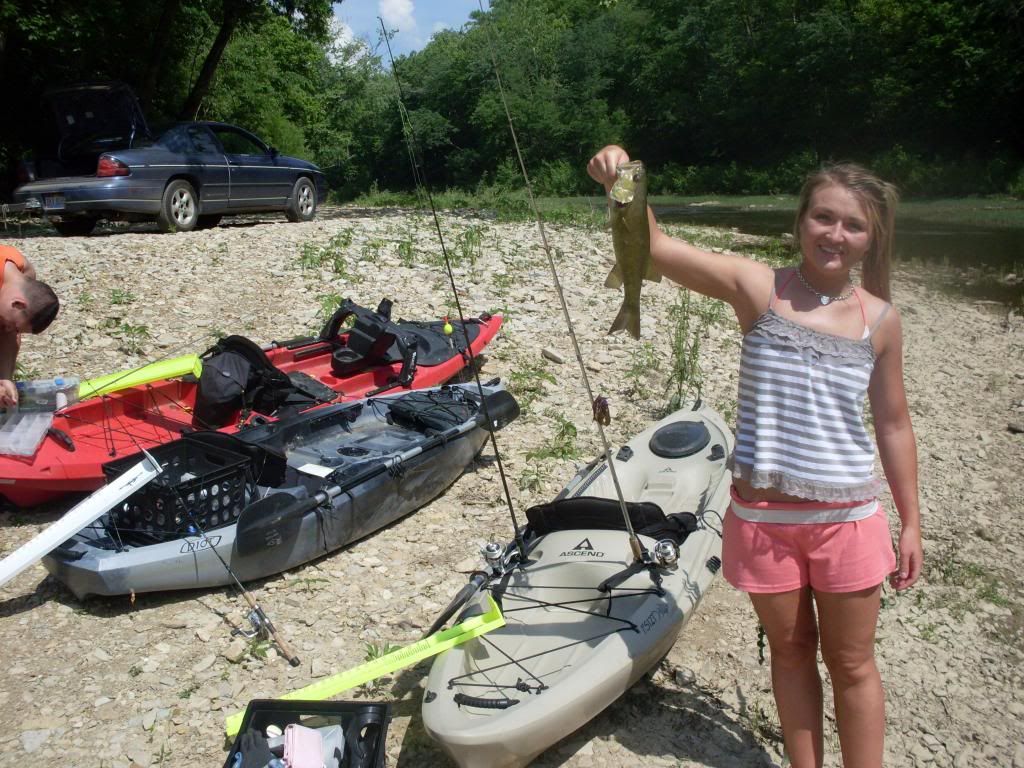 After she got her first fish out of the way we set off. The particular section of creek we chose to float was super shallow and narrow. We ended up dragging our kayaks way more than I would have liked to. We did notice that there were a ton of fish in between riffles in the slack water, but the water was so swift that we didn't get to cast at them. At one point I saw several small channel cats sitting in less than 8 inches of water. We saw dozens of gar, so many that Jake ended up casting for them most of the evening, but failed to land one. I ended up going through two packs of chigger craws because of gar, small bass, and bluegill biting my claws off. Amanda seemed to have a better trip than us. She caught several spotted bass, smallmouth, and drum. The biggest of the day was a 15.5" smallmouth that weighed 1lb 8oz.
Friday, May 31st
Friday, Amanda and I took the kayaks out to a local creek that we knew held a good population of largemouth bass. My phones weather app, accuweather, stated that we had less than a 30 percent chance of rain. With that in mind we loaded the kayaks up and hit the creek. We got on the water at 3:30pm and were dry up until 5pm. Fifteen minutes before the rain hit we heard a noise in the distance, it sounded like a really loud truck that was coming right toward us.....really slowly. I knew that there wasn't a road nearby so I started paddling toward a well sheltered area of the bank. I thought it was just really hard rain coming but it was some severe wind pushing the rain in. I wasn't really aware of how bad the wind was because we were somewhat sheltered in the creek. Later, Rylan informed me that the wind was well over 40mph while he was driving to Bass Pro Shops Friday evening.. We sat through the hardest part of the rain and wind. The second cast after the rain I landed my first, and biggest, fish of the evening. It was an 18.5", 3lb 10oz Largemouth.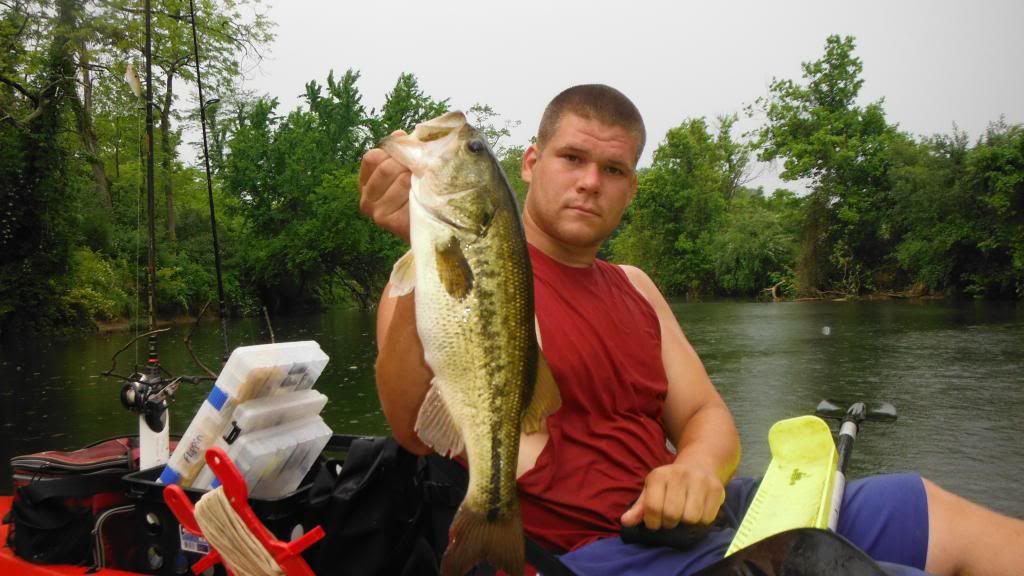 It continued to rain all evening and I managed to catch a couple more bass over 16 inches, including one that went 2lbs 14oz and 17.5". At about 6pm, Amanda had given up and went back to the bridge to wait out the rain, but it never stopped.
Saturday, June 1st
Saturday, I got a new weather app, the Weather Channel app. This time around both weather apps agreed we were going to be good and dry. So I convinced Amanda to head back out and fish the creek again. We got on the water and realized that the rain we fished in Friday didn't seem so bad after all. Saturday the wind was going to be our biggest problem.
We fished all day long and only managed a few fish. Amanda and I both landed one bass over 16", the minimum length to qualify for points on Kayak Wars. Here's a picture that Amanda took of her bass.
We did notice that most of our fish were starting to heal up from spawn, which made me start to rethink my bait of choice.....the black and blue jig. Its a great bait all year round but when bass just come off spawn they can get really aggressive. At that point a crankbait may be a better option.
Sunday, June 2nd
After rain on Friday and wind on Saturday, Amanda was ready for a break from fishing. She decided to help her family around the house while I went fishing. I loaded my kayak up and got on the water at 2pm and fished until 9pm. Since I had no competition, I decided to give the black and blue jig and chigger craws a break. I paddled up to the first riffle and tied on my second lure of choice.
A shad rap in original color. I tied it on my new favorite rod and reel set up, a shimano compre rod and shimano curado reel. I was very hesitant to tie it on because the curado was spooled with braid.(There is a general rule of thumb that when using crankbaits you should use a fast action rod and monofilament line.) I didnt catch near the numbers that I did with the jig, nor did I catch near the size. However I did get to catch crappie and bluegill, which aren't very common on the jig.

The weather's looking good for the begining of the week so I will get to continue my fishing streak. Maybe I'll shoot for a personal best......most trips in a row.