Since getting my NuCanoe Frontier in March I've had it out a dozen times or so and I've got quite comfortable with it. Here's a look at my typical setup, nothing fancy.
I keep my seat back almost all the way to give myself ample standing room. I leave just enough room to tuck a life jacket between the seat and the battery box. I've not yet installed a fish finder or lights like I plan to so I'm not taking advantage of the battery box yet. I keep an anchor on each side of the battery box with the rope wrapped around a piece of pvc pipe. I have installed an anchor trolley on each side for each anchor. I tuck my Hawg Trough measuring device under my seat, these things are perfect for measuring fish for tournaments and such. I keep my rod holders towards the front out of my standing area. If I take more than 2 rods I tuck the others up the side. My tackle bag fits nicely in the front. I have a camera mount on the front of a freedom track next to my bag. Lastly I put my net over the nose of the frontier.
I've also bought a few more extras that I don't use or I've yet to install and also a second seat.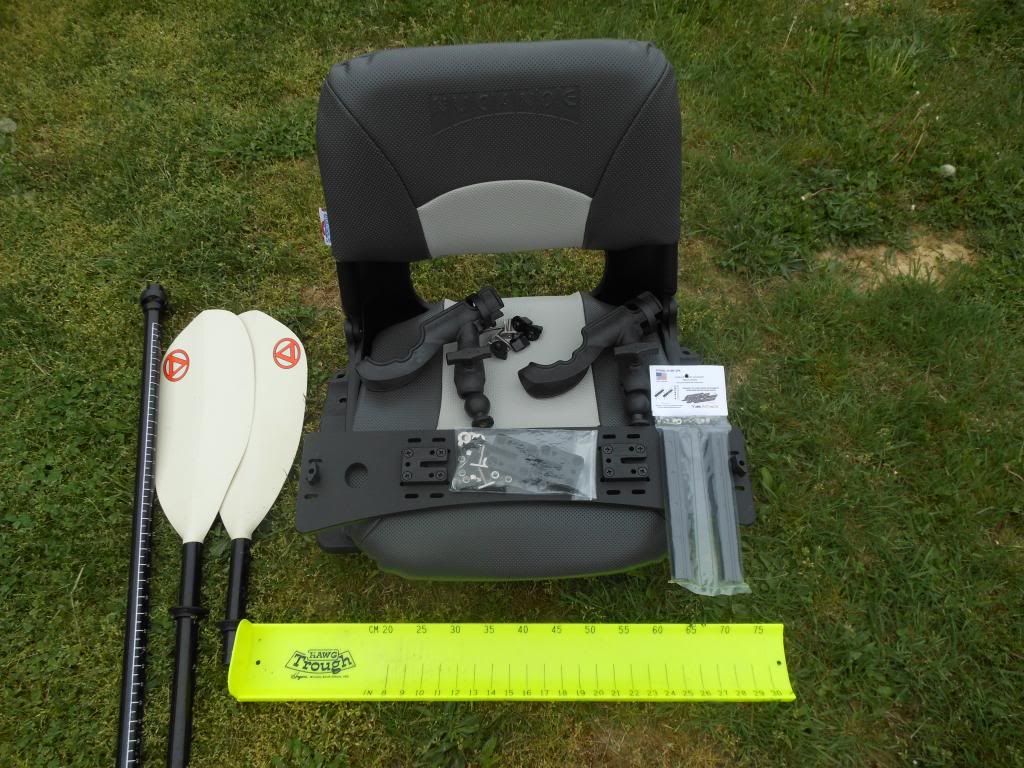 I decided to get a second max 360 seat so I could take my girlfriend out with me sometimes. It was cheaper and easier than getting a second kayak. Last week we tried out tandem fishing for the first time. It went pretty good. I stood in the middle most of the time while she sat on the front. I wouldn't want to both be standing. It was plenty stable with her sitting and wasn't too crowded. I've also bought 2 additional rod holders with screwball mounts. I'm planning on mounting some additional tracks on the rim of the frontier before using them. I like the idea of getting my rod holders up and out of the standing area. I actually won a 2 pack of 8" Yak Attack Geartracs in a raffle at the end of the Buckeye Kayak Fishing Trail Big Slab Crappie Challenge event last weekend. I was pretty excited since it was exactly what I needed. I plan to buy another 2 pack of the 8" tracks so I can have one track for each rod holder on the rim. For my transformer paddle I got some paddle drips. I found out on the first few trips that I was getting pretty wet while paddling. The paddle drips help. I also bought a slide mount and 4 mighty mounts which I don't use currently. I'm thinking about putting 2 of the mighty mounts up front so while tandem fishing the front person will have easy access to rod holders.
So at this point I still want to make a fish finder mount, install lights for night fishing, and mount some additional tracks and mighty mounts for more rod holder mounting locations. Also wouldn't mind getting a GoPro camera with some sort of remote trigger in the future.
This week I gave my frontier a good washing. It was quite dirty from several long trips and dragging it through muck.