Well this weekend we decided to take the kayaks out to do some catfishing. My goal was simply to put my first cat in the kayak.
Friday we got off work, hooked up the trailer, and met up with Russ. We quickly got a dozen bluegill and then I decided to head up stream to a riffle where I had spotted some redhorse suckers the week before. This week the suckers were nowhere to be found. I did manage to spot a good sized channel below the riffle, a decent sized flathead waiting upstream of the riffle, 3 massive carp cruising a shallow flat with the flathead, and a nice spawning largemouth.....which was certain to be a flatheads dinner. Oh, and you can bet that I took a few casts at the flathead, however he wasn't interested in a jig and Berkley power bait chigger craw. I then heard a rumble in the distance, I turned to look over my shoulder to see a blackened horizon. With a storm approaching I decided to head back down the riffle to Amanda and Russ. I got back down to them and started tossing nightcrawler to catch a few more gills before the storm hit. Less than two minutes later it started raining, I looked over to Russ and Amanda to see how they reacted to the rain. Each of them seemed to be unphased by the light rain. Then the lightning started and the rain got pretty heavy, and once the lightning got close I made the decision to head back to the bridge where we launched from. We followed the bank back to the bridge and sat out the rain. Two hours later, we had all changed into dry clothes, got a bite to eat, and were almost certain that we were never going to see the end of the rain. At about 9 the rain had stopped and we got back in the water. Our game plan was to hit the area below the first riffle where we had seen the catfish while bait-fishing, and then slowly work downstream. On the first cast, seriously the first cast, Russ had hooked up. At this point I had re-tied one rod, set my anchor, and was working on my second rod when I heard the news. I quickly pulled anchor and worked my up to Russ. After a few quick runs, Russ had landed the first flathead of the night.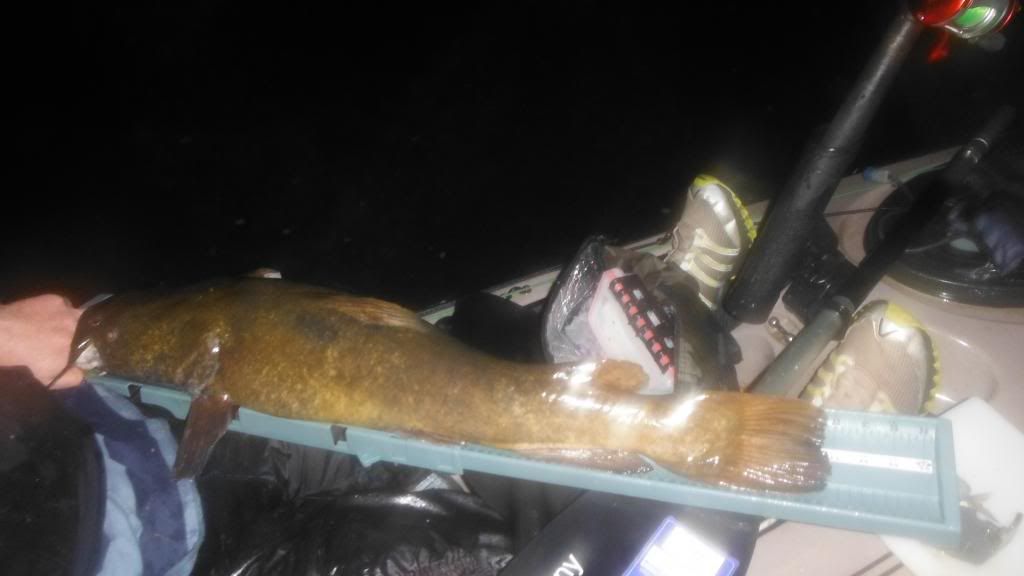 Russ' flathead went 12 pounds and 33". At this point I was super excited about what the night would hold so I quickly paddled downstream and began fishing. Shortly after I realized the creek had started to rise and started to get super muddy. The flow increased and we failed to manage another bite.
Sunday, Amanda and I went out to get our first catfish in the kayaks. We decided to try the daytime bite, my thought was that I could key in on where the fish were staging more so than I could at night. We got the kayaks in the water around 10am and fished until 8pm. I started fishing the shallow end of the creek and moved downstream every 30 minutes I spent without a bite. I got about 100 yards downstream (3 or 4 different anchors) from where I started before I got my first bite. The bites came from a hole on an outside bend, a typical holding spot for catfish. After missing a half dozen runs I decided to move on. That was a mistake, from that point on I didn't get another bite. At about 7pm I decided to call it quits and drift back downstream to the car. On the way down I decided to throw a 4" Berkley Power Bait Chigger Craw for bass. Turns out we should have been bass fishing, I managed 3 bass in less than an hour and one at 18".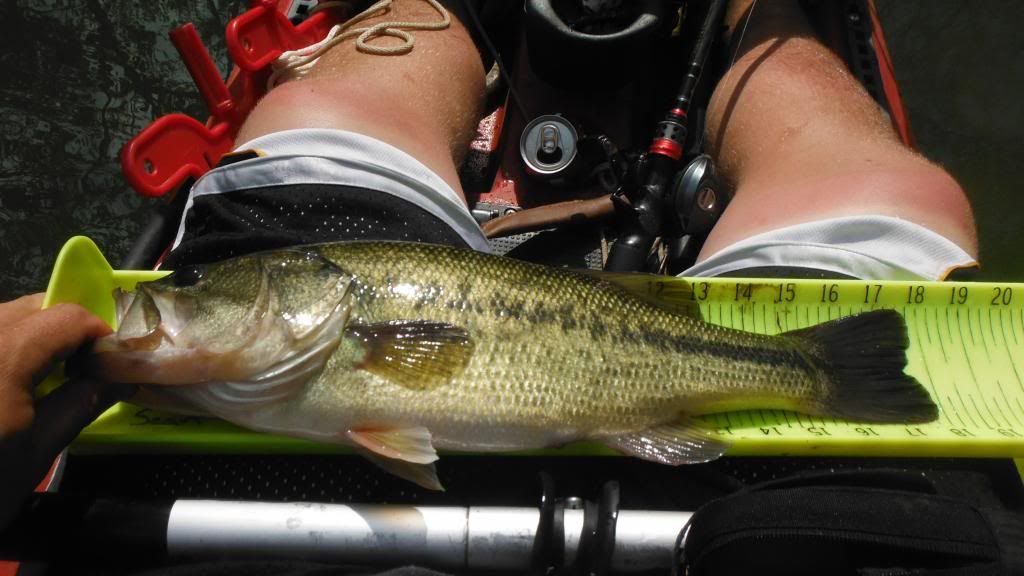 Maybe next week Amanda and I will get our first catfish in our kayaks.