Saturday, May 4th, Sean, Amanda, and I participated in our first kayak fishing tournament. It was the first event on the
Buckeye Kayak Fishing Trail
, a kayak fishing trail new in 2013. Obviously the trail is based in Ohio, the buckeye state. The first event was the Big Slab Crappie Challenge, the only event on the trail featuring crappie as the target species, all the other events are for black bass (largemouth, smallmouth, and spotted). There are 6 in person events including 1 main event at the end of the year, 2 online events, and big fish awards for select species (Largemouth, Smallmouth, Crappie, Walleye/Saugeye, Panfish/Rock Bass, Catfish, Pike/Musky). Currently I hold the biggest crappie of the year with the 14.5" I caught a couple weeks ago. The website for the trail is really nice and explains all the event details. I'd encourage any kayak angler in the Ohio area to check it out. When Sean told me that he was participating in the tournament I was skeptical at first but once I seen the website and how well put together it was I decided I was in too.
The Big Slab Crappie Challenge was held at Indian Lake, a lake that we have never fished nearly 3 hours drive away. After hours of research online we developed our game plan for finding the crappie on this 5000+ acre shallow lake. Check in was at 7:30am and Sean wanted to get an early start so we loaded up and were on our way shortly after 2am Saturday morning. We arrived at the lake at about 5:30am and first scoped out our planned launching point. By 6am we were at the check in location, the first ones there waiting. We watched dozens of boats cycle through the bait shop we were waiting at and learned that there were at least 3 bass tournaments going on and at least 1 other crappie tournament going on. We also noticed that the wind was already pretty bad, which was expected as it was in the forecast. The main lake appeared to have white caps. I wasn't looking forward to paddling against it and I hoped we could find a place to fish that wasn't effected by the wind as much.
The turn out wasn't nearly as big as we expected, 18 people registered. Entry was $20 with an optional $5 big fish pot. The tournament was CPR (catch, photo, release) with the 3 biggest crappie in inches forming your score. By 8am we were off and heading to our intended launch point. We got on the water at about 8:30am. Boats lined the shores every 50 yards or so. We headed to an area of the lake known as the game preserve, which was with the wind at this point. The lake was extremely shallow, 2-4ft in the areas we traveled. Visibility was about 6" and there was an abundance of lily pads lining the shores. Our plan was to probe these lily pads and whatever other structure we could find with minnow floats, crappie tubes, and small swim baits. My goal at this point was to just catch 3 crappie period while Sean set a more challenging goal of 30 inches.
Nearly an hour went by with no fish between us so it became apparent that it was going to be a slow day. We did however make it out of the wind for the most part. Finally Sean got on the board first with a nice 11.5" crappie, this gave me hope that maybe it wasn't going to be a numbers game and we would just find a few bigger crappie. This wasn't necessarily the case. I soon thereafter got on the board myself with a smaller crappie just over 9". Amanda followed suit getting on board with a crappie around 9" as well. After 3-4 hours we had all caught at least 3 crappie. Sean with a couple dinkers in the 6-8" range and his 11.5", Amanda with 3 around 9", and me with 3 around 9" as well. We had all also caught a few undesired species, bluegill, bass, perch, and even a carp. We had noticed that there were several carp splashing around in the lily pads, It appeared that they may have been spawning as I kept seeing 2 of them rolling around on top of each other. At one point they even hit my NuCanoe. So early in the day Amanda hooked into one of these carp and ended up landing it. It went 9lbs and 26".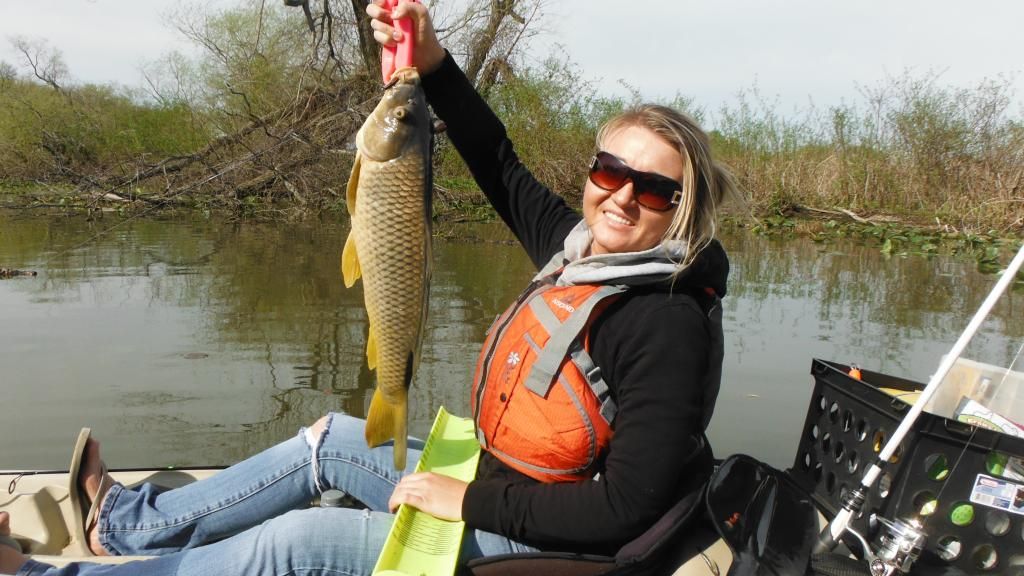 So noon rolls around and at this point you couldn't fish a spot that hadn't been fished 5 times already. We were all just looking for bigger crappie to bump our scores. Towards the end of the day we all ended up fishing close to the same snag which was producing several crappie around 9", no doubt the hottest bite of the day. Sean easily weeded out his 2 dinkers with a couple around 9". Amanda found the biggest crappie of the day at 11.75". I also found several right around 9" so it was just a matter a bumping up very small increments.
Check in was at 4pm so we intended to paddle back at about 3pm. Shortly before this Sean and Amanda topped off their days with a couple 14.5" saugeye casting small swim baits out in the middle of the channel we was fishing. There was actually a bonus challenge to catch a 16" saugeye for some bonus points in the overall trail standings. They were both disappointed that they nearly had it. It was about a 15 minute paddle back against the wind for half of the journey. It was rough, especially for me in the NuCanoe which is effected by wind the most, but we all made it back. We loaded up and got to the measure in at 3:30pm. I measured in at 27", Sean came in at 30", and Amanda trumped us both at 30.25". We had no idea how everybody else did. While we we waited they made burgers and hot dogs, It's safe to say I was pretty hungry and we appreciated the generosity.
The final results came in. I don't remember all of the inches exactly, but the points and placement are posted on the trail website.
| | | | |
| --- | --- | --- | --- |
| 1. | Chase Bateson | 110 | ~37.5" |
| 2. | Travis Belcher | 100 | ~36.5" |
| 3. | Amanda Jones | 90 | 30.25" |
| 4. | Larry Haines | 75 | 30" |
| 4. | Sean Stone | 75 | 30" |
| 6. | Aarron Saldivar | 60 | ~28.5" |
| 7. | Rylan Hayes | 50 | 27" |
| 8. | Bob Rusinko | 40 | |
| 9. | Neil Farley | 35 | |
| 10. | Jeff Schrader | 35 | |
| 11. | Jeremy Haycox | 20 | |
| 12. | Brad Lehman | 20 | |
| 13. | Michael Hill | 20 | |
| 14. | Luke Buxton | 40 | |
| 15. | Kurt Nordquest | 10 | |
| 16. | Quinton Echols | 10 | |
| 17. | Kyle Kockheiser | 10 | |
| 18. | Mike Wendel | 10 | |
So Amanda got 3rd, Sean tied for 4th, and I got 7th. Top 5 were in the money so Amanda got $60 and Sean got $30. The big fish of the day was a 14" by Chase Bateson. We were all pleased with our performance.
After the results they raffled off some stuff from sponsors which included some stuff from Yak Attack and some bait grab bags. If you were in the money then you weren't eligible for the raffle so I was the only one included in the raffle. They actually had more prizes than they did people and I was drawn early so I got what I wanted, a 2 pack of 8" Yak Attack GearTrac. I've been planning on mounting some gear tracks on the rim of my NuCanoe so I was pleased.
After the raffle we headed home, exhausted. Personally I ended up staying awake for nearly 40 hours. The next event of the Buckeye Kayak Fishing Trail is a 4 hour drive for us so as of now we don't plan on participating. We do plan on participating in future events though, Most likely the third event which is at Kiser Lake will be our next.