Monday, May 13th, and Tuesday, May 14th, Amanda, Jake (My little brother), and I took the kayaks out after work to do some bass fishing. We had some success in the lakes fishing the pre spawn bite, so we figured that the creeks were slightly cooler and possibly running a week or two behind the lakes. My thought was that the bite we experienced last week on the lakes would be similar to the creek bite this week. Turns out.....I was dead on, we absolutely tore the largemouth up.
Monday was pretty windy, 20 mph, and cold, 55 degrees. We started out tossing crankbaits, all of a different variety. To be completely honest the first trip was pretty rough until 6:30pm. At this point I had landed two largemouth on crankbaits at 14". However at approximately 6:20pm, Jake had moved off of the main creek into a tributary and started making funny noises. I looked over and he kept holding his arms up and saying he saw huge bass. I immediately dismissed it as carp feeding in the shallows. After about five minutes of hearing him go on I decided to check this fish out. I grabbed a black and blue jig and took one cast, and that's all it took. As I was fighting the fish Jake had hooked into a good one. We both landed largemouth within 10 seconds of each other....and each fish exceeded 3lbs. Mine at 3lbs 1oz, and his went 3lbs 8oz. Here's a couple pics of our first kayak bass double.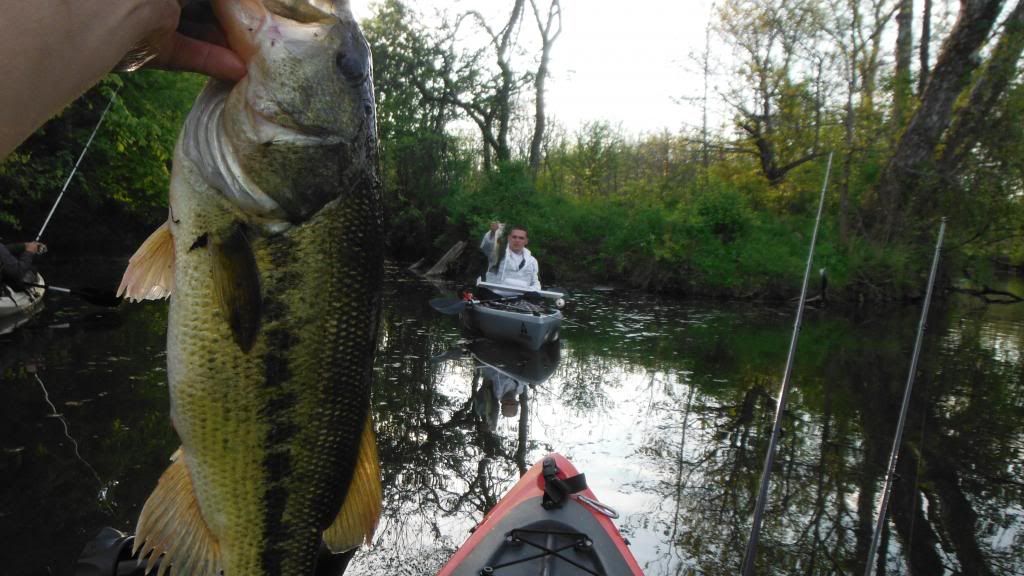 I told Jake to grab mine and take a picture with it, since he is 100 pounds lighter he would make the fish look much bigger than I would.
I then hooked a second and third bass out of this very spot that both went over 16". At this point, Jake and Amanda both made the switch to jigs and we began to make our way into the tributary. The action stayed pretty constant and we fished well past dark.
The second day was much warmer with temps in the mid 70's but the wind stayed in the 20mph range. This time around everyone was prepared, jigs pre tied. We talked about our game plan and decided to try and fish the main creek rather than the tributary.....for one reason, I wanted to give those fish a break and secondly, to see if we could find bigger fish. We caught a ton of nice fish again and I did manage to find one larger in the main creek than we did in the tributary the day before, but not much larger.
Here's my 3lb 10oz largemouth that went 20"...less than an inch shorter than Jake's 5 pounder from the previous week. The only difference is a belly full of eggs.
We caught a half dozen fish over 18", more than a dozen over 16", and lost quite a few smaller ones. Amanda had a rough time on both days, failing to land a fish over 18". Not to say that she didn't have the opportunity to land them, because she did, but she failed to bring them into the kayak. However, she did manage to get a giant green sunfish on a 1/4oz bitsy bug jig and 3" chigger craw trailer. The green sunfish went 9.75" and 11oz, a Fish Ohio trophy to add to her collection.
Everyone had fun, got out of the house, and Jake and Amanda got to take jig n craw 101. We had a blast and with the next few days forecasted to have scattered thunderstorms, it looks like we'll have a couple days to rest before the weekend.
With the last few trips we have managed to move team "esbfishing" on Kayak Wars up to 37th place in the worldwide freshwater standings, and 10th in the North East region of the USA Freshwater standings. Follow the tournament here.
Kayak War Standings