Last week we got out and fished 3 times on various bodies of water. We fished creeks, large ponds, and small lakes. The weather was as diverse as the water we fished, one day it was calm and cool and the next it was super windy and hot.....one day the water was clear and flowing slow, the next it was over its banks and looked like chocolate milk. The best day of the week came from a small state lake on Wednesday evening. The wind wasn't bad and the temperature was in the 70's, the only problem was that the day before we got almost an inch of rain in a very short period of time so creeks were over their banks. Anytime creeks are flowing like that its hard to fish. This lake in particular was running high but clear. We started on the deep end of the lake and followed the wind down the bank to the shallow end. I had a small rapala crankbait tied on one rod and a 1/32oz jig with a Bobby Garland baby shad tied on the other rod. I tossed the rapala when I wasn't near structure and then tossed the jig into structure. The bite was hot, I ended up catching tons of bluegills, over a dozen crappie, and 10 largemouth. Within the first hour I had hooked a huge crappie on the Bobby Garland, but as luck would have it my line went slack and got caught under the reel handle....luckily the fish was still on. I quickly started pulling line up with my hand, until the fish surfaced and I could land it. It was my first 13" crappie and my first Fish Ohio of the year as well. It went 1lb. and 1oz.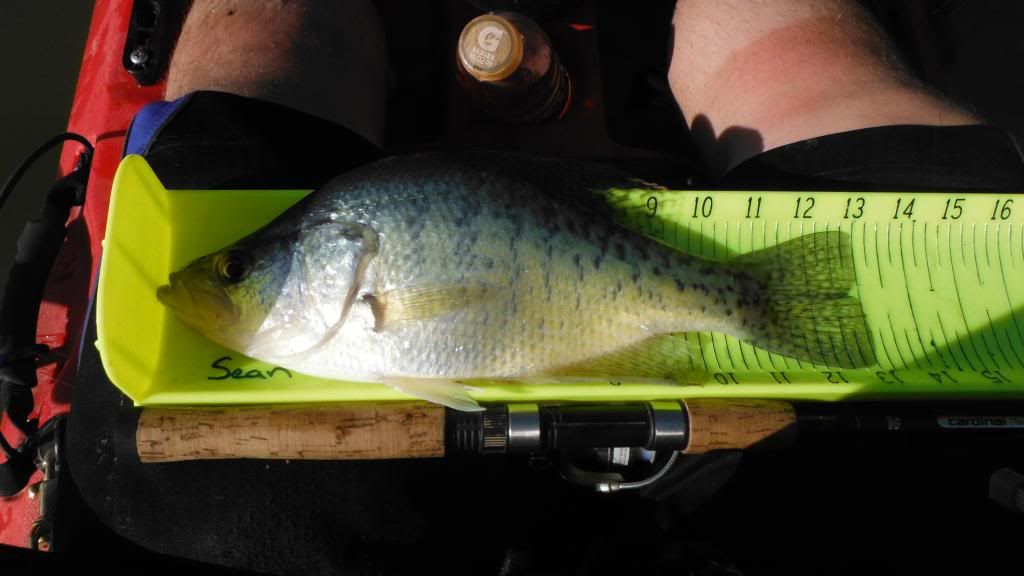 Shortly after landing the 13" crappie I decided to give the panfish a break and I started tossing a rapala original floating minnow. As I was heading down the bank I looked up to see a school of carp basking in the sun. I took a break from fishing and tried to take a picture, I wasn't sure how the glare would affect it but it worked out alright. You may have to click on it and view it full screen, you can see at least 10 decent sized carp.
At about 6pm I had made my way up to the shallow side of the lake and started casting up into the shallows. On one particular cast I tossed my crankbait up into some sycamore roots and immediately felt snagged, until my drag started to slip. After a long battle I finally landed my biggest bass from the kayak...at 3lbs 1oz.
The rest of the week we caught a ton of 14" largemouth, 8 inch bluegill, and 10 inch crappie but lacked any true picture worthy fish.
Friday we decided to give the water a break and see what was going on in the woods. We took a few bread sacks and went out to see if the morels had started popping up yet. Sure enough we found 149 morels between 4 of us in 3 hours of hunting. We found 145 black mushrooms and 4 greys, most of which were smaller than average. Here's a picture of them as we counted them up. Sorry for the blurry picture, but I only had a cell phone on me and its lens is scratched up.