Unfortunately I didn't get to fish much in the beginning of April, higher priority things came up. However the last week and a half I have been trying to make up for lost time. Last Saturday, 4/20/13, I went out in search of a trophy crappie and I didn't just find one, I found four including a new personal best. I started the day off by picking up some minnows and heading to a lake that we have been doing well at for crappie. I got on the water at about 3pm. The wind was rough, gusting in excess of 20mph so I didn't have high hopes. I paddled to one of the nicer looking snags in the lake and put out a minnow on a float set 4ft deep near the snag. I then started casting a small crankbait around in search of any active fish in the area. It wasn't long before I started catching nice eater size crappie in the 10-11 inch range along with a few bluegill and largemouth on the crankbait. The minnow float action soon thereafter picked up as well and I brought in a few more 10-11 inch crappie. It wasn't long before I found my first and smallest trophy crappie of the day on the minnow float. It was right at 13 inches and 1lb 0oz, good enough to qualify for a Fish OH trophy and my second Fish OH of the year.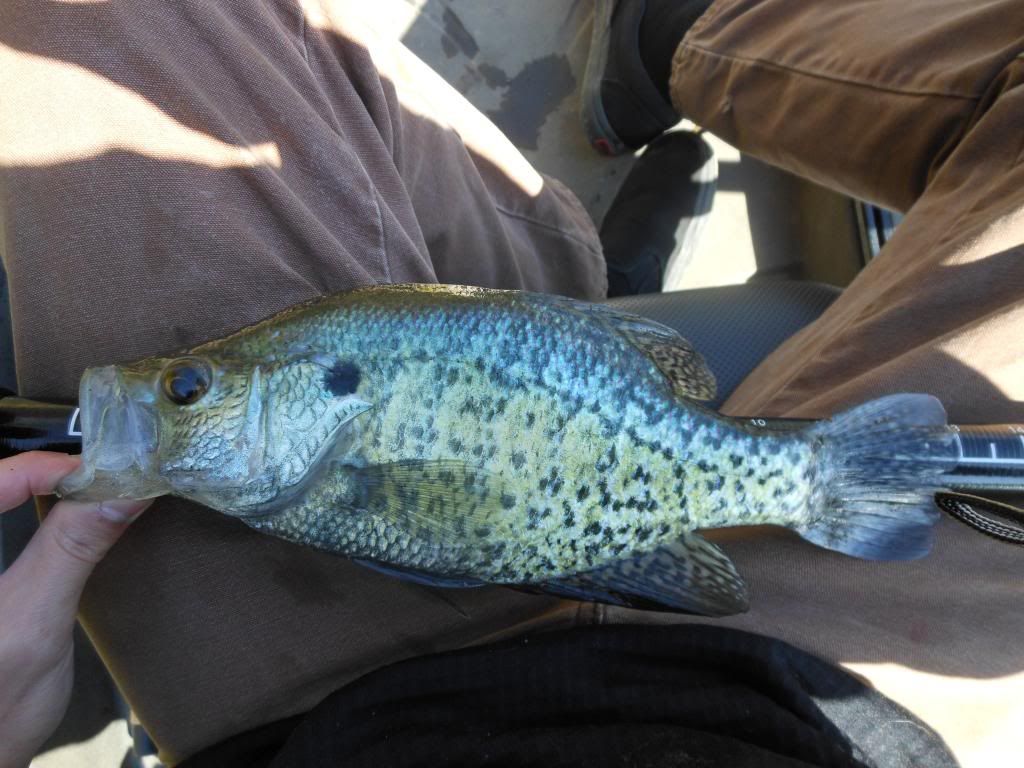 1lb 0oz 13inch White Crappie
I was excited to get my first trophy crappie of the year but I still wanted a bigger one. A few crappie later and I hooked into a decent one. I haven't hooked many crappie that pulled drag so I knew this was a good one. After a short fight, I boated a very nice slab. This one went 14.5 inches and 1lb 10oz, a new personal best. My camera actually died after snapping a few pics of the length on my paddle so I didn't get a chance to try out my camera mount to take a pic of me with the fish. I was pretty disappointed I didn't get any good pics of my new personal best, the length pics just don't do it justice. I had my cell phone for the remaining pics, which doesn't have a timer nor can it be mounted to my camera mount.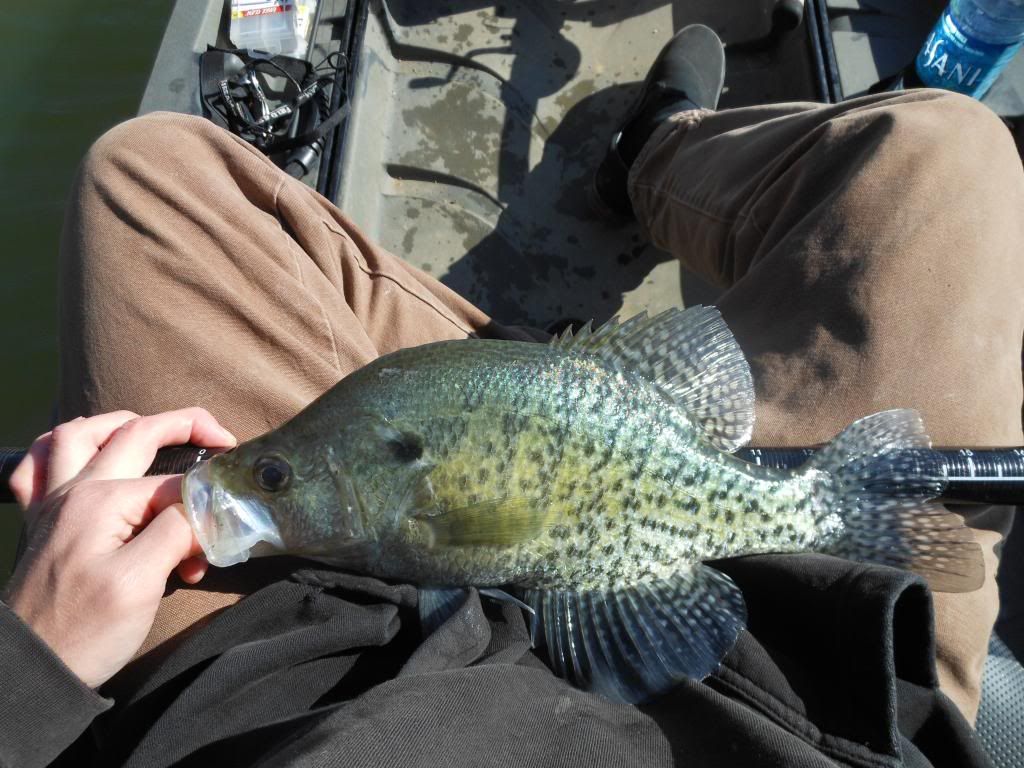 1lb 10oz 14.5inch White Crappie
The action failed to cease. A few crappie later, to my amazement I hooked another nice one. This one went 13.75 inches and 1lb 4oz.
1lb 4oz 13.75inch White Crappie
The action started to slow after that. Since I only had about a dozen minnows left, I decided to continue fishing for crappie til I ran out and then toss a crankbait for bass and bluegill. At this point I moved as close as possible to the snag I was fishing to really probe it for any remaining crappie. To put the icing on the cake, I found myself yet another nice crappie. This one went 14 inches and 1lb 7oz, putting me at four trophy crappie on the day.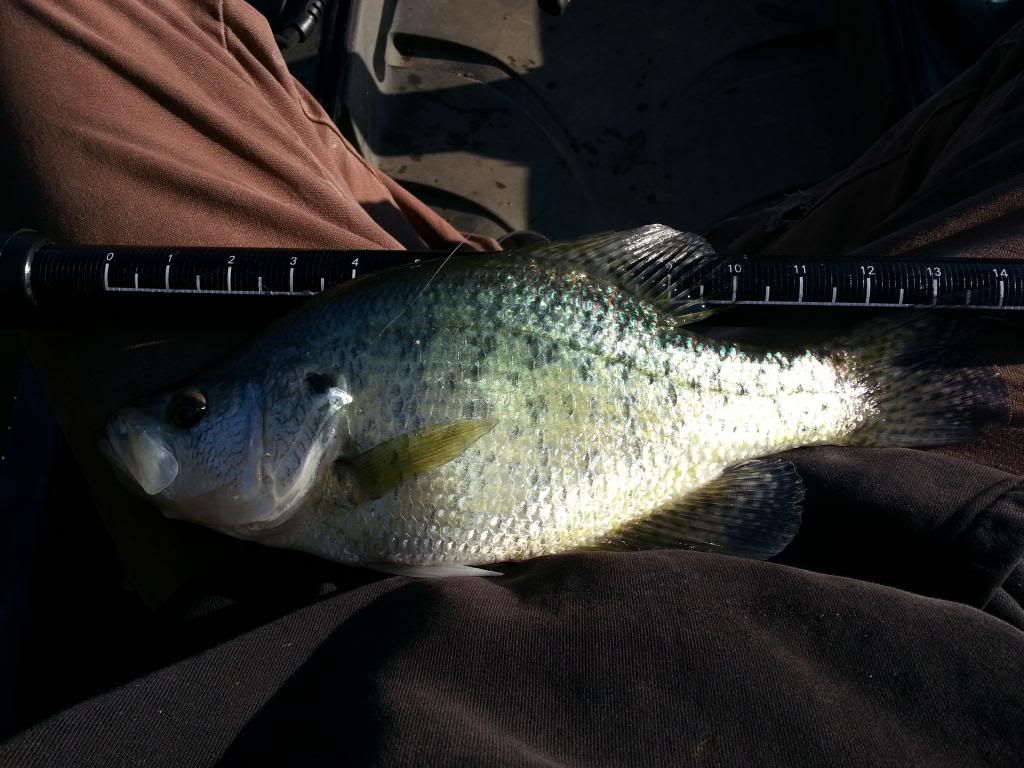 1lb 7oz 14inch White Crappie
I ran out of minnows soon thereafter and moved on to bass and bluegill fishing. Tossing a small crankbait around I ended up catching a few more bass and bluegill. Two of the bluegill were over 8 inches, good enough to qualify for kayak wars points.
On the day I ended up catching 19 crappie, 5 largemouth, and 7 bluegill. I kept 14 of the crappie for the table, all the trophies were released to be caught another day. One of the best days of fishing I've had in a long time. Points wise, It was my best at 93 points.