Today is March 26th and usually by this time of year here in southern Ohio the fishing is starting to pick up. That's not the case this year. For the past 3 days it has been snowing and the water temperature in the lakes and streams is still lingering around 40-45 degrees. March 20th was the first day of spring but winter still presses on. Last year we were spoiled by an extremely mild winter and early spring. I documented a trip on March 21st where the temperature hit 85 degrees last year. By the end of March the water temperatures were well into the 60's.
Despite the cold weather we have still been fishing without much to report. Last Friday after work I made my way to Rocky Fork Lake in search of crappie. After a couple nights with temperatures in the teens I was a little concerned that the lake would have ice, so I called a local bait shop and got a status report. They told me the ice was minimal and that was good enough for me. I arrived to find the portion of the lake I intended to fish to be ice free. I found a quick bite using minnow floats set around 10ft deep on a ledge I have known to hold crappie. Soon thereafter the bite died. I tried several spots that we have had success at in the past with no bites. By the end of the day I returned to the original spot which I had success at to catch a few more. On the day I caught 7 crappie. The bite was definitely slow and the crappie were biting very light.
Even though the fishing has been slow, it has been a good opportunity to get acquainted with my NuCanoe Frontier. I'm very pleased with it. I'll be doing a more detailed blog on my initial experiences with the Frontier soon. I took a couple pictures while out Friday to show off how spacious and comfortable the Frontier is.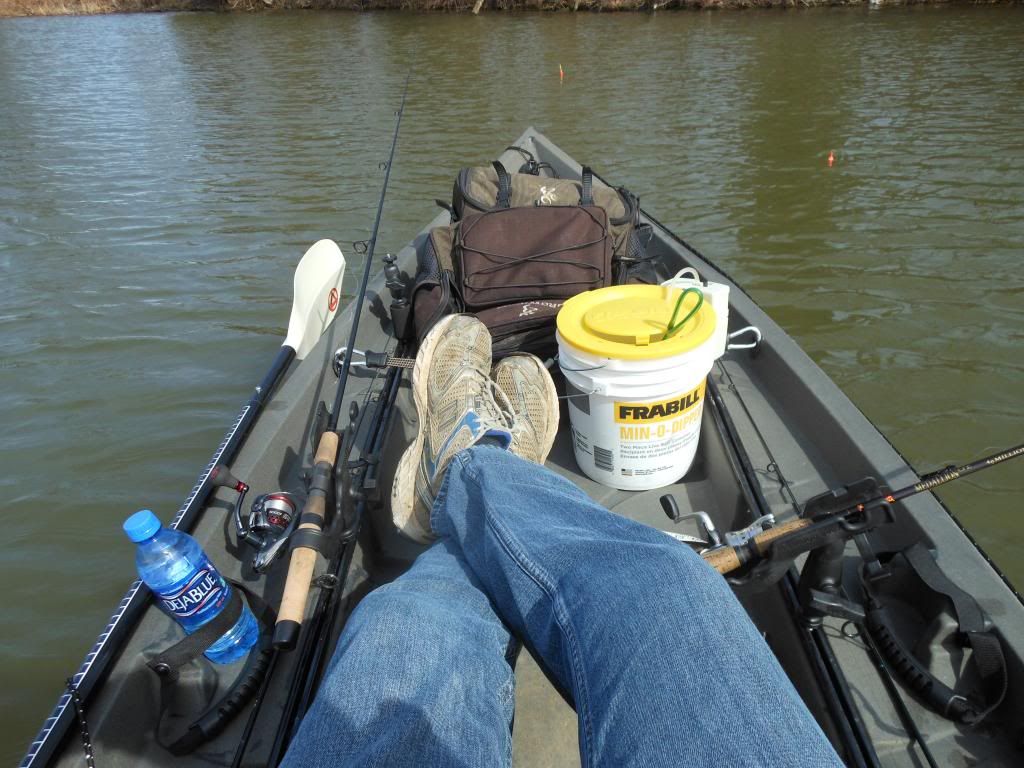 Aboard my NuCanoe Frontier 12