Sean
Amanda and I got our kayaks Friday from Bass Pro Shops. After a good bit of research we decided to get sit on top kayaks as opposed to sit in kayaks, because the sit on top kayaks are more stable and better suited for catching larger species of fish. At first we had decided to get 2 ascend fs12t kayaks, an affordable angler suited kayak. However the weight capacity of the ascend fs12t kayaks is only 350 pounds. I'm 6' and 270 pounds, so I would have very little weight left over for gear, bait, food, etc. I began searching the Internet for ideas on affordable kayaks that were suited for big fish and big people. I ended up narrowing it down to two kayaks, the Ocean prowler big game(550lbs-600lbs Capacity) and the Malibu stealth 12 (450lbs Capacity). Friday evening I decided to go to Bass Pro Shops and get all of Amanda's gear and her ascend fs12t kayak. I had planned on looking at the kayaks they had in stock for myself, but more about that later. Amanda ended up choosing the sand colored kayak over the olive colored one. Below is a picture of her kayak with slight modifications including 2 Scotty rod holders, 2 anchor cleats, Carlisle Day Tripper paddle, and a paddle leash.
The front of the kayak has a fairly large hatch for storing whatever you may need. The compartment is very spacious with foam to stop your gear from sliding to the back of the kayak.
The kayak came with a very nice padded seat as well as a small dry compartment for cell phones, keys, your wallet, etc.
Her kayak also has two rod holders molded in and a rear storage compartment with a maze of bungee cords.
All in all she was very pleased with her kayak. While we were at bass pro I got her a paddling life jacket with a high back, 3lb grappling anchor, anchor rope, Carlisle Day Tripper 240cm paddle, 2 Scotty rod holders, paddle leash, a set of pliers, and 2 anchor cleats. All that is left to purchase for her kayak is a folding net, milk crate, waterproof tackle boxes, measuring device, and rod storage tubes.
While I was at Bass Pro I took a look at the selection of kayaks. I found that the store had a few kayaks on sale. They had an Ocean Endeavor for $650, Malibu x13 for $699, and a tandem kayak that I wasn't so interested in. They also had a full line up of Ascend Kayaks, but none of which offered the weight capacity that I felt I needed to be comfortable. To make a long story short I ended up buying the Malibu x13. It's a $1000 kayak that was for sale at $699. It's 13 foot long, 29" wide, and has a weight capacity of 450lbs. It was, in my opinion a deal too good to pass up. The only problem was that the kayak was red, so much for the stealth aspect of a green or olive color. Anyway here it is:
The Malibu kayaks come with gator hatches, which are tremendously large. I have no doubt that I can put anything I want in it, even a full sized dog.
The Malibu kayak did not come with a padded seat like the Ascend but the seat is molded and a pretty good fit for my large frame. I plan on taking it out on a few trips before I buy a seat for it. It also has a huge storage area between the anglers legs. At first glance it appears that it would be impossible to open while sitting in it, but if you bend your knees you can actually open the hatch. I plan on using it to store pliers, scale, tape, etc., simply things I am going to use every trip.
The Malibu also comes with rear storage with a ton of space and a similar maze of bungee cords as the ascend.
I bought the same things as mentioned above for my kayak with the exception of the rod holders. I decided that I liked the appearance of the Attwood rod holders (High gloss) over the Scotty rod holders that were a flat black. The attwoods also have a octagon shaped ring that locks the rod into place, where as the Scotty rod holders have a round ring. I guess it was just my preference over Amanda's. I also bought a 12v deer feeder battery with a capacity of 7 amp hours for my fish finder. However I forgot to buy electricians putty to mount the transducer so I'll need to buy that as well as the things mentioned for Amanda.
Rylan
When we decided to get kayaks a few weeks ago I spent several days researching my options. The two biggest factors I was looking for in a kayak was stability and storage space. I looked at several brands including Jackson, Wilderness Systems, Native Watercraft, Malibu, Ascend, and NuCanoe. One in particular stood out among the crowd, the NuCanoe Frontier 12. The NuCanoe Frontier by far looked the most stable at a ridiculous 41 inches wide. Videos online showed people jumping around in them and even standing while going through white water. The NuCanoe boats are actually hybrids between kayaks and canoes, hence the name. As far as storage goes, the NuCanoe wasn't the best on compartments but I felt the wide open space on top would give me plenty of room to set things, including my entire tackle backpack. It didn't take long before my heart was set on the NuCanoe Frontier 12, which is the latest and greatest of the NuCanoe models.

Here's a list of all the basic specs of the NuCanoe Frontier 12:
Length - 12'
Width - 41"
Weight - 77 lbs
Capacity - 650 lbs
Draft - 3-5"
Max Power - 2HP or equiv.

Upon searching for a dealer, I found a place near Indianapolis called Wildcat Creek Outfitters that claimed to be the #1 dealer of NuCanoe in 2011 and 2012. They also sold the Frontier and most of the accessories through there website so it allowed me to browse everything they had. They even had a deal running in which you got 15% off all accessories with purchase of a NuCanoe Frontier if purchased before the end of February. Even though they sold most everything online I still wanted to go check everything out in person, so last Wednesday (2/27), I made the three hour drive to Indianapolis in order to take advantage of the deal before it expired.

When I arrived they were very helpful in showing me around. Of the color options I chose the Hunter Brown. I then examined all the different accessory options and picked out what I liked. I ended up getting the following:

A Hunter Brown NuCanoe Frontier 12
A Charcoal Max 360 Seat
A Transformer Paddle
A NuCanoe Transport Cart
An Anchor Trolley Kit
A 3lb Folding Anchor
An Anchor Rope
A Battery Box
A Battery Box Strap
A Stand Up Handle
A Slide Mount
A Panfish Portrait Camera Mount
2 Ram Rod Holders with Screwball
2 Mighty Mounts

All these accessories are sold through NuCanoe and can be seen on their website. I chose the the max 360 seat because I liked the swivel option. The Transformer paddle can be used as a normal two sided paddle, a one sided paddle, a stake out pole, or a push pole. I liked the idea of having this versatility. The NuCanoe Transport Cart I felt was essential. The cart easily connects to the transom and gives you wheels on one end of the NuCanoe making transport much easier. The anchor trolley seems like a good idea in theory, it gives you the ability to adjust the position of your anchor line. Of course an anchor and rope is a must have. Since I plan on mounting a trolling motor on my frontier I figured I better go ahead and get a battery box. The stand up handle also seemed like a nice addition giving you something to easily pull yourself up or lower yourself back down into your seat, plus it wasn't expensive. The slide mount gives me more gear mounting options so I felt it was a good buy. I definitely wanted to take pictures and videos and the Panfish Portrait Camera Mount covered this. Finally I needed a couple rod holders and the Ram rod holders with screwballs and mighty mounts gives me the ability to mount them just about anywhere on the frontier.

I considered getting the aquabox phone mount as well but found that it didn't fit my phone and I was unsatisfied with the design anyway.

The guys at Wildcat Creek Outfitters were very helpful. They even loaded it onto my truck and gave me some straps to use so I didn't have to use the rope I had brought. I'd recommend these guys to anyone looking for a new kayak or a NuCanoe.

Additionally I went to Bass Pro with Sean when he got his and Amanda's kayaks to pick up a few more essentails including two life jackets (one extra incase I ever bring someone with me), some carabiners, and a bungee strap.

Here's some pictures of it with

everything setup.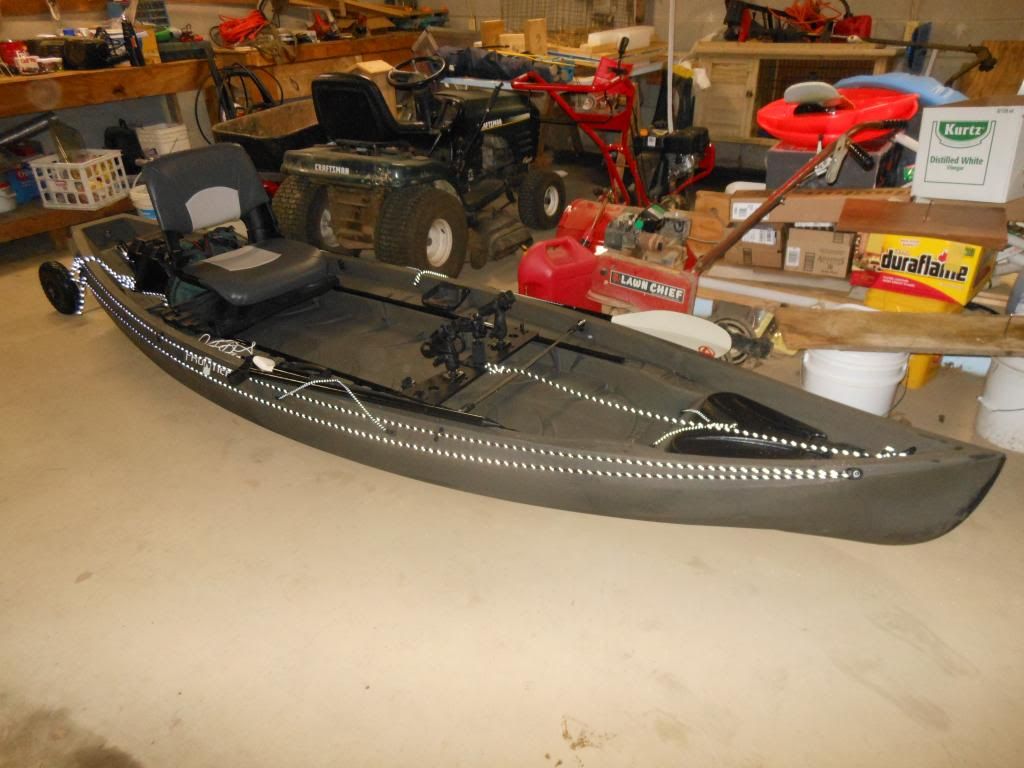 NuCanoe Frontier 12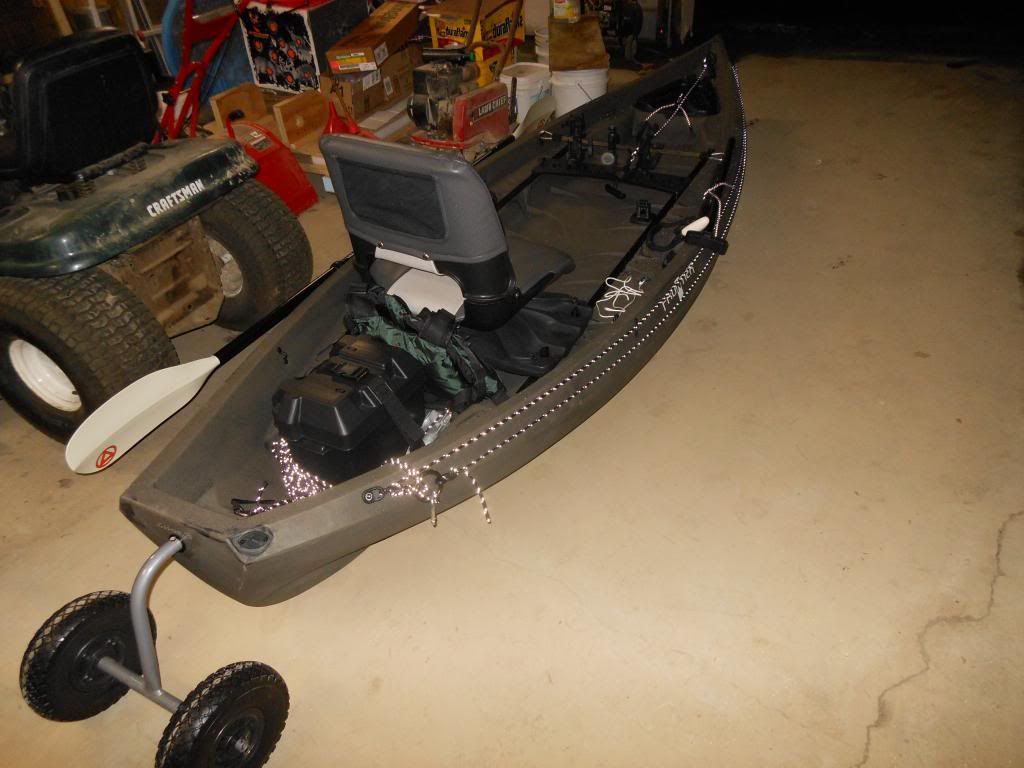 NuCanoe Frontier 12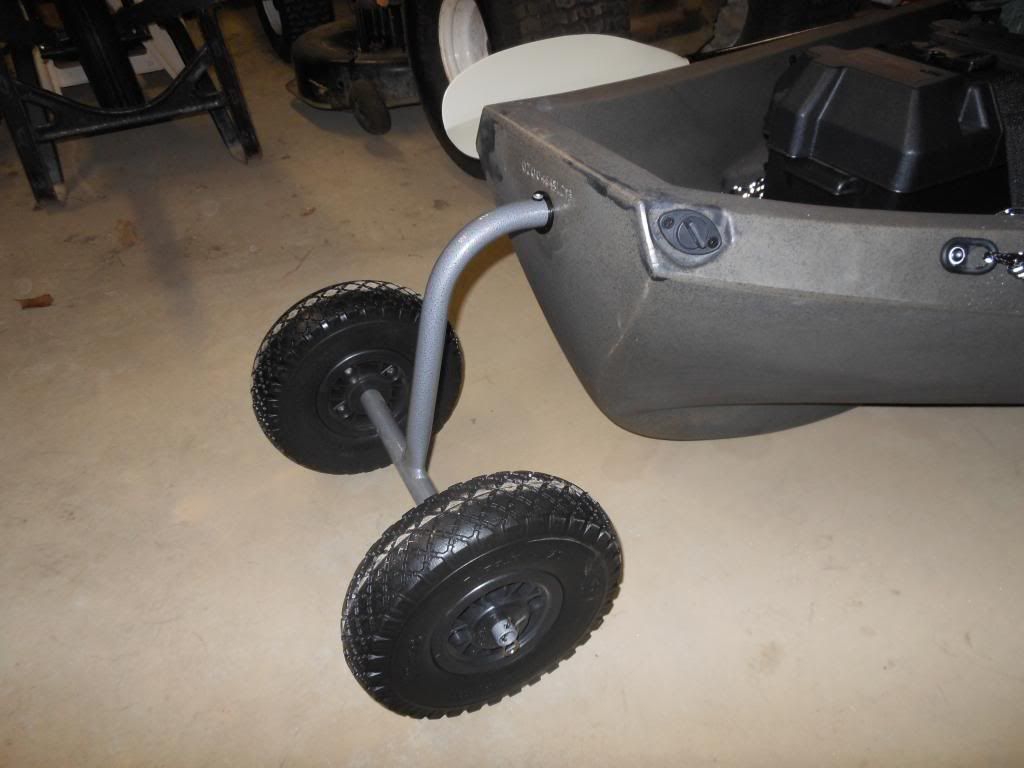 Transport Cart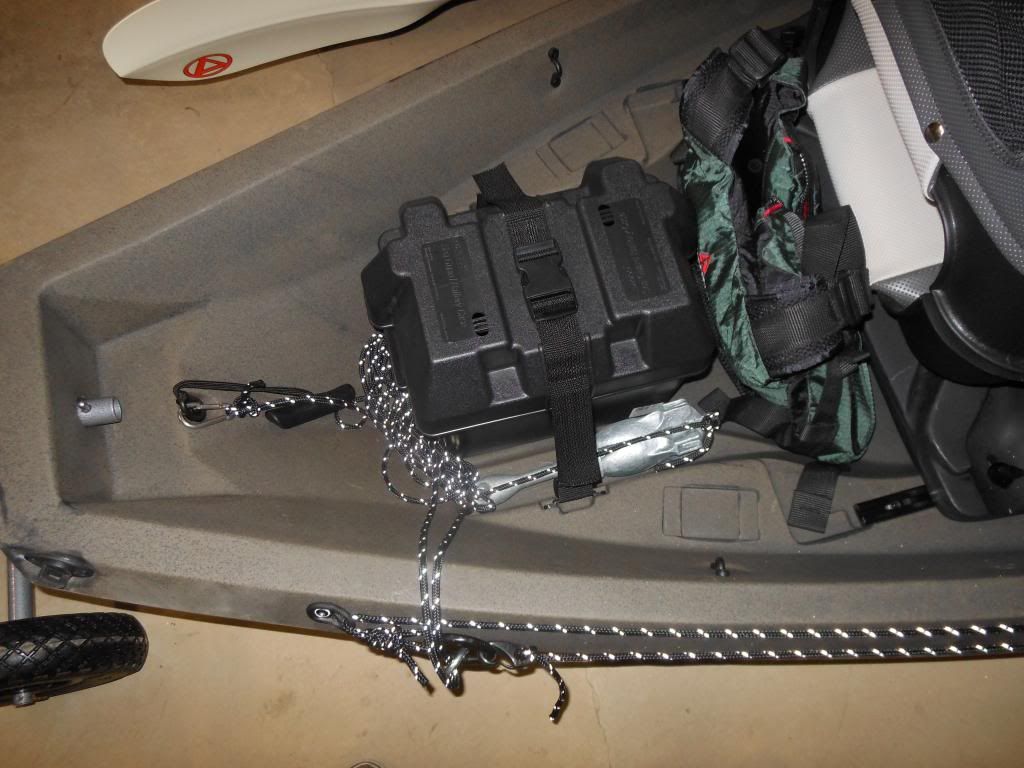 Battery Box, Anchor, and Life Jacket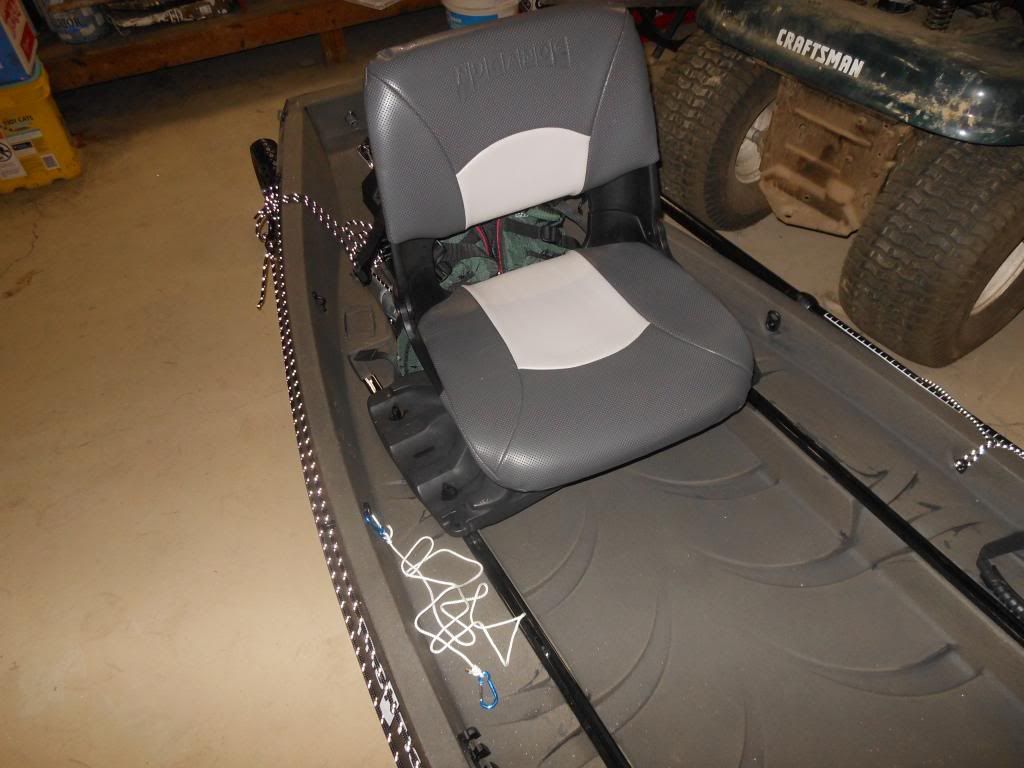 Max 360 Seat
Slide mount with rod holders and camera mount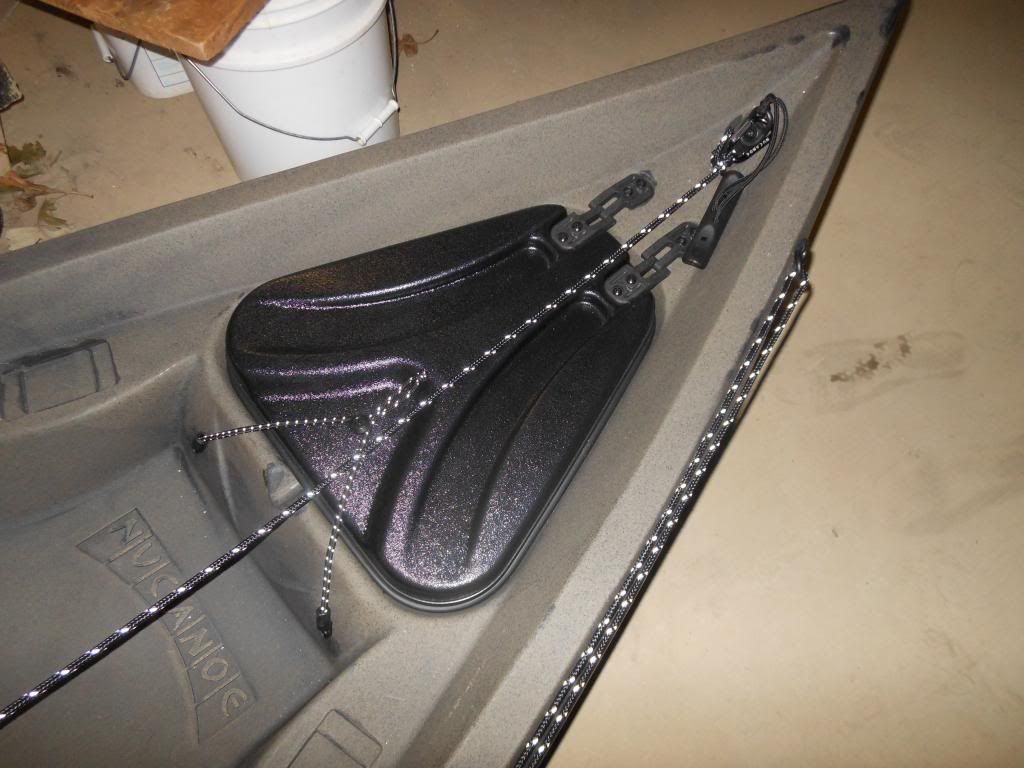 Front Storage Hatch
Front Storage Hatch Open (Extra Life Jacket and Supplies Inside)
Front Storage Hatch with Dry Bag Removed
I have

three

complaints

with it

so far. One, the stand up handle

s

rope is a little too short if your seat is slid on the stern end. Two, some more storage compartments would be nice. Three, the front storage hatch or gear vault is advertised as

storing

rods and I've found that if the rod isn't extremely limp then it either won't fit or you have to bend it beyond comfort levels to make it fit.

On the upside

it's actually more spacious than I had imagined when looking at pictur

es.
This weekend, since the temperatures are supposed to be near 60, Sean, Amanda, and I plan to take our new toys out for the first time. We're all pretty excited to try them out. They will drastically increase our fishing opportunities this year

giving us the ability to fish waters that are rarely if ever fished.