A few weeks ago I was contacted by Scott Smith of Smack Tackle through an online forum. I quickly found out how small the world really was. Scott informed me that he had grew up with Amanda's uncle, and had been following Amanda's fishing adventures through her mom's Facebook page. He told me to take a look at his website. Initially I was hesitant because on that particular forum I get a lot of people telling me about their blogs, or their websites, and I had been there and done that too many times. After sending a few personal messages back and forth I decided to take a look at his website.
I took a look at the home page and it appeared that Scott and his buddy Todd were in the lure making business, and were darn good at it too. I then began browsing the forum section of their website and noticed that nearly every fishing report had fish caught from the smack tackle lures. Now that's what I would expect from a website that sells lures, but the shear numbers and size of the fish that were coming off of these lures was unbelievable. Well not actually when you take a look at the paint jobs.
Flitterbait 4 in Black Back
Smack Tackle makes 3 different lure types, the flitterbait seen above, the gizz series of lures, and the smack jack. The flitterbait is a spoon-like crankbait, if that makes sense. Its heavy and aerodynamic like a spoon, but has the realistic lifelike action of a crankbait. The gizz series of lures is a crankbait style lure, with the most realistic paint job of any manufactured lure on the market today, at least in my opinion. The smack jack is a lure that I chose not to purchase, because its a rather large jointed floating wake bait....which I feel would work well in the warmer months but I still have 3-4 months before I start tossing surface lures. All of the smack tackle lures are painted to look exactly like a gizzard shad, the primary forage fish for 99% of the bodies of water we fish. So it made sense to me to buy a few and try them out.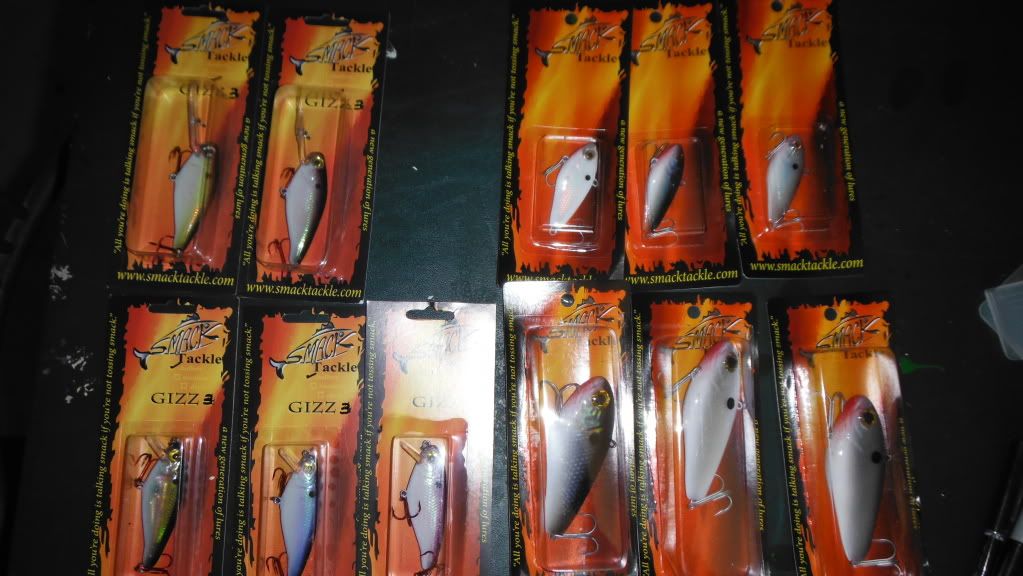 I ended up purchasing 6 flitterbaits, 3 of the size 4's and 3 of the size 2's. I also purchased 3 gizz3 shallow diving and 2 deep diving crankbaits as seen above. I haven't had the opportunity to take them out yet, but I have no doubts that they will produce fish. Here's some more pics of the awesome paint jobs.
Gizz 3's
Flitterbaits, size 4's on left, 3's on the right.
Check them out at
http://www.smacktackle.com/
.