This week, Sean and I both had Presidents day off work and the weather was good so of course we took the opportunity to hit the water. We decided to try a local bank spot on Brush Creek for smallmouth and rock bass. Upon arrival we were surprised to see that the edges of the creek had significant amounts of ice preventing us from fishing where we originally intended to. So we decided to fish a short distance upstream where the water was shallower with more current and minimal ice. After an hour of trying various baits we had failed to get any bites. At this point it was either go home or head down to the hot water discharge on the Ohio River. Since it was a nice day and we still wanted to fish, we chose the latter.
The dinker hybrid stipers were biting pretty well at the discharge. After a few hours we had caught over 40 combined on small jigs and swimbaits with the biggest going 1lb even. The water was pretty cool for the discharge at only 61 degrees where we were fishing, although still much warmer than the friged Ohio River water in the 30's. Towards the end of the day I decided to experiment with some new baits and my first choice was a P-Line Kick'r minnow swimbait on a 1/8oz Gamakatsu weighted superline EWG hook. I was very impressed with this baits look, action, and scent. After tossing the swimbait 20-30 times I hooked into a decent one. The fish ripped off line in the strong current and surfaced several times. After a couple minutes I had the hybrid stiper near the bank and by that time Sean had come over to help me land it. After one final burst, Sean lift the hybrid from the water. The hybrid was rather skinny for its length of 22.5 inches, weighing 4lbs 5oz. 22.5 inches was good enough for my first Fish Ohio trophy of the year, 21 inches being the qualifying length for Hybrid Striped Bass.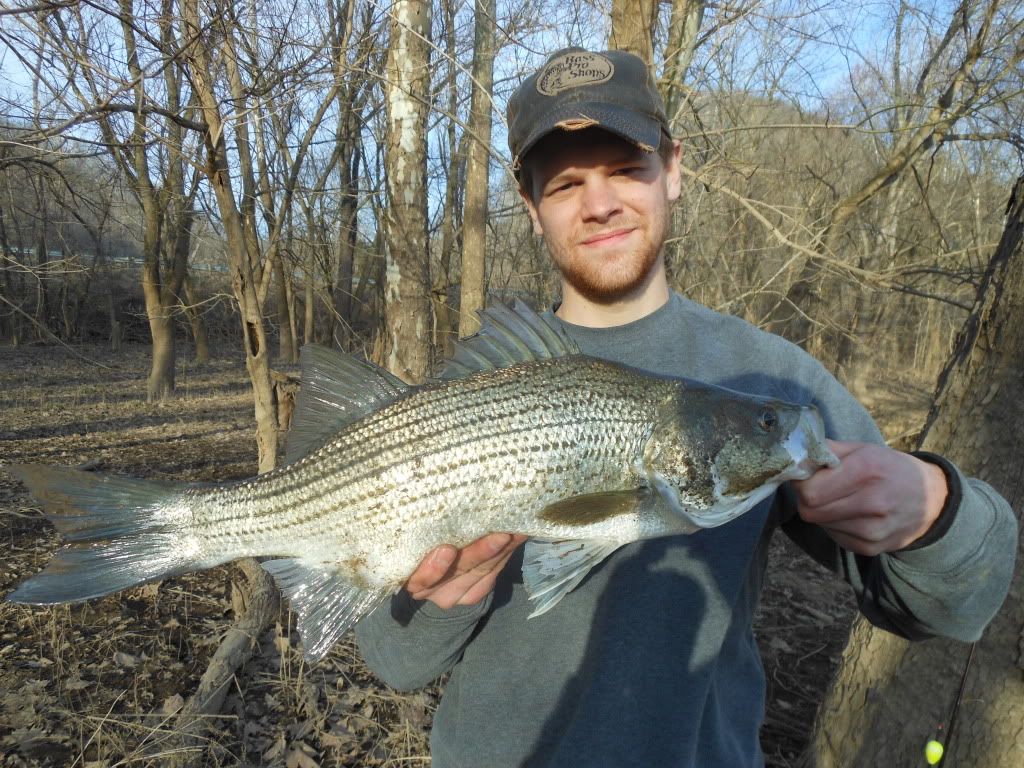 4lb 5oz 22.5 inch Hybrid Striped Bass
4lb 5oz 22.5 inch Hybrid Striped Bass
We caught a few more dinkers before sunset and calling it a day. It's safe to say I'll be ordering some more of the P-Line Kick'r minnow swimbaits.