So ever since selling my boat back in June I've been doing quite a bit of research on different types of boats and brands as well as keeping an eye out for anything used that catches my eye. Originally I was interested in shallow running modified v jon boats such as the G3 Gator Tough series. This has since changed. I realize now that currently there just isn't enough situations where I would benefit from being able to run extremely shallow. There has been far more times where rough water has effected our fishing, so I would rather get a boat better suited for taking on the big waters. So the obvious choice was a deep v fishing boat. Not only does this style of boat handle choppy water the best, they have much wider beams than the modified v's. Wider beam equals more space, something that is still very important to me. My number one requirement is to have enough room to fish 4 people fairly comfortably. Here's a list of all of my current requirements and preferences:
Can fish 4 people somewhat comfortably (4 seats).
Side console for maximum space.
Has or can easily install transom and bow mount trolling motors.
Has or can easily install console and bow fish finders.
Bow and aft livewell/baitwells.
Easy to install rod holder options.
Hull durability, will most likely hit some stumps and rocks on occasion.
A built in cooler would be nice but not a deal breaker.
Outboard motor size isn't that important, whatever it takes to get the boat on plane, most likely in the 60-115hp range
So I started looking into the deep v's. I found that there are several well known companies that make deep v fishing boats that fit my criteria. I'm not necessarily looking into a new boat just yet, but using them as a guideline for determining what kind of features I could get on one vs anything used I find. I decided that I wouldn't consider a new boat until I have a garage to store it in, plus most lose their new value very quickly. Overtime I accumulated several boat catalogs from some of the top brands.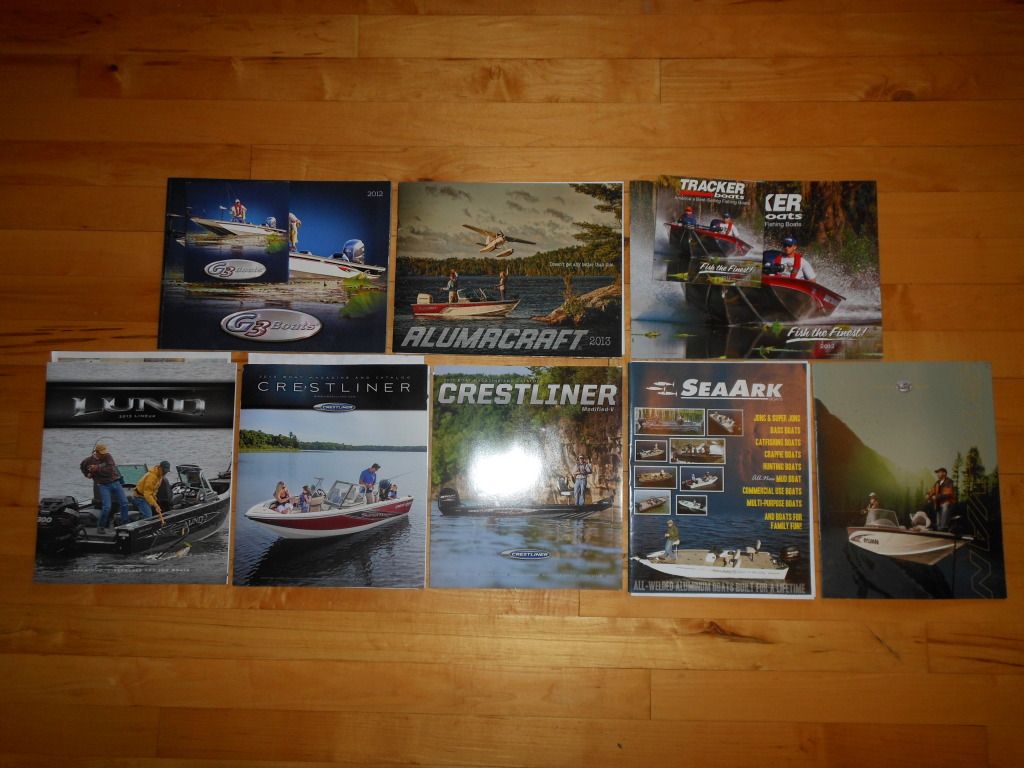 G3, Alumacraft, Tracker, Lund, Crestliner Deep V, Crestliner Modified V, SeaArk, and Sylvan boat catalogs
I have also requested catalogs from Lowe, Polarkraft, Princecraft, Smokercraft, and Starcraft but have yet to receive anything from those companies and I'm doubtful if I ever will at this point. Here's a little bit about what I thought of each companies catalog and boat selection.
G3
G3 has one of the best put together catalogs and Is my personal favorite. They give you all the information you need in an easy to read format with large pictures of each model. For every model they have a big straight down view of the boat layout, not just a drawing of the layout like some of the other companies. They don't have the biggest selection that meet my criteria but a solid lineup for sure. They have two models which I would be interested in, the V162C and V172C.
Alumacraft
These guys had one of my least favorite catalogs. They include all of their floor plan drawings on one page in the back rather than right on the models page. They do have very nice full page pictures for select models. They have several models that I would be interested in including the only model I've seen that has a small built in cooler on the side. Not the best catalog but definitely a strong lineup of boats.
Tracker
Tracker Is amongst G3 as one of my favorite catalogs. It is easy to read and displays all the information you need. Like G3 they have large pictures showing the layout of each model. Tracker is also the only company I know that has prices listed which is a huge plus. They don't have the largest selection with only one boat meeting my criteria, the V-175 SC. I'm also not a huge fan of the bright red and blue paint schemes.
Lund
Lund, surprisingly, like Alumacraft has one of my least favorite catalogs. They include a large section of magazine like material in the front which I don't really care about but no biggie. The biggest downfall is the lack of layout pictures. They include only a very small drawing of each models layout and that is one of the key things I look at. It all looks nice it just doesn't show me the information I want to know very well. They do have several, most likely very expensive, models that I would be interested in.
Crestliner
Crestliner isn't the worst but not the best either. The information is easy to read and they do have medium size layout drawings of each model. Like Lund they also include a large magazine like section. They have a solid selection with two models that I would be interested in, the Raptor and Fish Hawk.
SeaArk
SeaArk isn't one of brands I'm considering much anymore as they are mostly modified v's. They still have a solid catalog and selection for someone interested in modified v's.
Sylvan
I didn't have high expectation for Sylvan. Their catalog and selection is very small. The catalog is mediocre. They do have the nice layout pictures that I like but the information is lacking. They don't really have any model that I am interested In.
Since most of these companies have boats with similar features I started comparing their hull designs and thicknesses. Of all listed, only Tracker and Crestliner are welded rather than riveted. I've always herd that the all welded boats are the best as they don't develop the leaks that riveted boats are prone to. Both Tracker and Crestliner have a similar aluminum gauge of .100" on the models I was interested in. Of the riveted boats I also looked at the aluminum gauge used on the models I was interested in. Lund surprisingly had the smallest aluminum gauge at .080" bottom and .063" freeboard. Lund does claim to have some special hull shape that enhances boat control. Alumacraft wasn't much better with .080" bottom and .080" freeboard. G3 came through as the top dog of the riveted boats with a .100" gauge bottom and a .100" bow.
Through all of this I have learned one big lesson. They don't make shopping for new boats easy. Excluding Tracker you don't know the price of anything without calling a dealer. This makes comparing models tough as price is the biggest factor. Moreover, boat dealers are all hours away from where I live so its a long trip If I decide to go look at any in person. It would be nice if they would just list a sticker price on everything. Thumbs up to Tracker for their "No Haggle, No Hassle" pricing system. Also I forgot that Crestliner does include starting prices on their website but no in their catalog.
So at the moment I still don't know what boat I would choose If I was to get a new one but for the time being my search for a used one continues. Even with a used one I'm wishing I had a garage to keep it in before buying.