This spring I decided to buy a folding net for the jon boat because our other net was taking up too much space. So I went to bass pro and bought the cheapest folding net I could find, in hindsight that was a bad decision...explained shortly. Fishing out of a 14' jon boat with 3 people can be pretty cramped so saving space is crucial. Below is a picture of the nets fully extended to show their comparable size.
Below is a picture of the nets collapsed.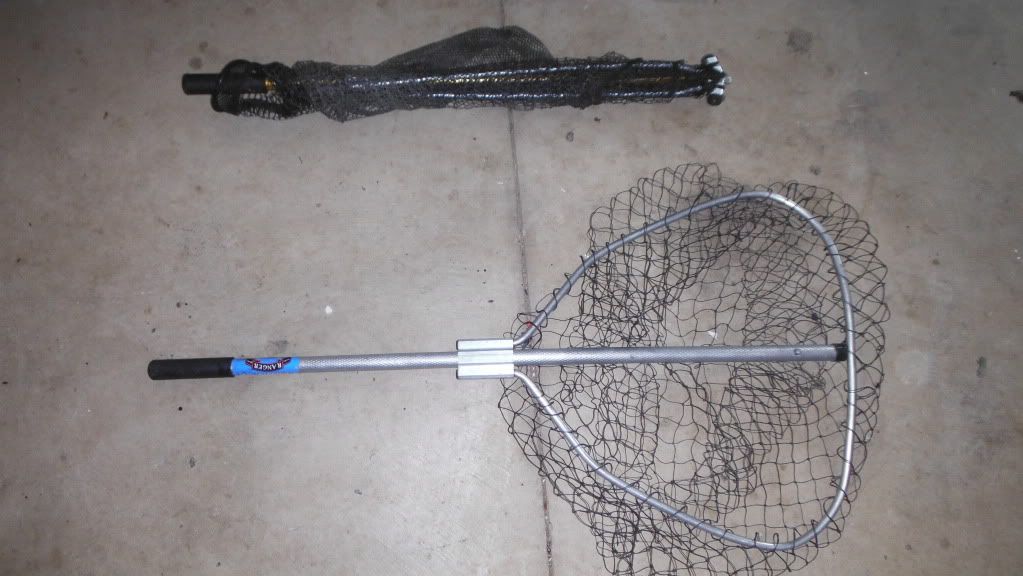 The folding net definitely saved a lot of space, and I liked the fact that the net was coated in rubber which makes it easier on the fish's slime coat. However, the net has its faults. The rubber coating on the net makes it harder to cut through the water, a lot slower than the thinner net. The Bass pro shops net is also significantly heavier than the aluminum net. The front of the collapsible net is rubber which makes for scooping larger fish up a bit harder since the front rim isn't solid. On several occasions I have had a fish just at the rim of the net only to lose the fish as it thrashes out and over the soft rubber rim of the net. In fact, Amanda hooked and brought a decent sized blue, very quickly and green, to the boat one day. I went to net the Blue Cat and touched it with the front of the net and it dove back down and threw the hook. Saving 40-50 bucks isn't worth losing fish, especially decent fish. Next season I will be purchasing a high end collapsible net with a hard rimmed front edge.