For quite sometime I have been looking for a new outboard motor for my 14 foot modified v jon boat. My old motor is a 1978 Ted Williams 7.5 horse power 2 stroke outboard that is extremely loud and too slow for our fishing needs....6mph. We have traveled up to 2 hours before on various fishing trips while scouting large stretches of the Ohio River and its tributaries. So I was hoping to get a motor that could push us at 10 miles per hour or greater, in order to fish more and drive less.
The other day Rylan sent me a email about a 2003 Mercury 9.9hp motor for $300 on Ohio Game Fishing's Marketplace. At first I thought he was joking, because most motors newer than 2000 run well over $500. However the motor had been dropped and it was cracked and the cover was lost. I still felt that the motor was still worth every bit of $300. So on lunch break I logged into Ohio Game Fishing and found the motor. I then quickly expressed my interest and made contact with the seller. Two days later I met LegendKiller, Brian, and he started the motor on the first pull. I was amazed, since Rylan had a 2008 9.9 Mercury Big Foot outboard and it typically took one pull on choke to get it running. I didn't even hesitate, I gave Brian the money and brought the motor home right then and there.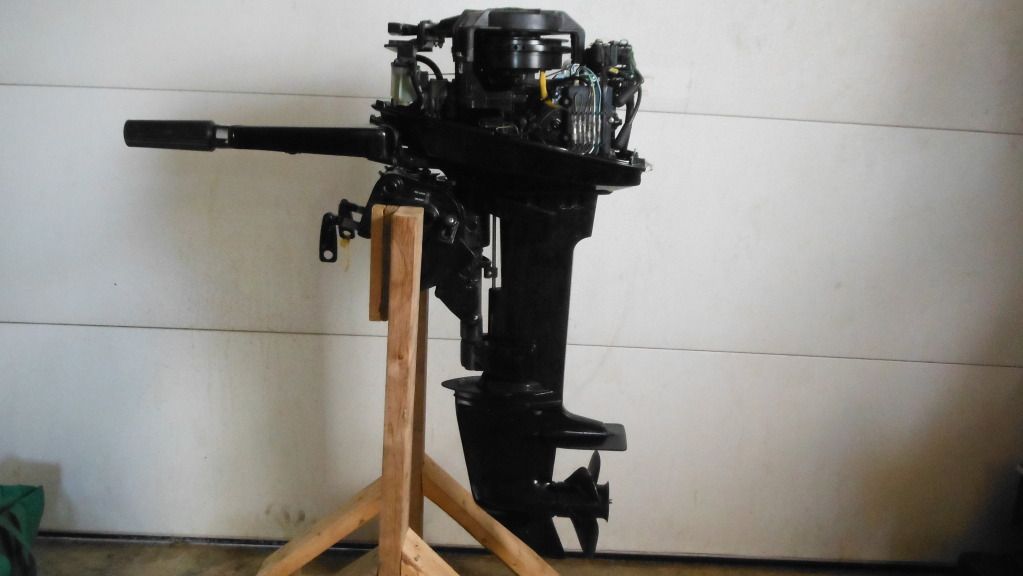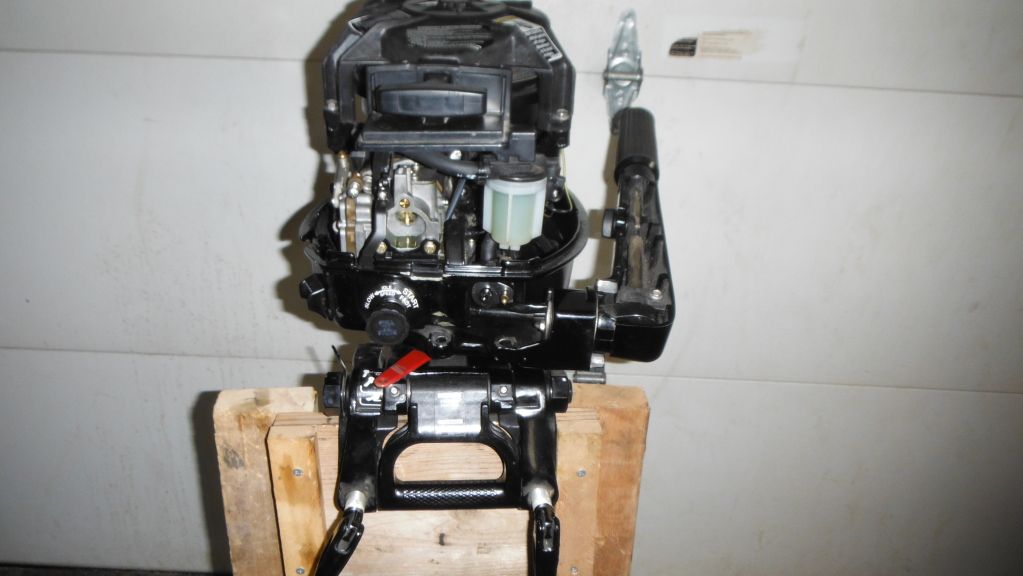 Here's the busted rear end of the motor that kept the hood from attaching. I'll probably add some jb weld and order a new hood from Mercury. For the mean time I'll use it as is and cover it when I am not driving it.
Friday night I had the motor mounted and ready to hit the water Saturday morning. My expectations were high, I wanted to hit 10 mph with over 800lbs of people, gear, batteries, etc. Using an app on my phone, GPS Essentials, I had clocked my old motor as high as 6.25mph so I was expecting to see a dramatic difference in the two.....and I did. We never got up on plane, but we still reached 12 miles per hour. More than likely I'll have to shift weight up to the front and we should hit plane, maybe even hit 15mph.
I attribute the difference to prop size, age, and of course the addition of 2.5 horse power. The prop on the old 7.5 Ted Williams was super small, smaller than the prop on my trolling motors even. On the left is the prop for the 2003 9.9hp Mercury and on the right is the prop for the 1978 7.5hp Ted Williams motor. I'd guess the prop on the Mercury to be close to three times larger than that of the Ted Williams motor.
Prop size isn't the only size difference, the Mercury is almost twice as heavy, at 76.5 pounds compared to the Ted Williams at 48 pounds.
All in all, I am very pleased with my purchase. I hope that it will give us more time to fish and less time driving. However it will be tempting to drive twice as far to fish less pressured spots, but I guess that's a positive thing. It will also be more reliable than the nearly 35 year old Ted Williams. I will miss the gas efficiency of the Ted Williams though, which would run 3 hours straight on 1 gallon of gas. I don't know how the new motor will be, but I'm pretty sure we burned nearly a gallon driving around Rocky Fork lake last Saturday and spent almost an hour driving.