This weekend we took a break from catfishing to see if we could find a few Crappie for the table. So we grabbed a few dozen minnows, a couple containers of wax worms, and several layers of clothing. Saturday Rylan, Amanda, and I took the boat out to Rocky Fork Lake and targeted fallen trees near the dam. We put the boat in around 1:00pm and fished through several showers until we were thoroughly soaked. The surface water temperature was around 53 degrees all evening. We trolled around and checked out our first piece of cover, setting from the bank into 16 feet of water, to see the extent of the fallen tree. We anchored at the deepest portion of the tree and cast slip floats toward the bank, while casting and vertical jigging soft plastics the entire length of the tree. We quickly boated a few keeper Crappie and then found a hot dinker bite. After an hour the bite had died and we moved to the next piece of cover.
After another fishless half hour of fishing we moved to one of the deepest pieces of structure we could find, setting in 15 to 25 feet of water. We found a few more dinker crappie, mixed in with a few keepers, and a couple Bluegill. We ended up staying anchored at this spot for the rest of our trip. On the day we ended up keeping 7 Crappie and 5 Bluegill, and catching over 80 fish combined, most of which came off of 1.5" Squirmin' Squirt tube baits and Bobby Garland swimbaits.
Sunday Amanda and I took the boat and the remaining minnows back to Rocky Fork Lake to see if we could find a few more Crappie. We got our first lines in the water around 11:30am, and had a fish in the boat on the first cast and then the second cast. To our surprise we had anchored on a few white bass.
After 3 White Bass, the largest of which went 13oz, they had disappeared ....more than likely following schooling shad. After the White Bass left, we found that the tree we had anchored on had a few above average Crappie. This time around the bite was evenly distributed between minnows and soft plastics. The largest Crappie on the day was a 12" long, super thick, 1lb 0oz Black Crappie. At Rocky Fork Lake Black Crappie are far less common than White Crappie, so I was pretty excited to catch it. White Crappie can be distinguished from Black Crappie by their color and pattern, White Crappie are more white than black and have distinguished vertical bands of black blotches whereas Black Crappie are more black and have no distinguished vertical bands.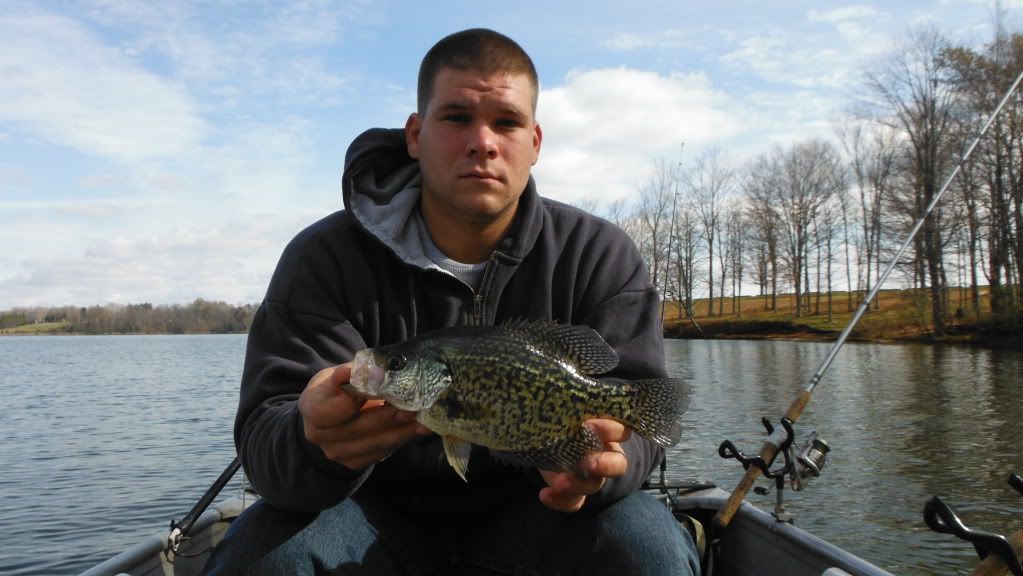 Within the first hour we had 9 keeper crappie, 4 white bass, and over a dozen crappie under 9". I thought that we were going to have one of the best days of crappie fishing ever, but as luck would have it the wind picked up and the bites slowed down. We still caught fish, but only 2 or 3 every half hour with an occasional half pound plus Black Crappie in the mix....just enough to keep us anchored there. At 3:30pm we had caught more than I was willing to clean for the evening so we pulled anchor and made our way back to the boat ramp.
When I got home I laid out my evenings catch, 12 Crappie, 4 White Bass, and 1 Bluegill. This should be enough for 2 large meals or 3 smaller meals.
With a couple successful panfish trips like these, it's hard to justify hitting the river for catfish next weekend and sitting around waiting for one or two fish in an evenings worth of fishing....but I'm sure we'll start to get the urge to catch a few whiskered giants and we'll be on the river soon enough.