Last Thursday after I got off work, Sean and I hit a local warm water discharge on the Ohio River in pursuit of trophy hybrid stripers. This is where we've been going to fish for the skipjack that we've been using for bait on the Ohio River. From the bait fishing trips, we knew the hybrids were biting good as they usually do this time of year. We also brought catfish rods and frozen skipjack to throw out while we were bass fishing. I decided that I would start out using a sabiki rig. This is what we typically use to catch skipjack but we also often catch hybrid stripers and many other species of fish on this rig. I decided this so I could catch fresh skipjack to put on my catfish rod and also catch some hybrids at the same time. Sean started out using spoons.
It wasn't long before Sean found the hybrids with the spoon, although only small ones. I caught a few myself and also landed a 3lb 10oz channel on the sabiki. Meanwhile we were both getting nibbles on our cut skipjack rods. Eventually my rod loaded and I reeled in a 2lb 1oz hybrid striper. It's pretty common for us to catch the bigger hybrids on cut bait. Later I did catch a fresh skipjack and rebaited with it. With the fresh skipjack on it wasn't long before I had another fish on. This time it was an extremely fat 3lb 9oz hybrid.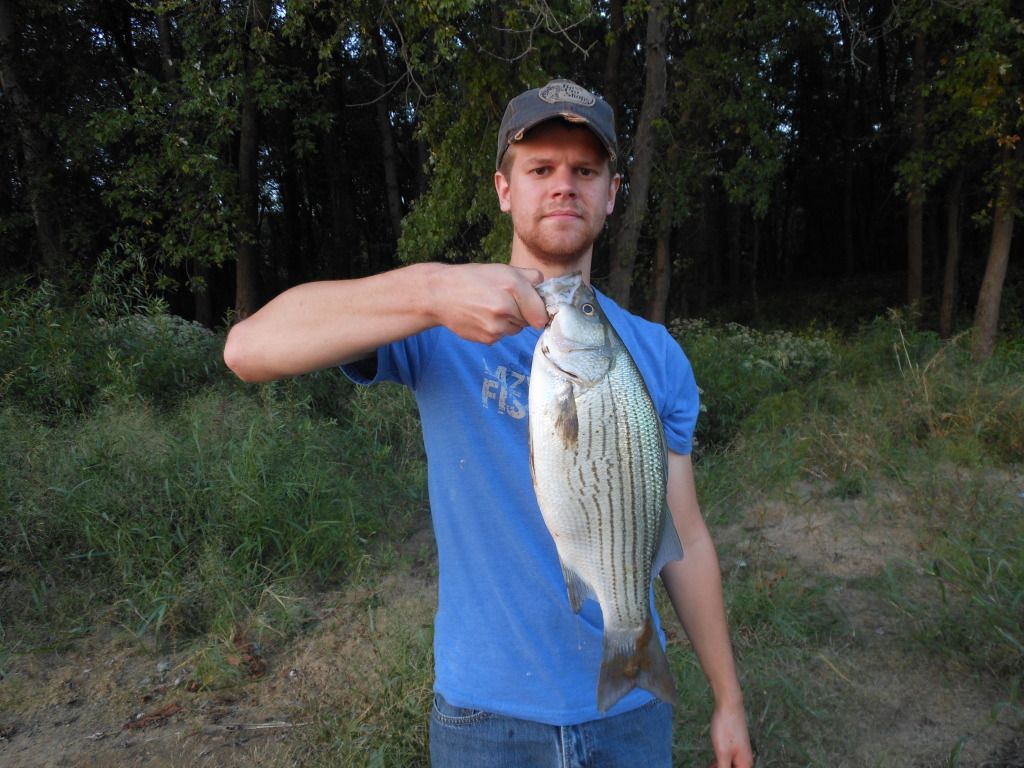 3lb 9oz 18.5 inch Hybrid Striped Bass
Later on I hooked into something that felt decent on the sabiki rig. Turns out I had multiple fish on, 4 fish and 3 different species to be exact. 2 hybrid stripers, a baby blue cat, and a 1lb 1oz gar. The highlight of my trip for sure. 
4 fish 3 species sabiki rig (blue catfish, 2 hybrid striped bass, 1lb 1oz longnose gar)
Soon thereafter Sean's skipjack rod went down and he reeled in a 2lb hybrid. After losing my sabiki rig I switched to a very large spoon in hopes to provoke a larger fish to hit an artificial bait. I did end up catching the biggest artificial bait hybrids of the day, two that were in the 1-2lb range. The warm water discharge fishing is definetly picking up with the cold weather moving in.