Saturday, Sean and I headed out to the Ohio River in pursuit of monster catfish. Sean has been hitting the river quite hard recently trying to figure out where the big fish are. Sean had stockpiled some skipjack for bait from a few skipjack fishing trips at a local power plant discharge, one of which I joined on. We used sabiki rigs to catch the skipjack and also caught a few gar as they were at the discharge thick. I also bought a pound of israeli carp so we would have a live bait option. With plenty of bait on hand we made it on the water at 3:00pm. Since we already had plenty of bait we didn't need to waste the daytime fishing for bait.
The previous day, Sean and Amanda had fished the river and Amanda lost an approximate 30lb blue cat and caught a 12lb blue in the same spot so we decided to start at that spot. The spot was the head of a 40ft hole on an outside bend of the river and the current was quite swift. Sean started the day with a big drum, and this would be a sign of things to come. The drum weighed 5lbs, unmeasured but a good chance it was a 22 inch trophy. Soon thereafter I got into some channel cats, catching two 4 pounders and a 7 pounder. Below is a picture of the 7 pounder.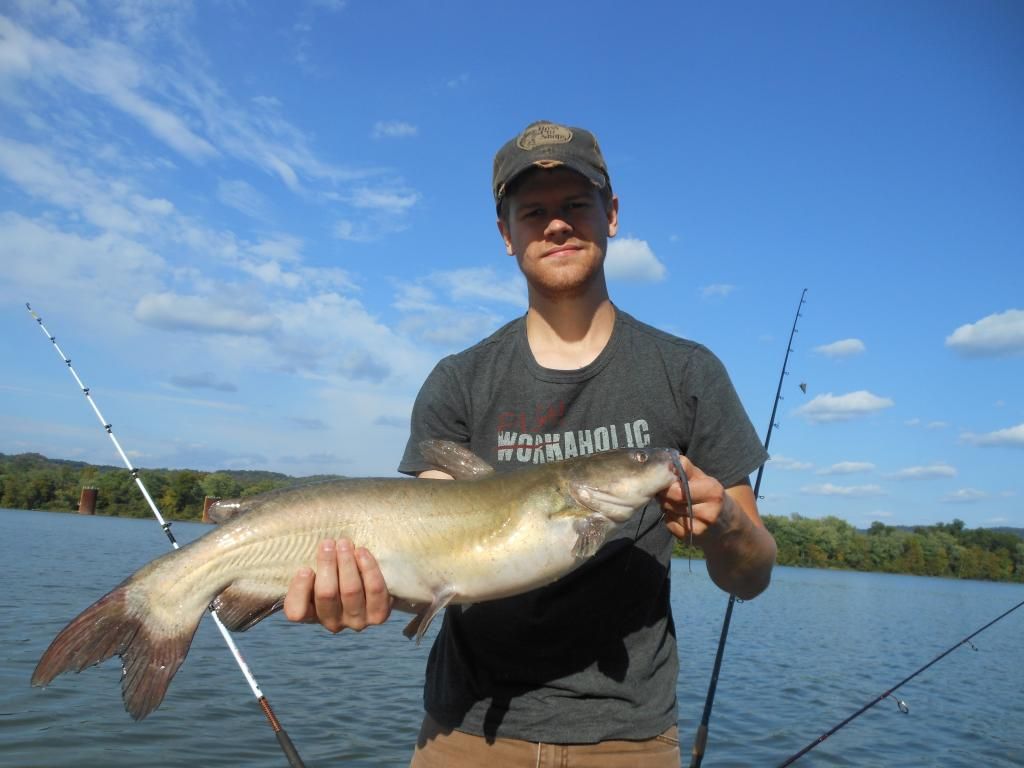 7lb 5oz Channel Cat
We then decided to move to a new spot in search of bigger fish. We fished another 40ft hole downstream. This time I started out with a big drum. Soon after netting my drum, one of Sean's rods went down and he reeled in an even bigger drum putting two trophy drum in the boat at the same time. My drum was a 6lb 11oz 23 inch trophy, my 5th different species of trophy on the year, catching up to Sean who also got his 5th on a drum a month ago. Sean's drum was an 8lb 3oz 25 inch trophy.
6lb 11oz 23 inch Freshwater Drum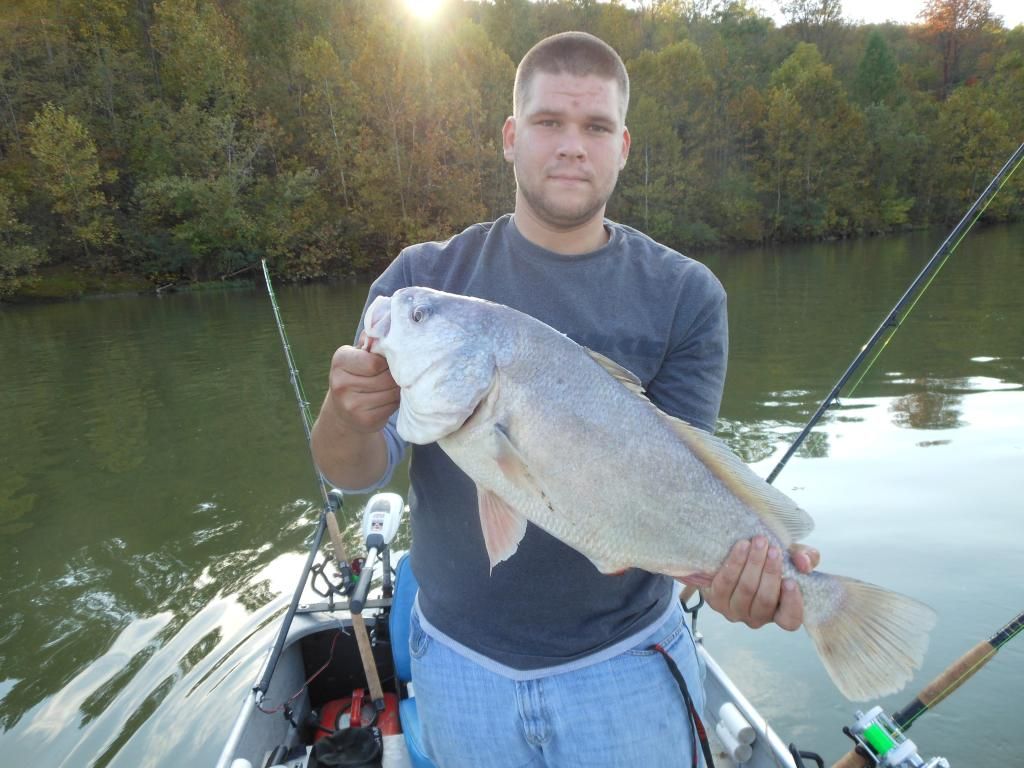 8lb 3oz 25 inch Freshwater Drum
Sean then caught a 3lb channel cat. I finally caught another 6lb 15oz trophy drum, the 4th trophy drum of the day, before we decided to move once more in search of bigger catfish. We tried several more spots with similar results. A few small channel and baby blue cats and yet another trophy drum of 7lb 3oz. By 2:00am we decided to call it quits as the bite had slowed down significantly after sunset.
All fish were caught on cut skipjack. I did get one bite on an israeli but it failed to load my rod. The water temperature was 71 degrees. On the day we caught 5 trophy drum, a few medium size channel cats, and several small/baby channel and blue cats. Nearly all decent size fish were caught in the daytime. Not the monster catfish we're looking for but better than being skunked.