Sunday evening I took a solo trip to Brush Creek to do some smallmouth fishing, something I've neglected to do for a while. I arrived at 5:00pm and analyzed the drought ridden creek. I knew it had been low for the entire summer but I hadn't seen the upper end of the stream in person. One of my favorite smallmouth areas was only 6 inches deep so fishing it wasn't an option. So I moved down stream closer to the head of the nearest hole where the water was still deep enough to hold fish.
I started casting the tried and true Rebel wee craw. It wasn't long and I had caught a few smallmouth, all in the 11-13 inch range. Soon thereafter I hooked into something nice, which turned out to be a 2lb 14oz Drum. The Drum in this area aren't shy about hitting crankbaits and spinnerbaits and there are some big ones held up in the deeper holes. For the briefest moment every time I hook into one I think I've got myself a monster smallmouth but its always a Drum. Still fun to catch none the less.
2lb 14oz 19 inch Freshwater Drum
The bite eventually died down and I ventured downstream to the tail of the hole in search of more smallmouth. I didn't get much action other than a couple bluegill on the wee craw at the tail end of the hole. At this point the sun was starting to set so I tied on the old Rebel Pop-R. I had quick success with the popper, catching 3 spotted bass. The biggest of the spotted bass was 12 inch 12oz.
12oz 12 inch Spotted Bass
I made my way back to the head of the hole throwing the popper without any bites. When I reached the head, I threw the popper about a dozen times before finally provoking a strike from the biggest smallmouth of the day. A 1lb 5oz 14 inch.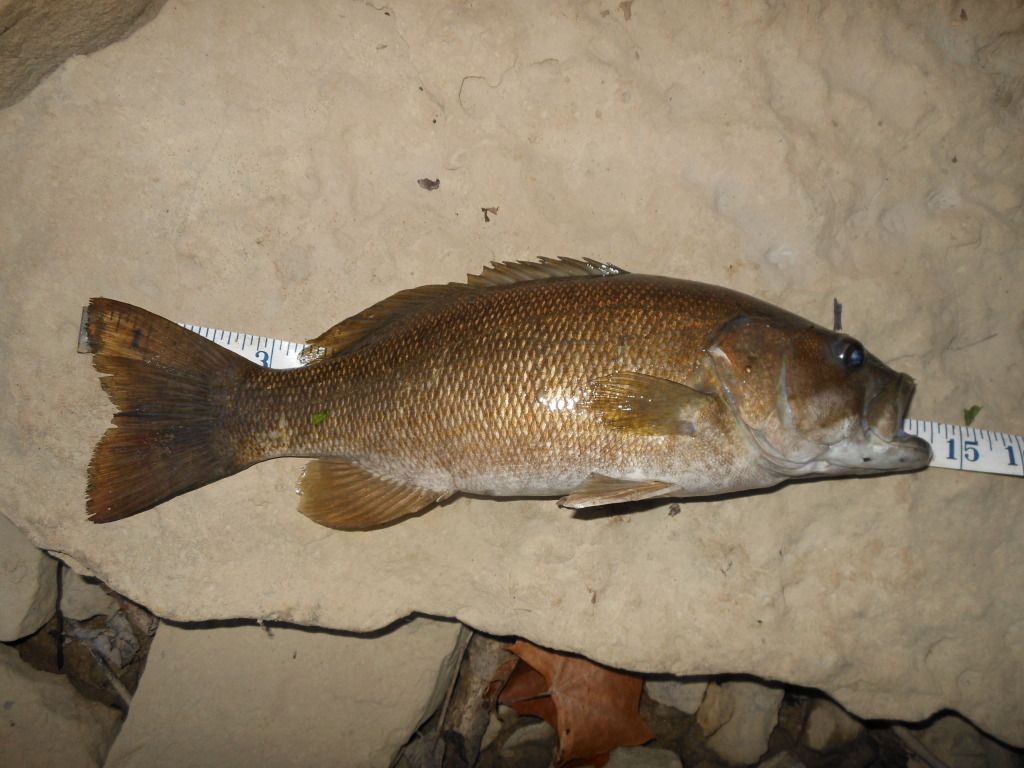 1lb 5oz 14inch Smallmouth Bass
The action died after the final smallmouth and I soon called it quits. On the day I caught 6 smallmouth all in the 11-14 inch range, 3 spotted bass, 1 drum, and 2 bluegill. Not bad for 3 hours of fishing. The best part was I didn't have a single fish spit a hook, an uncommon feat when fishing for smallmouth as they are aggressive jumpers.