Yesterday, Sean and I took the boat out to do some bass and bluegill fishing. The recent cooler temperatures have made for some great fishing weather. Sean decided he would focus on the bluegill since he hasn't caught a trophy gill (9 inches) this year. I focused my efforts on largemouth. I started out tossing a roboworm on a 1/16 jig. Lately I've strayed away from texas rigging worms in favor of jigs. I just hook the plastic worm through the head leaving the hook point showing. With this rigging, I bounce the worm off bottom preferably around structure. You do snag more with this method but when boat fishing it's easy to retrieve a snagged lure. I quickly had success with the roboworm. I caught 5 largemouth in the first couple hours, the biggest right at a pound. Meanwhile, Sean was having success with the bluegill and I eventually joined him. Once sunset approached I switched back to bass fishing. I tied on a Strike King Pro Model crankbait in chartreuse sexy shad color that dives 2-5ft. After about 20 casts I hooked into a big one. After a short battle Sean netted it for me. The bass weighed 3lbs 6oz and measured 18.75 inches.
3lb 6oz 18.75 inch Largemouth Bass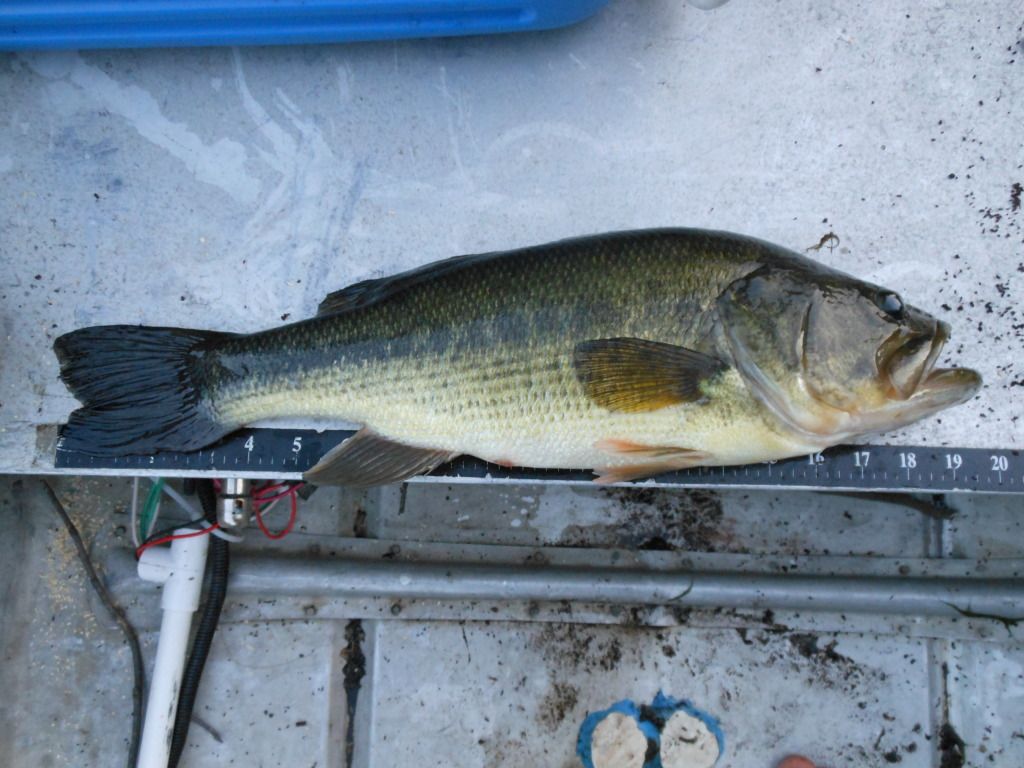 3lb 6oz 18.75 inch Largemouth Bass
Released to fight another day.
I caught one more smaller bass on the crankbait and Sean caught one on a topwater bait before we decided to call it a day. It was good to finally get a nice bass on the year since we have done way more bass fishing this year than we have in the past.