Saturday morning we decided to head out to the Ohio River to do some catfishing. We stuck with bank fishing this time around. Our small boats and motors have kept us hesitant to venture out on the river but I'm sure we will take that step soon. We didn't have any bait prepared so we were at the mercy of Walmart. We grabed some extra large cooked shrimp and some chicken liver. Cut skipjack, shad, and mooneye are our preferable baits. We arrived at 5:30am and quickly setup at our favorite bank spot. I put out one rod with shrimp and started casting crankbaits and grubs hoping for some bass, skipjack, or mooneye. Fish were splashing all over but we couldn't seem to entice anything to bite while casting artificial baits. After almost an hour Sean had a rod load up. He reeled in a 5lb Buffalo, a fish we don't often catch but occasionally at the river. Soon thereafter my shrimp rod loaded up and I reeled in a 6lb Buffalo.
6lb 6oz Buffalo
I continued casting artificial baits with no luck, Amanda and Sean both managed to catch some drum and a channel on plastic grubs. Eventually I gave up and put out a second shrimp rod. At about 7am the bite turned on. I started things off with what would be the biggest channel of the day, a 6lb 3oz 26 incher. Not a monster but just big enough to qualify in the Fish Ohio program. This was my forth species to qualify in the Fish Ohio program (Carp, Bluegill, Crappie, Channel) making me a master angler.
6lb 3oz 26 inch Channel Catfish
From then until about 11am the bite was hot. I definetly had the hot rod catching 5 more channels all in the 2-5lb range. Amanda got one channel around 2lbs and Sean was in the Buffalo school catching 2 more between 4 and 5lbs. I even had a 1lb 6oz smallmouth load my rod up.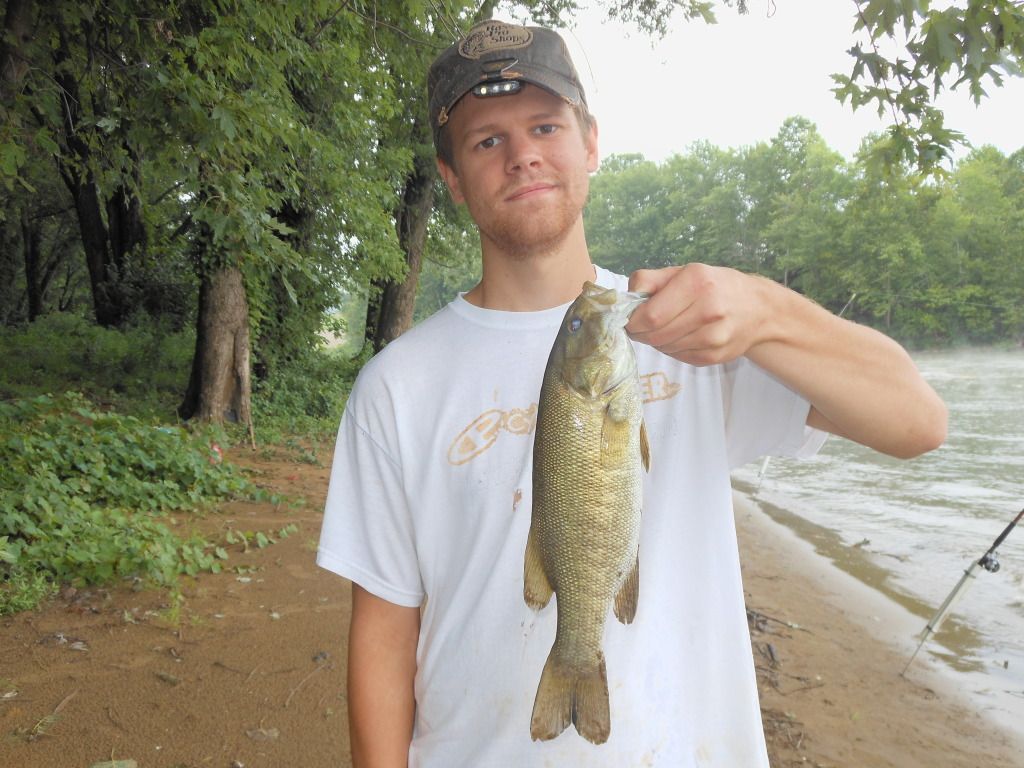 1lb 6oz Smallmouth
We ended up catching four different species all on shrimp that morning (Channel, Drum, Buffalo, Smallmouth). This goes to show that shrimp can be a viable alternative when fresh cut bait is not available. I do like my odds of catching bigger fish with a nice size cut bait but we have caught some nice size blue cats on shrimp in the past.
Since we did so well with the shrimp I thought I'd share exactly how I like to rig it. My preference is large size cooked shrimp. This size fits a 6/0 circle hook well which is the typical hook I use for shrimp unless targeting smaller fish. We tried raw shrimp once and didn't like it as well so we have stuck with cooked. They were actually out of the large size at Walmart so we settled for extra large on this trip.
Extra Large Cooked Shrimp
The rig is a simple weight, swivel, leader, hook setup. For weight I prefere 3-4oz pyramid sinkers, the pyramids hold well on the sandy bottom we fish. With the extra large shrimp I like to pinch off the head such that I can form the shrimp to my hook better. The large shrimp tend to fit better without any modifications. Starting at the head of the shrimp I feed my hook through and out the tail such that the hook fits the shape of the shrimp.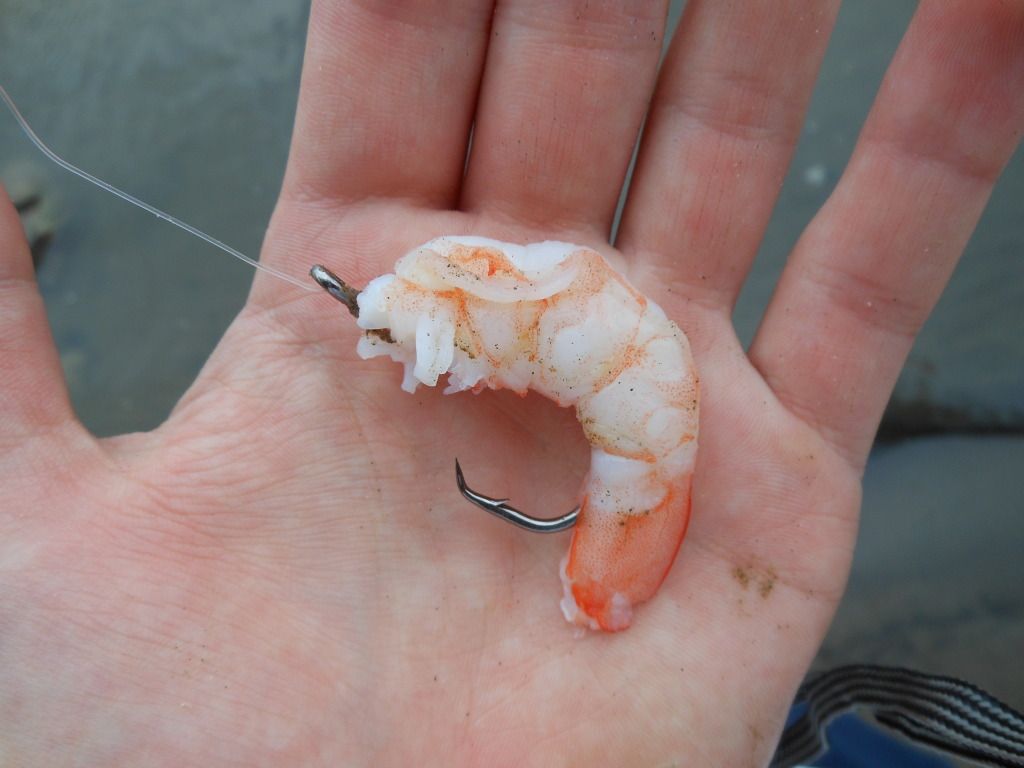 Shrimp rigging