Took a trip to my pond yesterday evening. I hadn't been since before the storms in late June. I'd been told that some trees had fallen in the pond so I was excited to see the newly added structure. When I arrived I found many large trees fallen in the woods and one tree covering a significant portion of the shallow end. I've been wanting to add additional structure to the pond to increase growth and catch rates for a while and mother nature took care of it for me. Structure gives the largemouth bass a place to hide and ambush their prey more easily.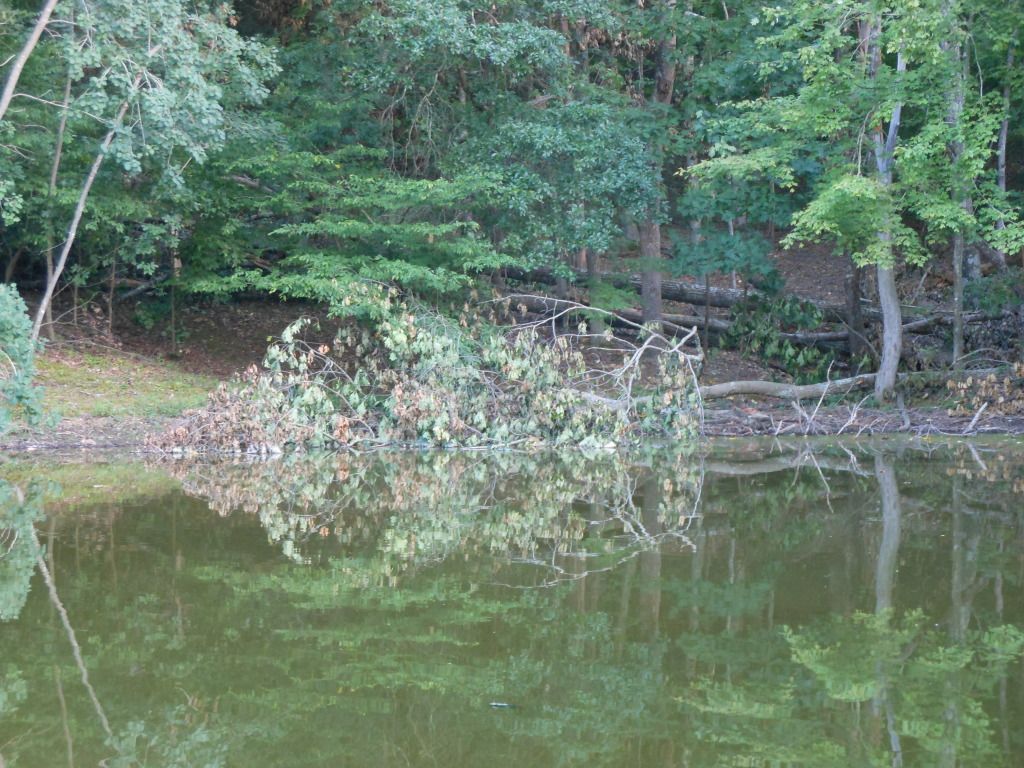 New fallen tree structure
On the last trip to the pond I did well using a floating Rapala crankbait and top water baits. This time I wanted to change it up and go for a more stealthy approach. My favorite bait to use for maximum stealth is a weightless Texas rigged worm. I chose to use a 6 inch Luck 'E' Strike worm in electric blue (purple with blue flakes) or as I call them, Kool Aid worms because they smell like Kool Aid.
When fishing in ponds for largemouth, stealth is key. Spooking that big bass can mean the difference between a good day and a bad day. Minimizing movements, avoiding casting shadows, and keeping your distance. These are a few of the basic guidelines of being stealthy but the one I want to focus on is keeping your distance. It may not be something that many think to do while fishing but keeping your distance from the water can increase your catch rates.
When fishing a weightless Texas rigged worm as mentioned before I like to stand preferably 10 to 15 feet from the edge of the water where permitting. Not all locations will allow this but maximize distance the best you can. To increase my stealth even more sometimes I even squat. I then flip my worm right on the waters edge where the water is approximately 2 to 4 feet deep. Let it sink, keeping your pole tip high enough to keep your line out of weeds. The majority of the time the bite will come on the initial drop. Once it hits bottom I slowly lift the bait a foot and let it drop again. I do this process til my bait hits the shore. Seeing your line is important, I don't use high visibility line because I have good eyes but It may be preference to use a high visibility line with a fluorocarbon leader. Watch your line closely the entire time, this is how I detect bites every time. When the line twitches or picks up, I typically give the fish 3 seconds to fully engulf the bait, By this time I can also tell if it is a bass or a bluegill picking at my worm.
I have caught many bass from my pond in very shallow water using this technique. At one point In time I would have stood on the waters edge and cast parallel up the bank scaring away the bass that I now catch right in front of where I would have stood. Yesterday I ended up catching 7 largemouth on one trip around the pond which is pretty good numbers for a hot summer day. Size was close to average with the biggest at 1lb 1oz and 13.5 inches, the average length at the pond this year is 10.2 inches for reference.