Last Thursday I left for a vacation, camping on the Cranberry River in West Virginia. I was invited to go by my girlfriend, Stephanie, and her family. They go every year to camp and fish for trout and since there was fishing involved I thought it sounded like fun. We left Thursday morning around 11am. Once in West Virginia we stopped at a Walmart to pick up our fishing licenses and a stockpile of nightcrawlers. The license cost me $40 for 3 days of fishing, $3 a day (Thursday, Friday, and Saturday), $16 for a trout fishing stamp, $13 for a Conservation/Law Enforcement Stamp required by everyone, and $2 for a National Forest Hunting/Trapping/Fishing fee. After driving deep into the mountains on gravel roads we found an unoccupied campsite; along this road there are campsites about every quarter mile. We unloaded and setup camp and by this time it was around 7pm. Eager to fish I grabbed my rods and headed down to the river. My initial reaction was that it didn't seem like much of a river, it was really shallow and a little smaller than Brush Creek. The water was crystal clear, unlike any water I've ever seen, judging depth was difficult because of this. The water might look like it was 1-2ft deep when it was actually 3-4ft. Throughout the river are constant rocks and boulders lining the shore and bottom.
Cranberry River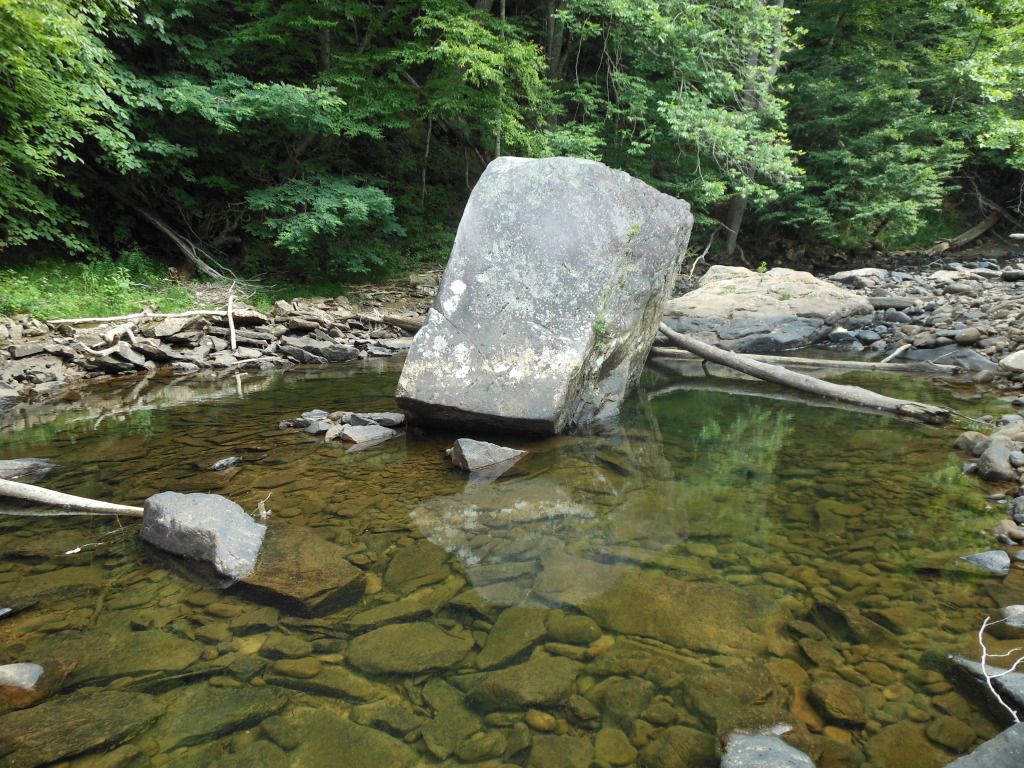 Cranberry River
In the picture above the water may look very shallow but its actually around 3ft deep and to the right of the boulder there was a 6ft hole. Furthermore the tree laying down to the right was around 1ft in diameter.
So Stephanie and I ventured upstream from camp to what looked like a decent hole on a bend in the river. Seeing how shallow the water was I quickly tied on a weightless aberdeen hook, and put a 2 inch piece of nightcrawler on the hook. I cast out in the middle and let it sink and seen many fish take interest. A fish grabbed my bait and I set the hook. It turned out to be my first trout of the trip on my first cast. It was a a 12-14 inch Rainbow Trout, a fish I have caught back home during early spring lake stockings. Excited to catch one on my first cast I baited my hook and threw it out again in the same spot. Fish swarmed in once again and I landed another rainbow trout of similar size. Two trout on my first two casts, this trip was starting really well. I broke my streak on the third cast but it wasn't much longer before I caught another rainbow trout of the same size. Meanwhile, Stephanie started catching creek chubs. Although I'm not exactly sure they were creek chubs, they looked similar to what we call creek chubs back home. Pictured below is one of the bigger ones she caught.
Creek Chub
A little later I spotted a bigger fish swimming around but I failed to get its attention with my bait and lost sight of it. I continued exploring the length of the hole not catching anymore. When I returned to my original location I saw the big fish once again, I cast out a couple times before finally getting the fish's interest. It grabbed my nightcrawler and I quickly set the hook, but it was too quick. The hook ripped out of the fishes mouth, but to my surprise the fish darted after and hit the nightcrawler again but failed to fully grab it this time. The fish then retreated back into hiding. I then told Stephanie that I just missed a big one and she could cast there if she wanted. About 10 minutes later, I hear her yell that she's got one. I run over and sure enough it's a big one, most likely the one I lost. This rainbow trout measured nearly 16 inches. Soon thereafter we headed back to camp because it was getting dark. We took a couple pictures and then cleaned the fish.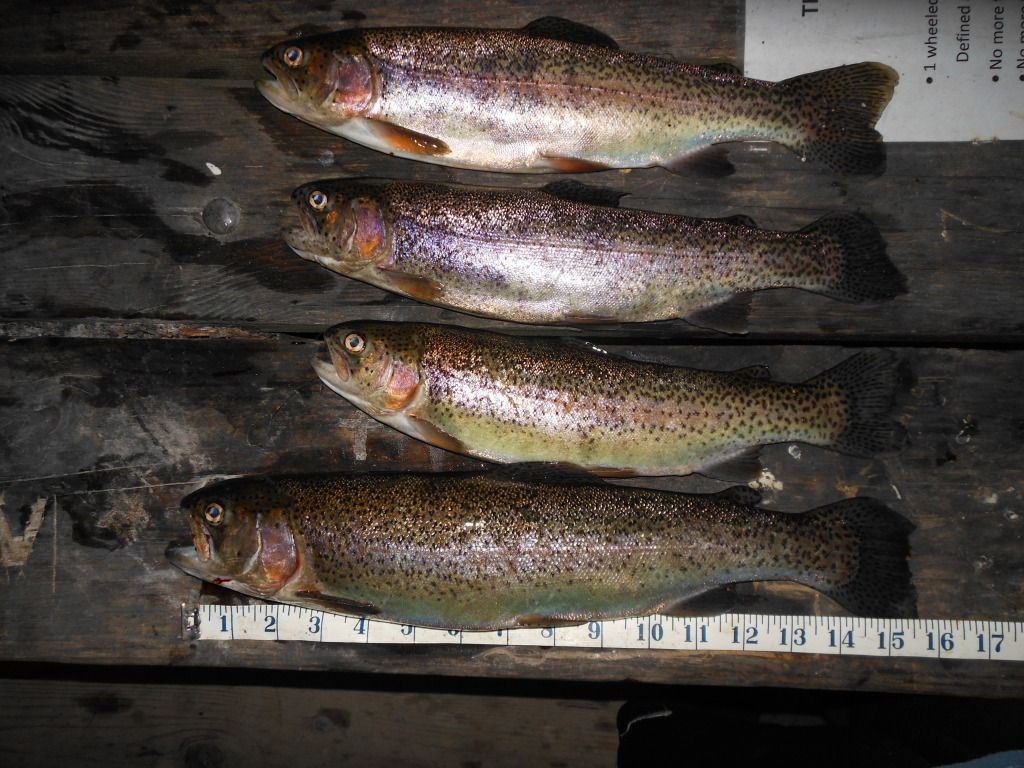 Rainbow Trout
After a successful first evening of fishing I had high hopes for the weekend. Little did I know what was in store for me. To be continued....
Part 2