Early last week Amanda, Jake, and I went out to Rocky Fork Lake to do a little largemouth fishing. Since most of Rocky Fork Lake that is less than 4 feet deep is covered in dense vegetation, we decided to throw crankbaits on steep ledges where the vegetation was less of a problem. We put the boat in near the dam and started tossing crankbaits up on the bank and dragging them out into deeper water. Most of the time we kept the boat in 12 to 15 feet of water. We managed a few largemouth, crappie, saugeye, and large bluegill. As we worked our way to the dam we started to see some fish schooling minnows up on the surface and breaking the surface. Rylan and I seen the same thing happen in mid July last year. After a half hour of fishing the banks Jake had all he could take, and wanted to troll out and fish the schooling fish.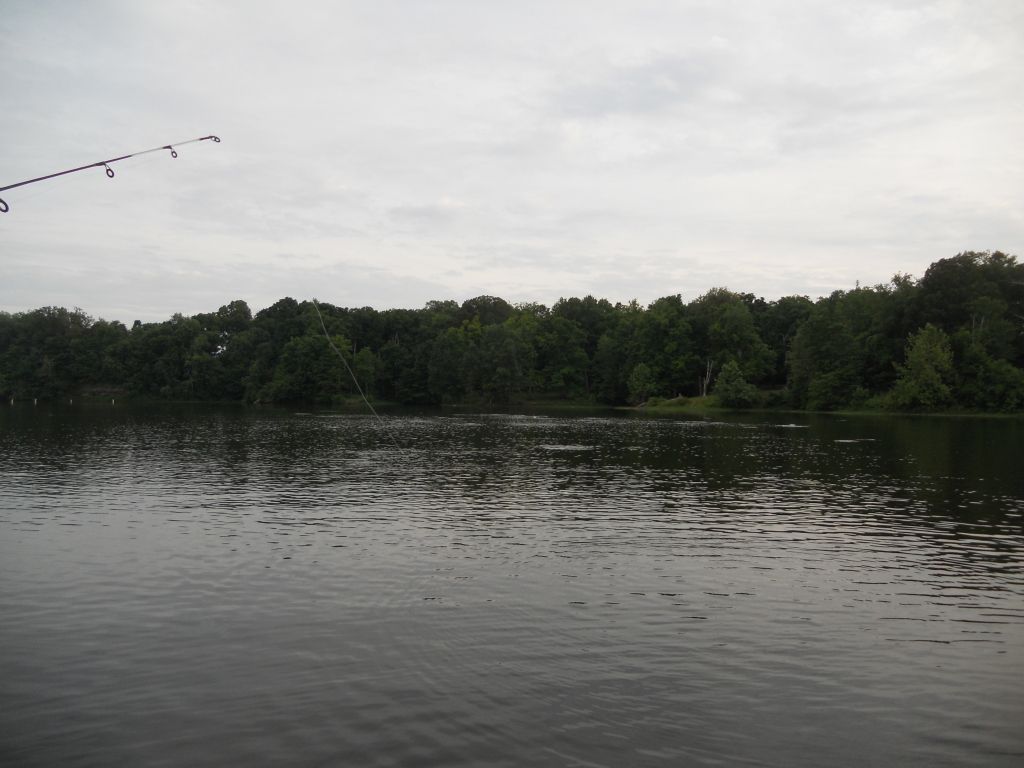 A few fish breaking the surface.
 As we got out to the schooling fish I took a look at the fish finder and noticed that the boat was in 35 feet of water. At the time Jake had an original floating Rapala that was chrome and green, the F5 series (2"), Amanda had a 1/32 ounce jig head tipped with a nightcrawler, and I had a deep diving Norman crankbait. I decided to re-tie on a white grub/twister tail on a jig head, as I cut my line Jake hooked up and as he was fighting it, Amanda hooked and lost one. I knew I had to tie quickly. Jake finally landed his fish, a white bass at around 12". Before I could tie my grub Jake and Amanda landed a few more fish. The school finally moved a few hundred feet and the bite stopped. I finished tying my bait on and trolled over to the school and we started catching them again.
This went on and off all evening. At the end of the day we managed to catch around 30 white bass in 2 hours before dark. A couple days later we headed out to Rocky Fork Lake to find the schools again, the wind was slightly worse, 10-15mph, and the schools where more dispersed. We still managed to catch a few where we heard splashing. 
1lb 2oz White Bass, 13.5"
15oz White Bass, 12"
  A week or so later we decided to see if the channel catfish were off spawn, so we drove to one of our favorite spots and dropped anchor. About an hour later we noticed some schooling shad minnows and fish eating them, so we decided to toss some crankbaits for white bass. This time around we managed to catch a few nice largemouth, several white bass, and even a bluegill. As it got dark we managed three channel cats, with the largest just over 5 pounds.