Last week we made 3 trips to Paint Creek Lake. Tuesday (6/12), Sean and I put the boat in, our first time boating at the lake, we used the ramp nearest Rattlesnake Creek. Our intent was to bass fish and we both started out throwing wobbleheads. It wasn't long before we started catching a few bass although not the numbers we have been used to at other lakes and size was about average. The fishing being on the slow side, Sean decided to switch to a crankbait, I stuck with the wobblehead. We Fished from 5pm to 10pm and the surface temperature was around 80. Ended up catching about a dozen largemouth with a few over the 1lb mark. We also caught around a dozen crappie and a few bluegill.
Thursday (6/14), we decided to return to paint creek again to give the bass another go. We liked the idea that a bigger lake might have better odds of holding a bigger bass. This time Sean started with the crankbait and I had wobblehead on one rod and a 1/8 skirted jig on the other. Sean got the ball rolling with a few quick bass on the crank, while wobblehead fishing was somewhat slow, possibly due to the deeper water we were fishing this time around. I switched to the jig and ended up catching a largemouth on one of my first couple casts. This gave me confidence in my new bait choice even though my experience with the heavier skirted jigs is lacking. Sean continued to catch a few on crankbait while I struggled to dial in the bass on the jig, eventually I decided to switch to crankbait as well and caught a couple more bass. Numbers were very similar to Tuesday, we got about a dozen bass, dozen crappie, and a few bluegill. Sean also lost a largemouth in the 3lb+ range.
After scoping out the lake while bass fishing, we decided to give the channel cats a shot Saturday (6/16). One cove in the lake was loaded with jumping shad so we thought it would be easy to get bait. We started this trip at the boat ramp nearest the dam. We motored up lake a little and started throwing crankbaits. We found a hot crappie bite and ended up catching around 15 crappie in about 15 minutes. The biggest was 11 inches.
11inch 9oz Crappie
The bass weren't biting nearly as well as the crappie. We soon noticed that a storm was rolling in even though weather.com only predicted a 30% chance of rain. In previous years 30% chance of rain has never been a good number for us.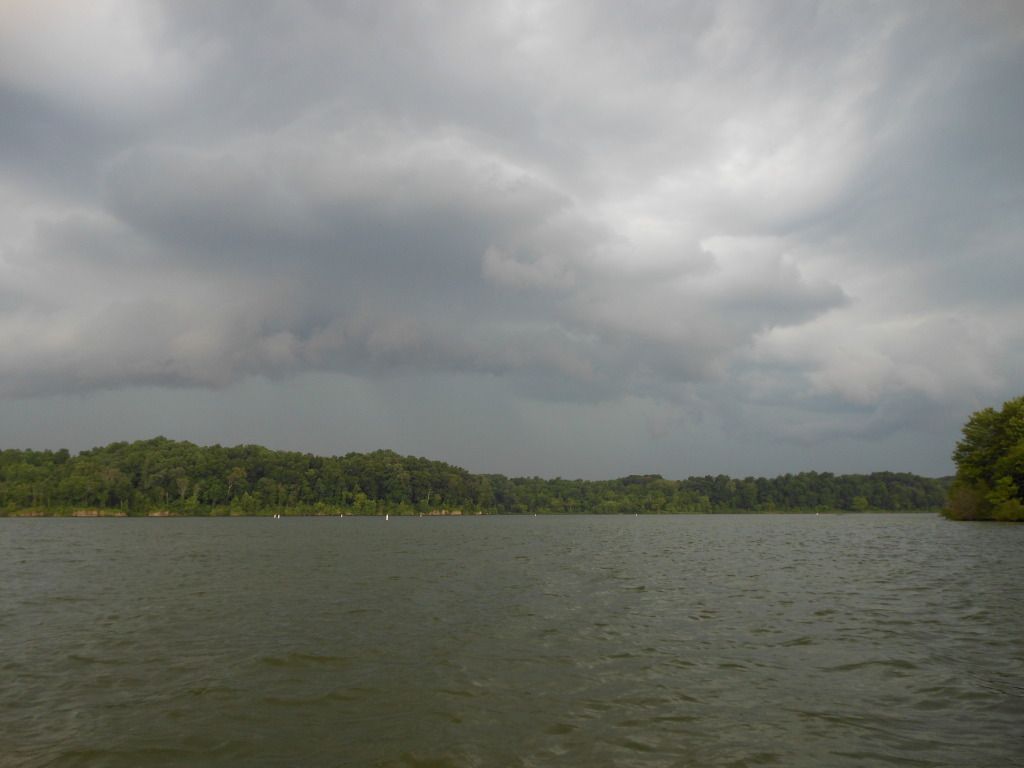 Approaching Storm
Once the wind started blowing in excess of 20mph we decided to park the boat and sit the storm out in the nearby woods. After about an hour the storm ceased and we continued our fishing endeavors.
After the storm
Fishing was slow after the storm so it wasn't long before we decided it was time to get some shad while it was still daylight. We journeyed to the cove where we saw thousands of shad previously. After throwing the cast net a few times we realized that the shad were not going to be so easy to get after all. The storm may have moved them into deeper water. Eventually we relied on the fish finder to find a school of fish in 13ft and water. Slowly but surely we gathered enough bait to last us the night.
Once we had shad we setup on a shallow flat next to deep water. It wasn't long before we started getting nibbles. Sean brought in the first fish, a 2lb channel. We were excited to have such quick success on a lake we hadn't catfished before. About an hour later Sean had both rods load within minutes of each other. He caught a nice 10lb even channel and another 2lb channel.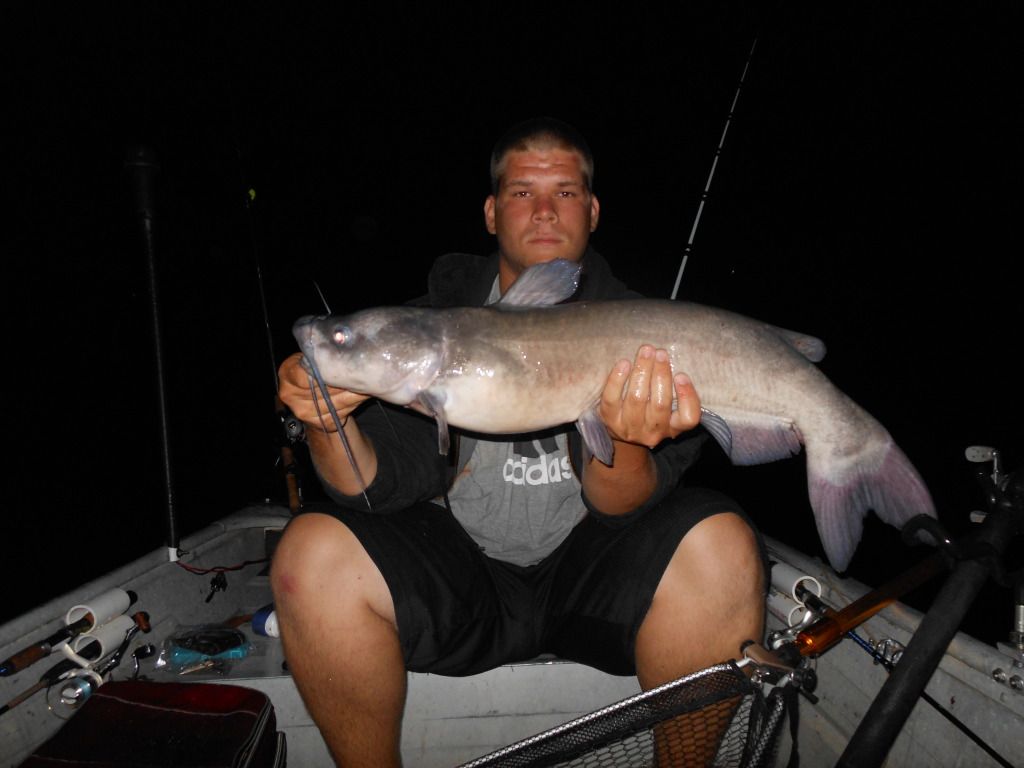 10lb 0oz 27 inch Channel Catfish
A trophy channel on our first catfishing trip to Paint Creek Lake, we were starting to like this lake real quick. Sean seemed to be in the hotspot, we decided to shift the boat to see if we could hone in on this spot, or at least give me and Amanda an opportunity at a fish too. Amanda eventually caught a 2lb channel and Sean capped off his night with a 5lb channel. No channels for me.
The biggest surprise of the night came on one of Amanda's rods. We noticed it shaking but not loading up. She started to reel it in and had a fish splashing immediately. To our amazement a 2lb largemouth was hooked on the end of her line.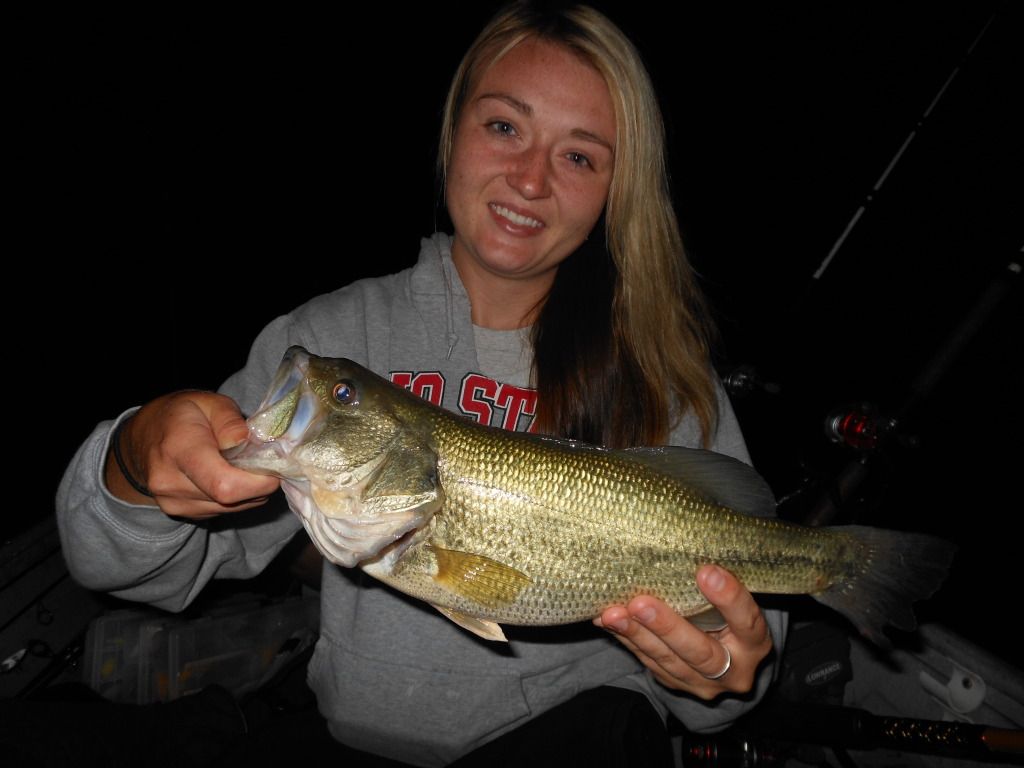 2lb 0oz Largemouth Bass
A 2lb even largemouth on a piece of cut shad at 1am, I wouldn't have believed it if I didn't see it. We joked the rest of the night that we were fishing for largemouth instead of channel cats. The bite died around 1:30 am and we decided to pack it in at 2:30 am. Once we got the boat out of the water Sean suggested that we take some casts around the docks as he'd had some success doing this recently after a late trip. Sure enough I brought in a 1lb 3oz largemouth on my third cast, I nice bonus fish to end the trip. Paint Creek Lake treated us well this week and I'm sure we will fish it more often from now on.