Water levels finally dropped to a fishable level this weekend so we decided to take the boat out to Brush Creek. We put the boat in at the public Brush Creek access near the Ohio River. It was our first time to use this ramp, and to our surprise we had to pay $5 to launch a boat. We put the boat in at 2pm and motored up Brush Creek for almost an hour. Using a gps to measure miles per hour we estimated our location to be around 6-7 miles from the boat ramp. For the first 2 miles the water depths ranged from 32 feet to 19 feet deep. We wanted to find a water depth of around 10-12 feet with submerged structure. We had the intention of fishing for Flathead catfish, so this was our criteria for our first spot....and it just so happened that such a spot was found around 6 miles north of the boat ramp. On our way up the creek we came across many limb lines that had been placed during periods of high water that had 3lb channels hanging 2 feet out of the water. It was a sad sight, we even seen two trotlines stretched across the creek at one point. We motored past and continued to watch the bank for limb lines and trotlines so we weren't fishing spots that were already fished out.
While trying to get up a shallow riffle we drug the motor and sheared a pin, which in turn caused the prop to slip separately from the shaft of the outboard. At this point we were up the creek without a paddle. Not really, we did have a 55lb thrust Minn Kota trolling motor and two batteries. We knew we could get back, but it would take a while. With no intention of heading back at this point we found a few spots and anchored for an hour and fished on our way back. At each spot we caught a few small channels on night crawler as we let our shad soak. At one point Amanda managed to catch a baby Flathead catfish. I had been looking for a new catfish for my 55 gallon aquarium and this happened to a perfect candidate. With regulations of one fish over 35" per person in Ohio, I was within legal limits to keep this one. We put it in a bait bucket and kept it aerated for the trip home.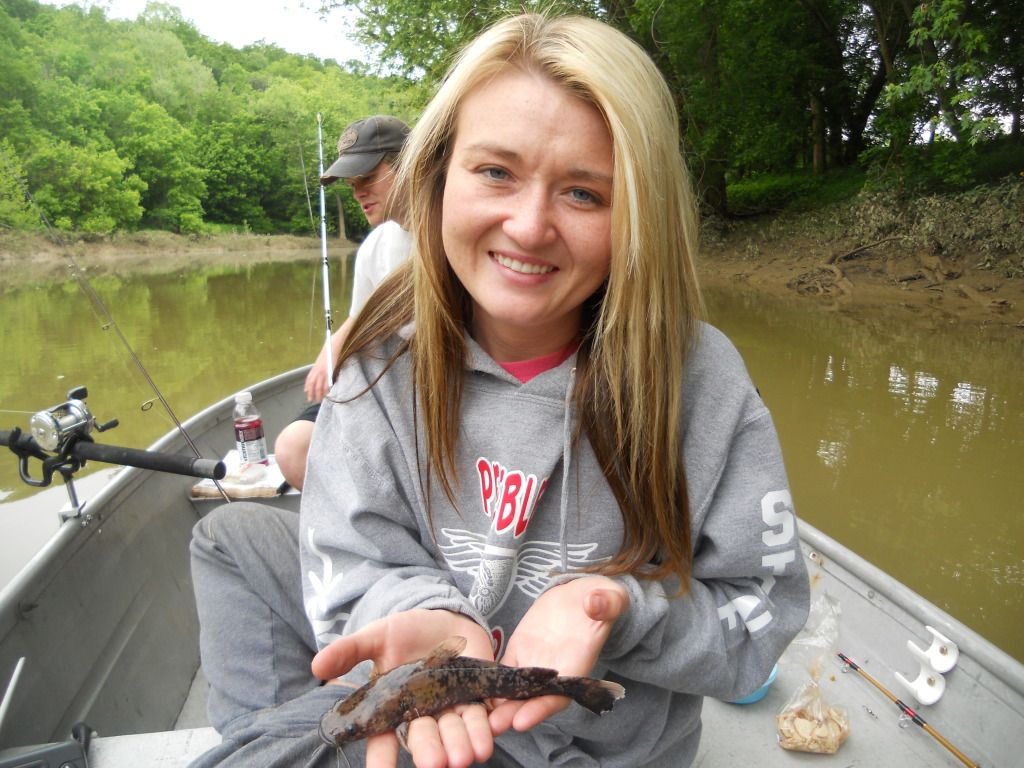 At about dark we found a good spot with structure on a bend. We managed to catch a few more small channels and it began to rain. We trolled to another spot with one bar of cell phone service and checked the weather, it was not looking good. With an estimated hour and a half of trolling left to the ramp we decided to head back. On the ride back Rylan was using a spot light to help avoid debris and logs and spooked a rather large fish that jumped and slammed into the side of the boat. We believe it may have been a Silver Carp but didn't know they were in the Ohio River this far upstream. Two hours later we found the ramp, which happened to be infested with snakes. Hopefully next weekend we can get out and avoid bad weather and shallow water.