This weekend was pretty much a typical weekend for us. Amanda and I fished for carp Friday while Rylan was at work. Once again Amanda caught a nice carp and I managed to trick a few panfish into eating tube baits in order to avoid a shut out. Saturday, Rylan and I took his boat out to Rocky Fork Lake for some crappie and bass fishing. The lake was extremely crowded, with boats lining the shoreline in 20 yard increments. We trolled around tossing crankbaits, jigs, and tube baits until the boaters cleared out. We found a few crappie, largemouth, and gills on some structure in about 13 feet of water. At about 7pm we drove over to a shallow cove and found a decent crappie bite. We managed about a dozen crappie, and lost probably a dozen, in about an hour. These fish were super shallow, coming out of less than 3 feet of water. At the end of the day we caught 21 crappie, 6 largemouth and 20 some gills and kept 12 crappie and 15 or so gills. We rarely keep fish, but Rylan had a strong craving for panfish so we kept a few for the table this time around. We got home around 10:30pm, put the boat up, and cleaned fish until midnight. Since we rarely keep fish, we are somewhat beginners at cleaning fish. The air temperature was in the mid 40's so that only magnified our poor ability to fillet fish. Needless to say we managed and soon Rylan will have a feast of gills, crappie, and morels.
For the last couple weeks Rylan has been fishing here and there after work. He fishes Rocky Fork Lake once in a while, his pond, and Brush Creek every now and then. On March 29 Rylan went down to Brush Creek to do some smallmouth fishing and managed a new personal best smallmouth at 1 pound 11 ounces. We typically don't fish for smallmouth as much as other species so our standards aren't as high as others, but a personal best is noteworthy none the less. He said he tossed everything at them including, in-line spinner baits, chigger-craws, grubs, crankbaits, etc. It wasn't until he switched to a top water Rebel Popper that he started to catch fish. He has since went back a few times and fished for smallmouth, but he has yet to bump his personal best again. He did manage to hook a few tree-fish with some poppers and has lost some of his drive to exceed the 2 pound mark. With a full season ahead of him, I think he'll manage to exceed the two pound mark soon enough.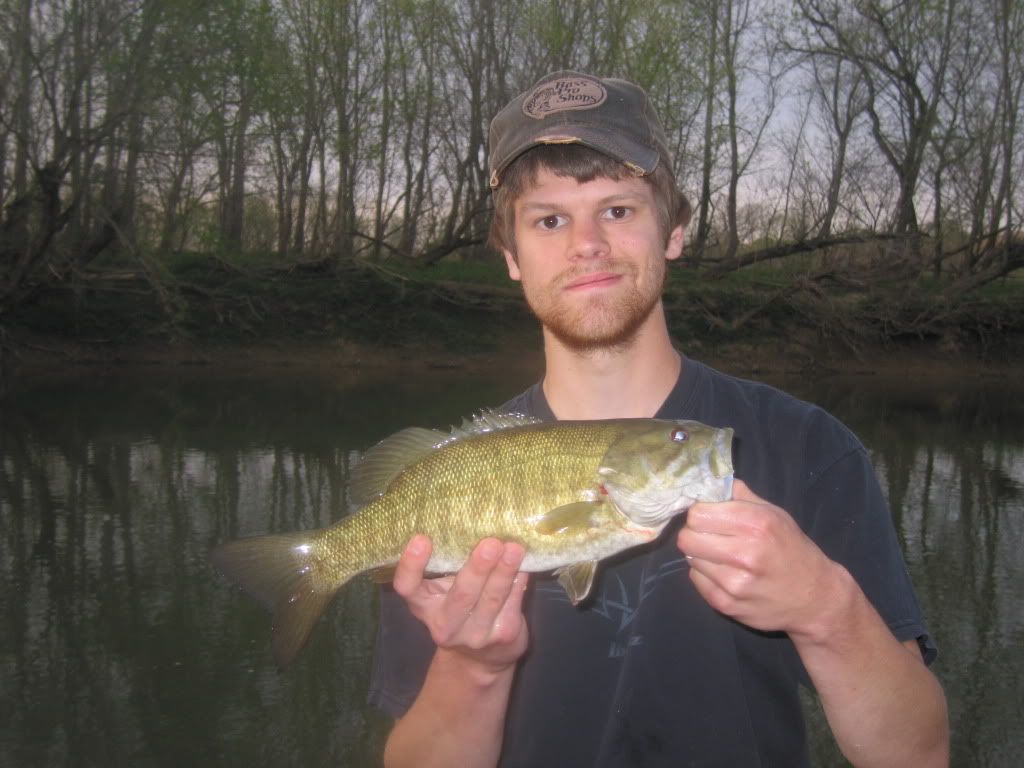 1lb 11oz 15 inch Smallmouth
Easter evening we went out to look for mushrooms, but with all the cold weather and lack of rain they weren't up yet. So we ended the mushroom hunting trip early and Amanda, my little brother, and I went out to spend a couple hours smallmouth fishing. We grabbed our poles and a few drinks and made the 10 minute journey to the creek. The fishing started slow with only one lost fish coming in the first hour. Soon after though we all switched baits and started probing the currents once again. Amanda was throwing a huge top-water frog bait. I told her that when she put it on that she wouldn't catch anything, I believe my exact words were, "That's not going to work, its too big." And as the past has shown, once someone doubts someone else's lure choice, sure enough it produces fish. Amanda managed to lose several fish at the bank and land a little smallmouth on her new favorite lure.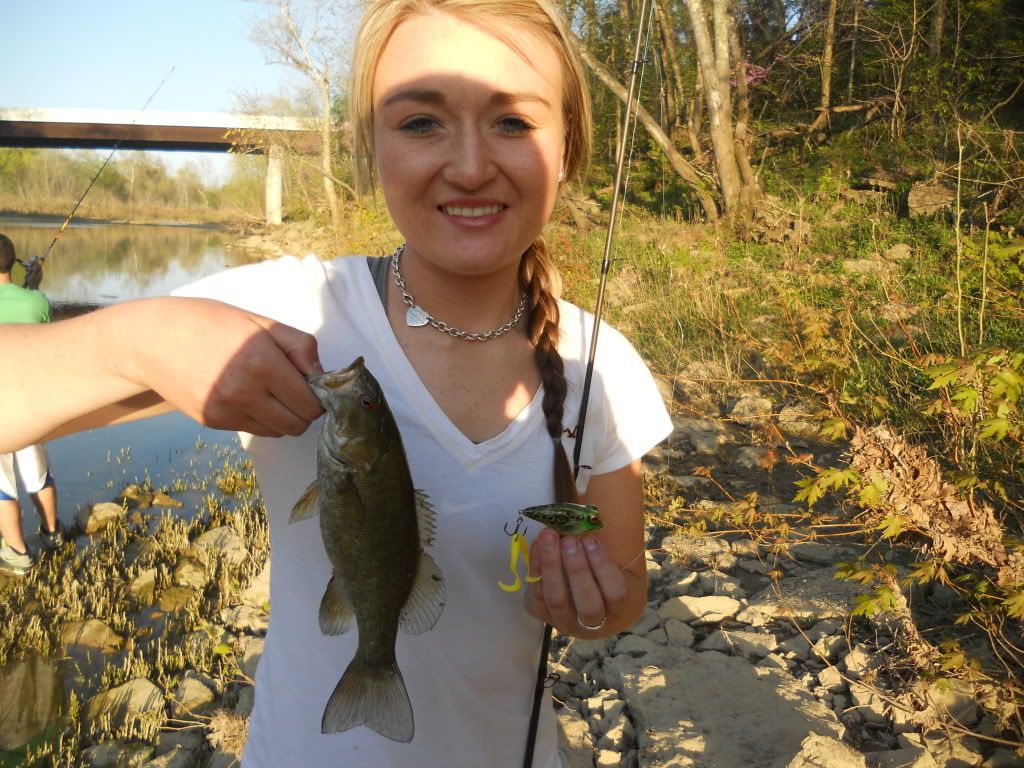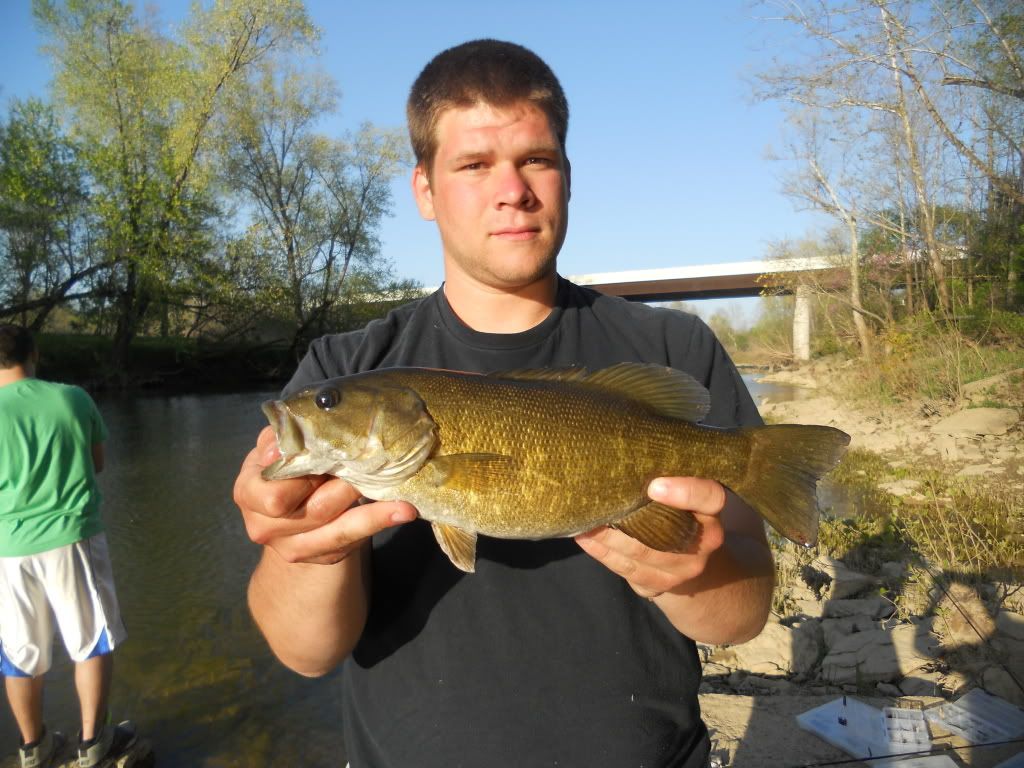 1lb 10oz Smallmouth
I managed one smallmouth on a white in-line spinnerbait, the smallmouth weighed 1 pound and 10 ounces just an ounce short of Rylan's fish a week earlier. This fish came off of my second cast with the spinner bait. Since my little brother hadn't caught a fish yet, I offered to let him use my rod while I took a weight, measurement, and a picture of the fish. As you can see from the picture, it didn't take him long to start casting away. He managed a couple smallmouth on it as well. All in all it was a pretty good day for a short, unplanned two hour trip.
Smallmouth fishing is by far one of the most relaxing methods of fishing we do. It is stress free, requiring less tackle, less preparation, is usually less competitive, and is one of the best ways to enjoy nature. To paraphrase Tom Cross, an avid outdoorsman and writer: Sometimes when smallmouth fishing in Southern Ohio you don't catch fish, but on those days when the fish aren't biting you can sit back and enjoy the surroundings and environment that the streams of Southern Ohio have to offer. Fish or no fish its hard to beat walking and or wading for smallmouth.