This weekend was plagued with cold weather and poor fishing once again. We fished Thursday, Friday, and Saturday. Thursday we drifted Rocky Fork Lake for channel cats. We drifted for 5 hours and only caught one channel cat, 25.5 inches and 6 pounds 10oz. Friday we grabbed a few minnows and fished Rocky Fork for Crappie. We fished for 5 hours near Fishermans Wharf and managed 33 crappie, a bass, and a few bluegills. Saturday we ventured out to the river in hopes that we'd get into some larger fish, but nothing had changed since last weekend. We all managed to catch a hybrid striped bass during the daylight hours to avoid the shut out, but we had no action on our catfish rods. Rylan found a little hot spot and managed a hybrid striper, a gar, and a largemouth. With such lousy fishing and extremely cold temperatures we decided to stay at home Sunday.
25.5" 6lb. 10oz Channel
We'll it didn't take long for me to get the itch Sunday. I wanted to try and fish for smallmouth at Brush Creek, but once I went outside I knew that I would have to bundle up. Air temperatures were in the low to mid 40's and the wind was blowing pretty good. Smallmouth fishing is best when your rather mobile, so I knew that my odds of having a sucessfull day were slim. So once again I had to restrain myself and find something else to do. That something else just happened to be fixing Amanda's favorite catfish rod. For quite sometime Amanda's Berkly Reflex has shown some areas of chipping clear coat around her rod eyes. Since Berkly doesn't manufacture Reflex rods anymore, I had no choice but to make the repairs and try and milk it for another year.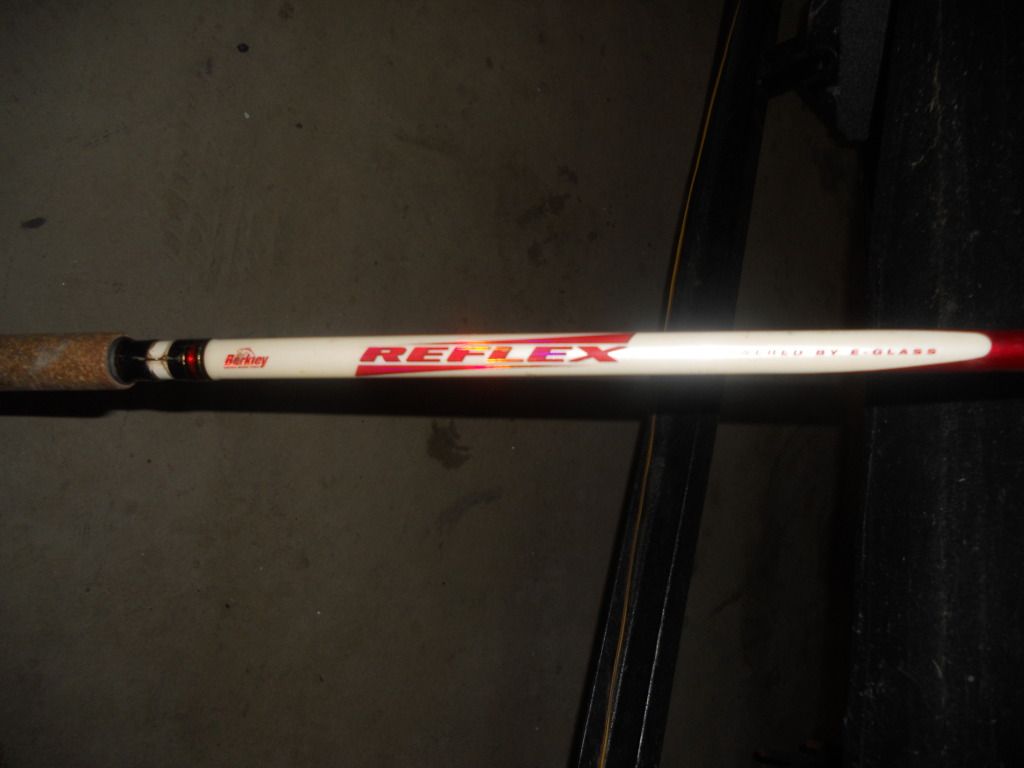 Berkly Reflex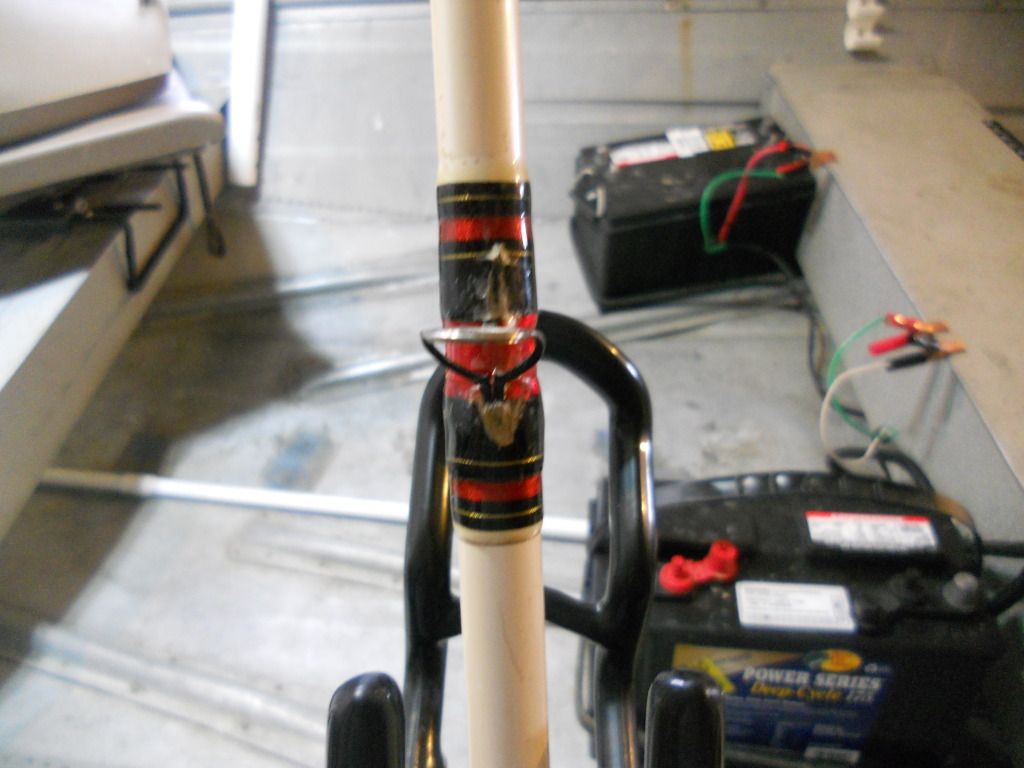 Clear coat/gloss chipping around the eyes
 This winter I had ordered some clear coat, the kind people use for lure painting, to fix her rod with. However the winter was mild and the fish were biting so I never got around to it. Every trip we take to the river makes me nervous because it could very well be the Reflex's last trip, if Amanda finds a feisty blue or a decent flathead they could easily tear an eye off. As with any type of painting the first step of the process was to get rid of the chipping paint. So I grabbed a flathead screwdriver and some sandpaper and started removing the clear coat that had visible cracks in it.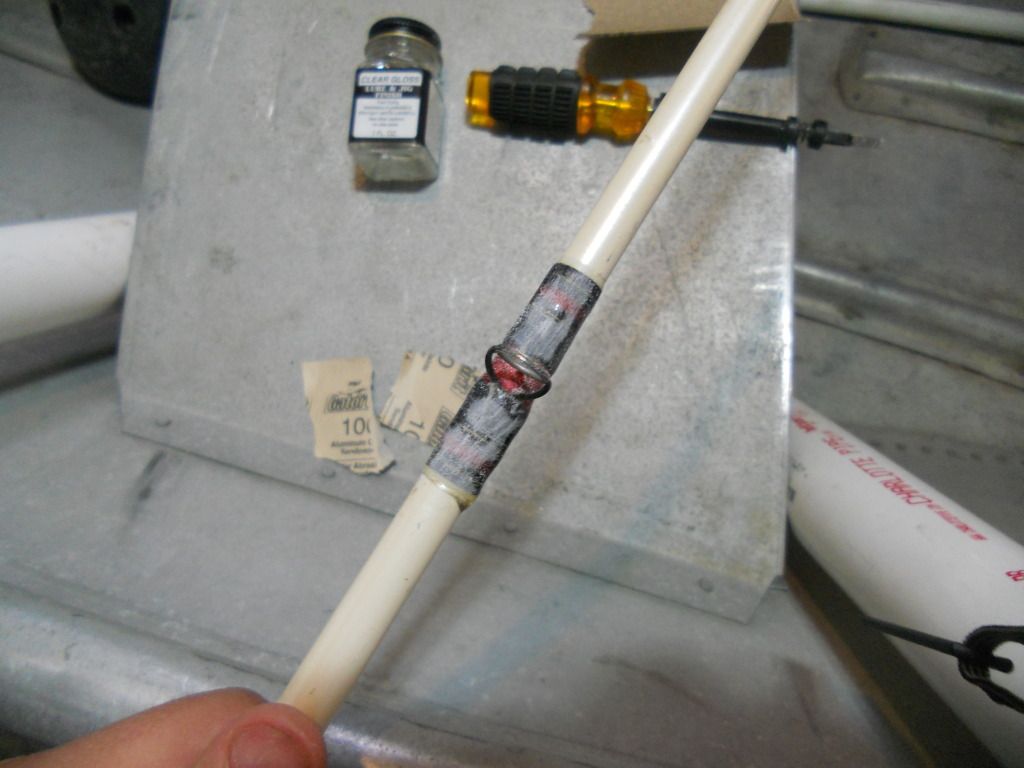 Appearance after sanding
At first it looks like you have tackled more than you can handle, or even ruined the rod. Don't worry, the gloss covers a lot up. I sanded around the areas that I knew would require the most gloss/clear coat. Some of the eyes clear coat was chipped entirely to the thread that held the eyes in place, in these instances it was crucial not to damage the thread so I sanded very lightly.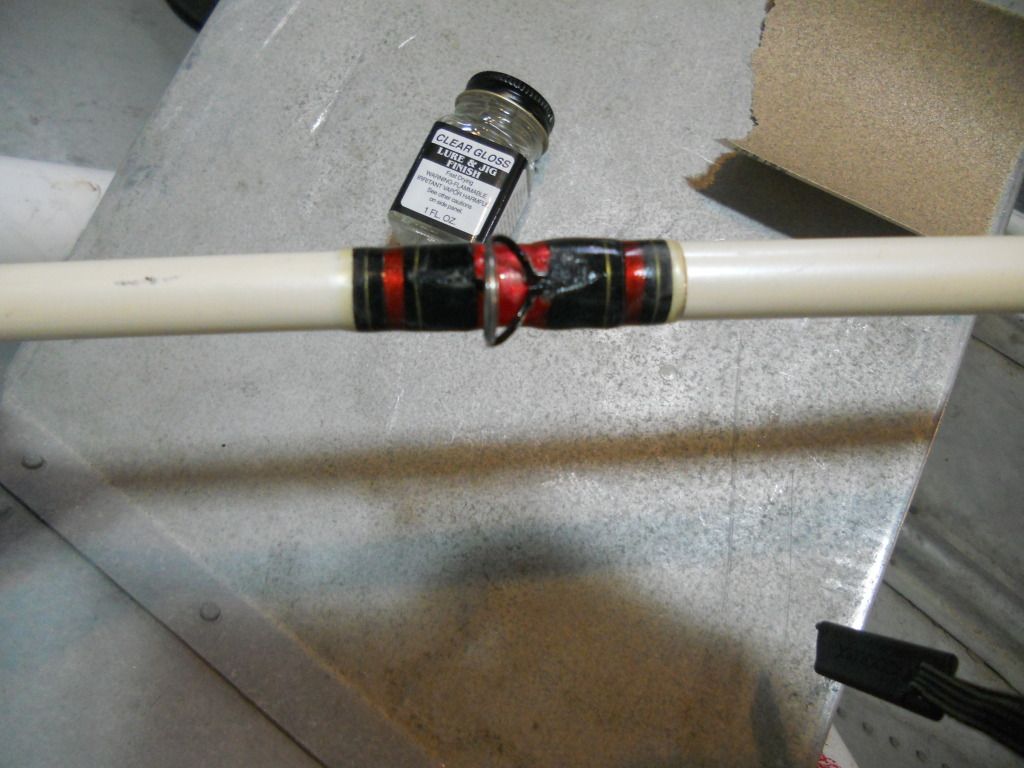 Exposed threads
The next step was to apply clear coat to the areas I had sanded. I began by applying large amounts near the seats of the eyes and around the areas that had exposed thread. I then added a fine layer of clear coat to the rest of the black, red, and gold area.
First layer of clear coat.
I then scraped off the cracked clear coat, sanded, and glossed the rest of the eyes. I allowed it to dry and gave it a second coat. Hopefully her Berkley Reflex will last for another season or two.
A few of the eyes that were re-glossed.

Disclaimer..... After sharing this with friends on Catfish Freaks, I quickly discovered that this method would work in the short run, but other glosses work best for this situation. Lyle from Blackhorse Custom Rods was kind enough to share a few tips with me on the proper procedures, and I am very grateful. The clear coat I used is a temporary fix, for long term results its best to use a finish epoxy. The finish epoxy is slightly more expensive, but you get three to four times the amount. Best of luck with your projects.