If you have read a few of our posts, by now you may have noticed that we refer to "trophies" quite a bit. What we are referring to is a fish that meets the qualifying size needed to be recognized as a Fish Ohio Trophy. Each year we strive to get 4 different species of trophies, because once an angler has succeeded in catching a trophy of 4 different species he/she is then deemed a "Master Angler." This is just one of the Fish Ohio Programs, other programs include Lake Erie Grand Slam, Inland Waters Grand Slam, and the Ohio River Grand Slam. Each Grand Slam is achieved by catching all three trophies of the designated species for each region. They are as follows:
Lake Erie Grand Slam: Walleye, Smallmouth, Steelhead
Inland Waters Grand Slam: Largemouth, Saugeye, Muskie
Ohio River Grand Slam: Hybrid Striped Bass, Sauger, Flathead Catfish.
As of now each of these categories are well out of our reach. Lake Erie is several hundred miles away from us making the Lake Erie Grand Slam currently unachievable. Neither Rylan, Amanda, or myself have ever caught a Muskie over 6", so that throws a wrench into the Inland Waters Grand Slam. Finally, The Ohio River Grand Slam is just slightly out of reach. We catch at least 10 Hybrid Striped Bass of trophy lengths each year out of the Ohio River, the Flathead Catfish is achievable, but we rarely if ever fish for Sauger. With that said, we do know where to fish for them, if we happen to catch Hybrid Stiped Bass and Flathead Catfish trophies.
For now we are content with aiming at Master Angler status, in which four different species of fish must exceed a set size limit. However if you were to fall short of master angler status, you can still submit your catches and print off your certificates for those fish. At the beginning of the following year you will receive a Fish Ohio Pin in the mail. If you are lucky or skilled enough to catch four species of trophy size, you can submit all four fish and print off your certificates. At the beginning of the following year you will receive a Fish Ohio Pin, Master Angler Pin, and a Master Angler certificate (Which usually comes a month or so after the pins, so be patient). The sizes for trophy fish are as follows:
Blue Catfish - 35 inches
Brown Trout – 25 inches
Carp – 26 inches
Channel Catfish – 26 inches
Crappie – 13 inches
Flathead Catfish – 35 inches
Freshwater Drum – 22 inches
Hybrid Striped Bass – 21 inches
Largemouth Bass – 21 inches
Muskie – 36 inches
Northern Pike – 32 inches
Rainbow Trout – 28 inches
Rock Bass – 10 inches
Sauger - 16 inches
Saugeye – 21 inches
Smallmouth Bass – 20 inches
Sunfish – 9 inches
Walleye – 28 inches
White Bass – 16 inches
Yellow Perch – 13 inches
Of these trophies we have caught 4 Blue Catfish trophies,1 Flathead Catfish trophy, 1 Largemouth Bass trophy, 1 Crappie trophy, and dozens of Carp, Channel Catfish, Freshwater Drum, Hybrid Striped Bass, and Sunfish trophies within the last 3 years of fishing....since we began the program. This is the beginning of our third year and each year Rylan and I have completed Master Angler status. It hasn't been easy, but we have managed. Last year we both went well into August in search of our fourth fish of qualifying size. Amanda joined in last year with her first year as a Master Angler.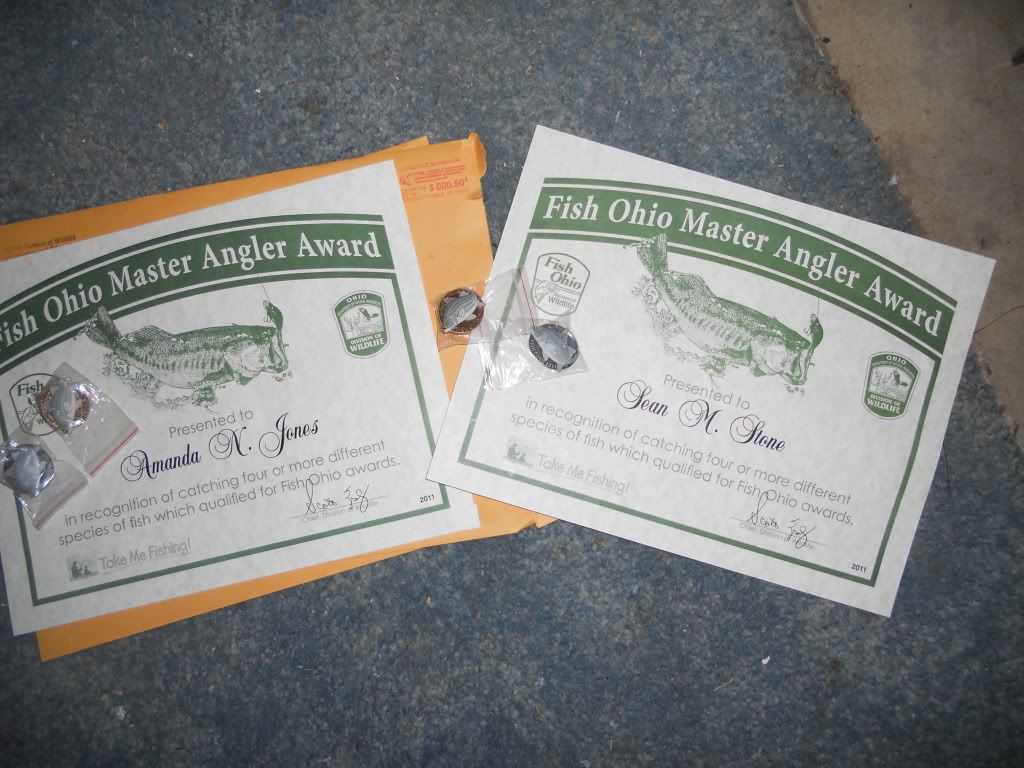 Amanda and my Master Angler Certificates, Fish Ohio Pins, and Master Angler Pins.
We do take pride in these accomplishments, so much so that I have framed the last two years of my top four catches, certificates, and pins. As of right now I have the certificates and pictures taped inside a frame, once I get some free time I'll add the master angler certificates and add a background. Below is the frame that I have last years certificates and pictures in. Not shown are our certificates and pictures of our trophy sunfish, we each had a sunfish over nine inches, but due to lack of room I decided to leave them out.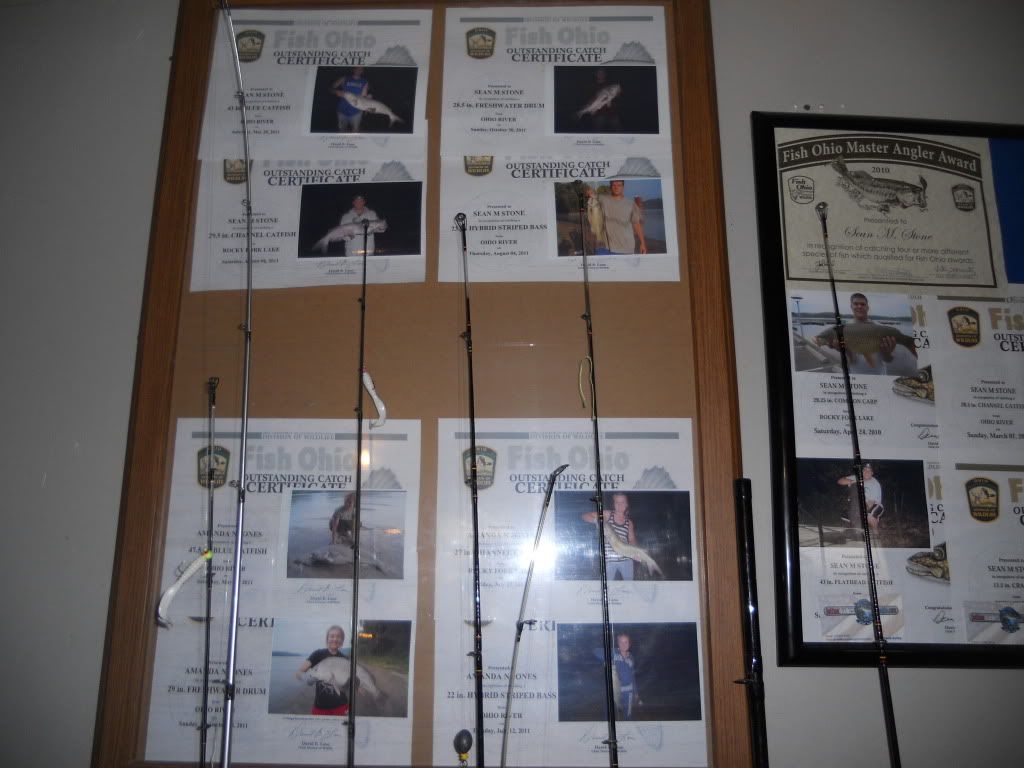 Our Framed Fish Ohio Certificates located behind my rod rack.
Below is a link to the Fish Ohio Program Page. Here you can learn about the history, check qualifying sizes, submit your trophy catches, and even look at the most productive waters in Ohio for trophy fish.
http://www.dnr.state.oh.us/Home/FishingSubhomePage/programs__activitiesplaceholder/fishingfishohiodefault/tabid/6137/Default.aspx