Well, last week was my spring break so I spent the majority of my time on the water. I fished 7 different days on my new boat, 3-3, 3-4, 3-6, 3-7, 3-9, 3-10, and 3-11. The majority of the trips were to Rocky Fork Lake, but we also got out and fished Adams Lake and Turkey Creek Lake. I fished many different techniques ranging from drifting the Santee Cooper rig for channels to jigging for bass. By far the most productive method of fishing was beating the brush for crappies with slip-float rigs and live minnows. Fish were found in thick cover in water ranging from 16 feet deep up to 3 feet deep. Water temps for the most part were around 46 degrees in the early week, and around 48 degrees near the weekend. I got to break about 20 yards of ice at the boat ramp Tuesday, March the 6th. When I got to Rocky Fork Lake, particularly the boat ramp off of North Shore Drive, I noticed a sheet of ice at the boat ramp. I didn't have many options, it was either try to power out and break the ice, wait for someone else to break it for me, or wait for it to thaw. Being impatient as I am, I went ahead and plowed through it. At first I tried using the trolling motor to reverse out, but this didn't work. I then turned the boat around by hand and tried to troll out. I broke about 5 feet before coming to a stop. At this point I became frustrated and said the heck with it. I primed and choked the motor, and started it up. I gave it a little throttle, and up and over she went.
Rylan and I took the boat out for the first time Saturday morning. I really didn't know what to expect so I figured that it was best that Rylan was my fishing partner the first time on the boat in case the boat needed extra help getting onto the trailer, or we needed to paddle back to the boat ramp, etc. In such instances it's best to have someone who thinks rather quickly and is calm, not to say that Amanda couldn't help, I just felt more confident with Rylan at the time. Our first trip went rather smoothly, with the exception of a few leaky rivets. We ended up catching a few nice crappie and a couple small bluegills.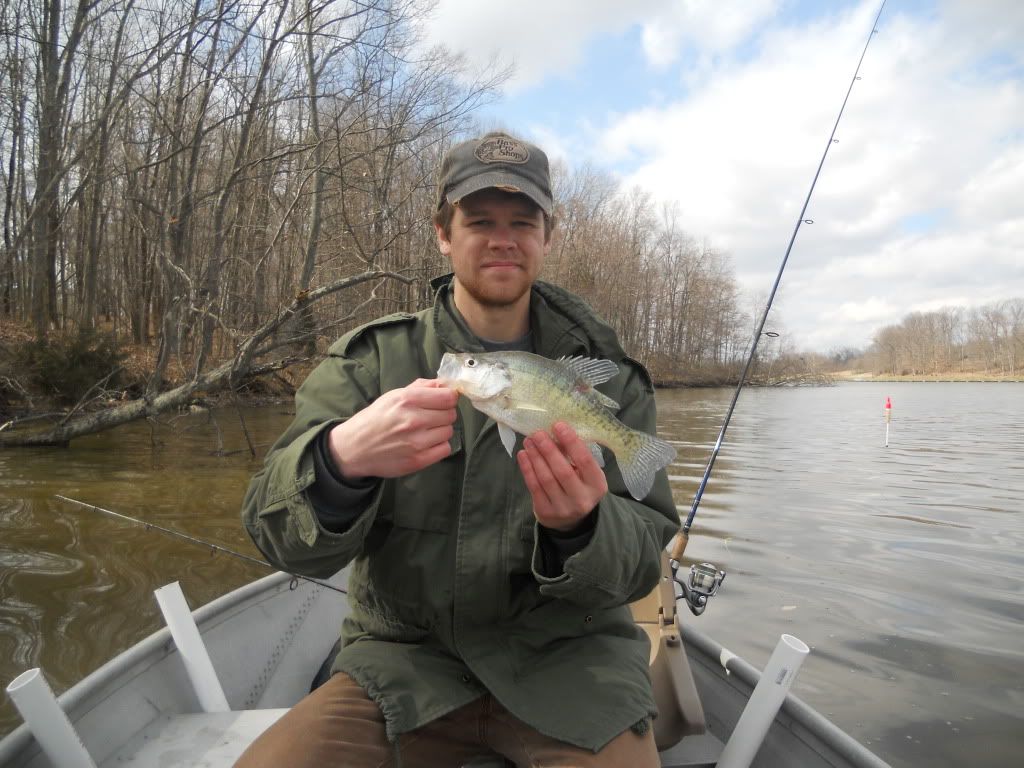 Rylan with a 11" crappie.
Rylan did rather well the first day on the boat, ending up with 15 crappie. I on the other hand caught 2 bluegills and 4 crappie. I ended up catching the largest crappie of the week on a jig tipped with a nightcrawler that was set in a rod holder being held about 3 feet off of bottom. I watched it bounce a few times and then it hooked itself. It measured 12.25", .75" off of a Fish Ohio Trophy, and weighed 15 ounces.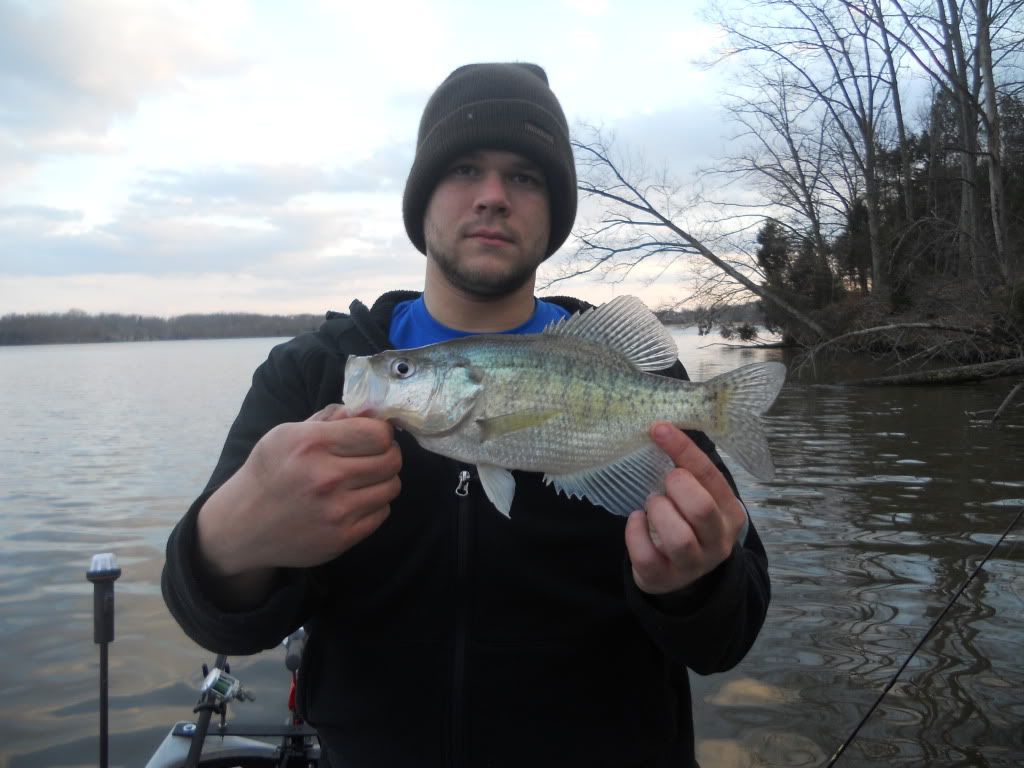 12.25" 15 ounce Crappie.
12.25" 15 ounce crappie.
The next 4 trips I spent fishing with Amanda at Rocky Fork Lake as well, once again particularly the North Shore area. I was confined to this area because of the high winds that made the main lake too choppy to navigate safely. The story was somewhat similar, several crappie at 11 inches, but we did manage to find a few largemouth as the waters began to warm.
12" Largemouth I caught while jigging a live minnow on a 1/16 chartreuse jig.
Friday March 9, Amanda and I fished Rocky Fork lake for 2 hours before wind conditions became too rough to fish in. Not willing to give up and call it quits we decided to take the boat to Adams Lake. Got there about 12:30am and noticed a hoard of cars lined up around the boat ramp. Turns out the ODNR had just stocked rainbow trout, and the most popular spot seemed to be the boat ramp. After driving an hour I was dead set on getting in some time on the water. So I began to back the boat down to the water, where nearly a dozen rods were reeled in to allow me to put my boat in. People didn't seem happy with me to say the least. Got out on the water and noticed surface temperatures were significantly warmer than what I saw at Rocky Fork Lake. Adams Lake ranged from 50-53 degrees, 6-7 degrees warmer than Rocky Fork Lake so my hopes were set high. Ended up only catching one bass off of the dam.
Saturday Rylan and I set out to fish Turkey Creek Lake, we had caught a few crappie while bass fishing there last year so we decided to see if it had a good population of crappie, and hopefully catch a few bass. Water temps ranged from 44-48, slightly cooler than Rocky Fork Lake. We ended up catching 7 crappie combined in 7.5 hours, only one of which went over 9".
Sunday I took Amanda out to Turkey Creek Lake to see if maybe Rylan and I had a bad day. I had a few dozen minnows left so I wanted to get rid of them anyway. I had the advantage of knowing where Rylan and I had caught the fish the day before so I took Amanda to already established spots. Combined we ended up catching 9 crappie and 6 Largemouth.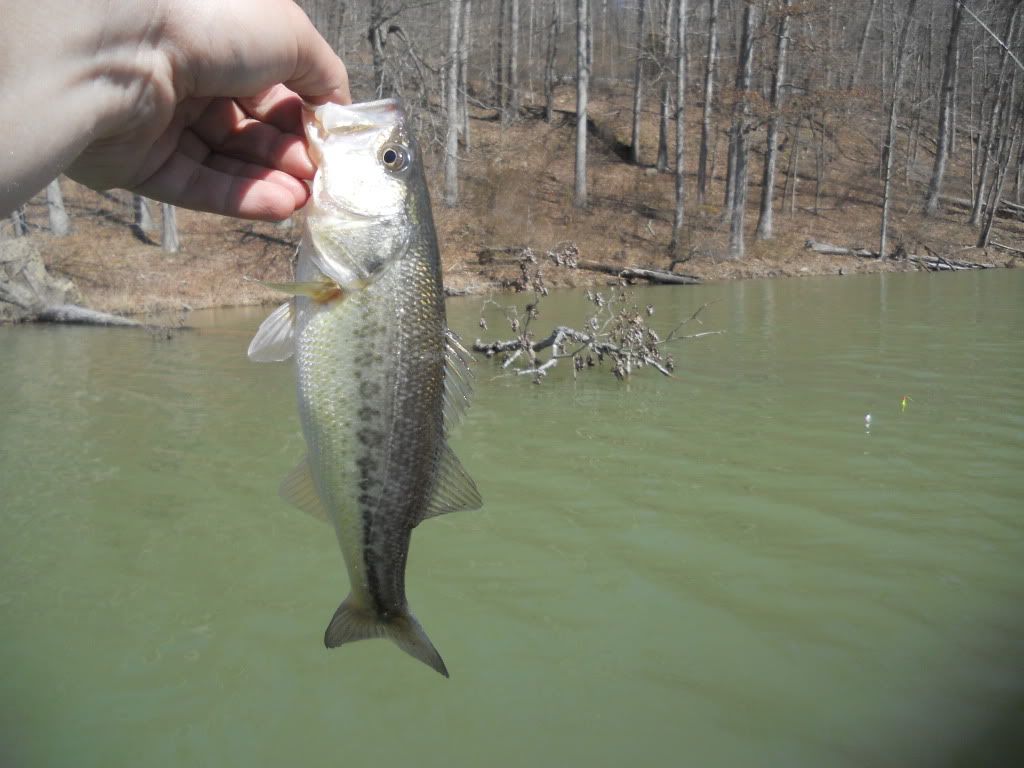 10" bass from Turkey Creek Lake
I didn't catch any Fish Ohio Trophies last week, but personally I caught 2 gills, 32 crappie, and 10 Largemouth bass. Fishing was slower in the morning, with the action peaking around 3-5pm.
All in all it was good to get out and get the hang of the new boat. I found a few leaky rivets throughout the week, and needless to say the boat is bone dry now. Hopefully with this wave of warm weather were going to have this week, I might be able to land a few channels next weekend. Just have to find a way to keep myself from poking around in the woods for those first morels that may pop up this week.