We set out Saturday with intent to catch our first carp of the year. Its been well over a year since the last time we specifically targeted carp, and over a year and a half since Sean's last carp. We fished Rocky Fork Lake, a lake we have known to hold a good population of average size carp in years past. Sean had noticed a considerable amount of carp jumping a couple days before in a cove on the shallow side of the lake. We set up at about 11:00am, our primary carp bait was corn and Sean also had some boilies to try. The surface water temperature was 66 degrees.
We all started with various rigs. Amanda's setup was a 1oz egg sinker with a 10 inch leader tied to a small hook. Sean's setup was a hair rig with a 1oz egg sinker, and I started with a simple split shot and small hook setup. Amanda and I used our traditional method of placing a piece of styrofoam on our line at the tip of the rod and leaving our reels in free spool, thus allowing the carp to pull line freely. Sean decided to tight line his, locking his reel down with the rod in an upright position. More explanations of carp rigs, baits, and methods will be posted soon.
After casting our lines out and chumming the water with some corn, Sean and I started pan-fishing to keep us entertained while we waited for the carp to find the bait. The bluegill and crappie fishing turned out to be excellent. Sean was pulling in bluegill left and right on a small jig tipped with a piece of nightcrawler, while I caught a couple nice size crappie and a couple bluegill myself on a nightcrawler jig as well. The fish were biting aggressively underneath the docks. After about an hour I hear drag screaming and I look up and see Sean's 7ft Shimano Voltaeus bent towards the water. Sean picked up his pole, as the line was still being ripped off. After about 15 seconds of continuous pulling I said to Sean "Are you going to get spooled?"All in all he probably lost 20 yards of line. He tightened the drag down a couple clicks and started gaining line, we knew he had a nice carp on his hands at this point. After about a 5 minute battle we had it in the net. A 14lb 15oz 30 inch carp, A new personal best for Sean. Also a Fish Ohio Trophy of 26+ inch .
14lb 15oz 30 inch Carp
We also got to try out Sean's new weighing sling which performed wonderfully.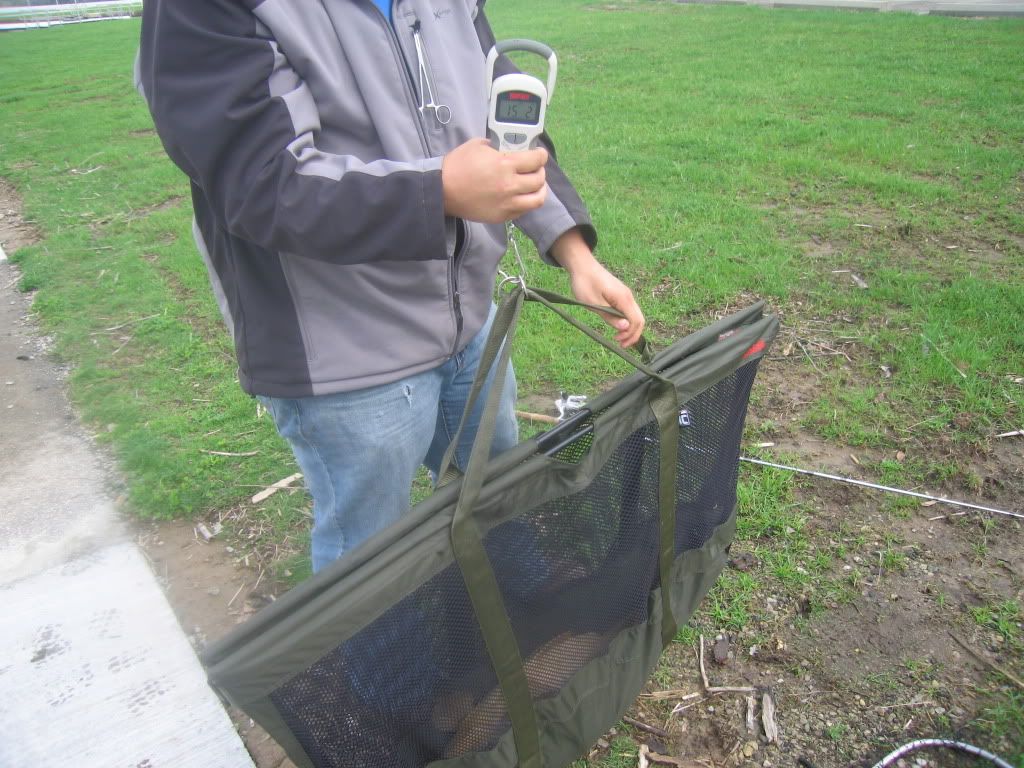 Weighing the carp in the sling
The scale weight was not accurate in the picture because I took the picture as he was lifting the fish up. Combined the fish and sling weighed 17 pounds 12 ounces, the sling weighed 2 pounds and 13 ounces, which we did subtract the weight of the sling to determine the fishes actual weight. Below is Sean reviving the carp before letting it swim off to be caught another day.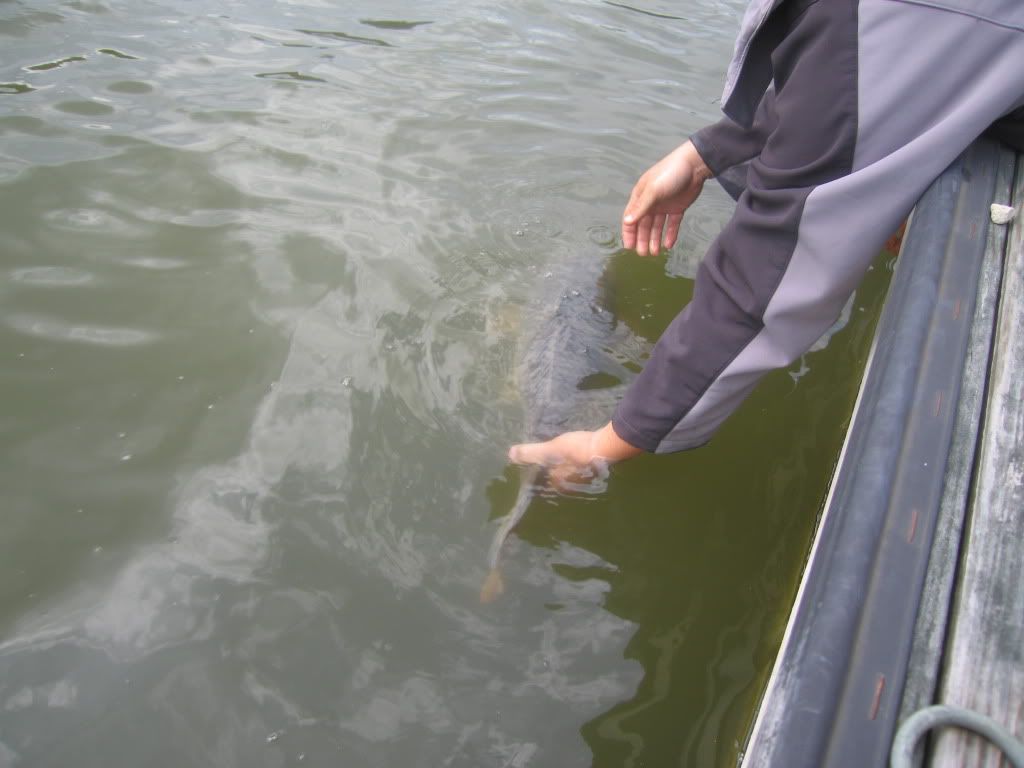 Releasing the carp
An hour later Sean hooked up with another carp, this one didn't load the rod nearly as well as the first. It was a smaller 4lb 12oz carp. The carp bite was slow after this, Amanda had a couple small runs but failed to hook up on them. Hours went by while we continued to have great success with the bluegill, crappie, and a few smaller largemouth. After seeing Amanda's struggles I decided to change it up and go to a method that has produced my best carp fishing. Simply a small Aberdeen hook with no weight baited with corn. You can't cast as far without the weight but I knew we were on the fish so it wasn't necessary to cast far. The weightless option lets the carp suck in your bait and swim off without a second thought, while the weighted options rely on the weight of the sinker setting the hook initially. It wasn't long after switching methods that I had my first run. I landed a 9lb 15 oz 29 inch carp, which was also a Fish Ohio trophy carp.
9lb 15oz 29 inch Carp
We didn't have any more carp action after that. The already good day of fishing was then capped of by some excellent crappie fishing during the last hour of daylight. I ended up catching 15 crappie on the day, most of which were nice size. Sean ended up catching a half dozen crappie, a few small largemouth, and an impressive 40 bluegill on the day. The crappie were fat and heavy with eggs, the biggest of the day being 14oz pictured below.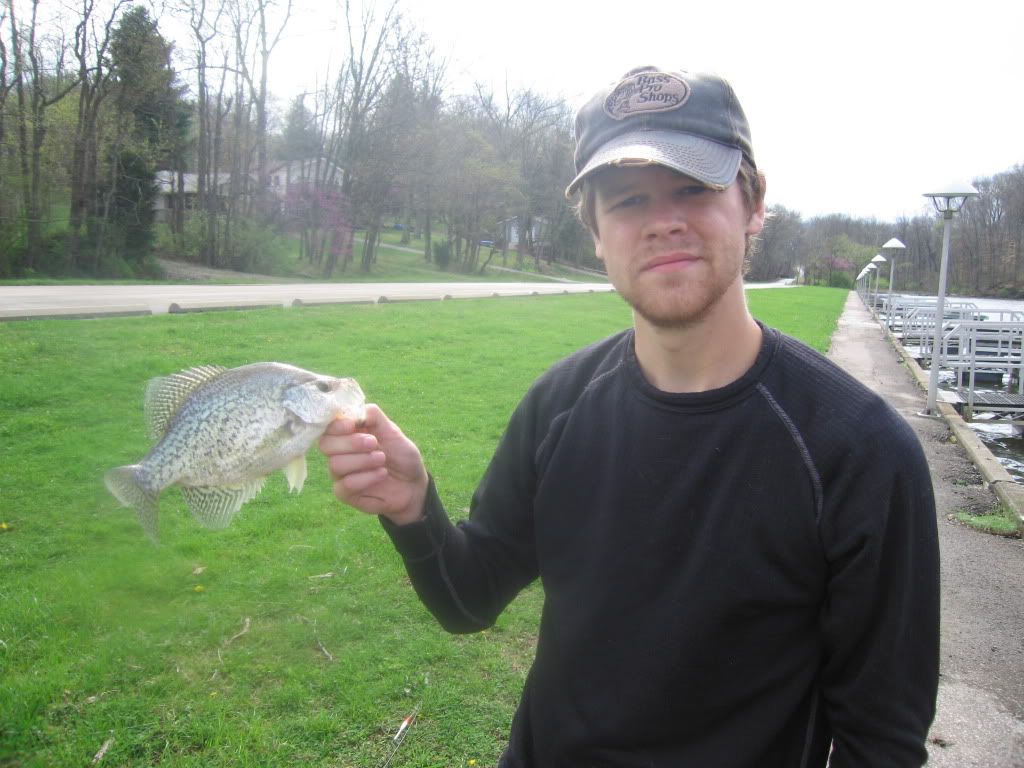 14oz Crappie
Our best day of fishing on the year in my opinion. Two Fish Ohio trophy carp and some great bluegill and crappie action.