Decided to fish Rocky Fork Lake for channel catfish Friday with Amanda. Got on the water at about 11am and fished until 7pm. We drifted and trolled santee cooper rigs with small pieces of cut skip-jack around all day. We targeted a main tributary of the lake and started drifting in 4 feet of water and ended up finishing our drift in 24 feet of water. Surface water temperature was 59 degrees at the shallow end of the cove and 53 degrees toward the mouth. The main lake surface temp was around 52 degrees. We did about two and a half laps around the cove and only managed one fish, a 4lb 9oz channel cat. Amanda was fortunate enough to have awoken from her sleep 5 minutes before she got the bite, otherwise it would have been my 4lb 9oz channel. Just kidding.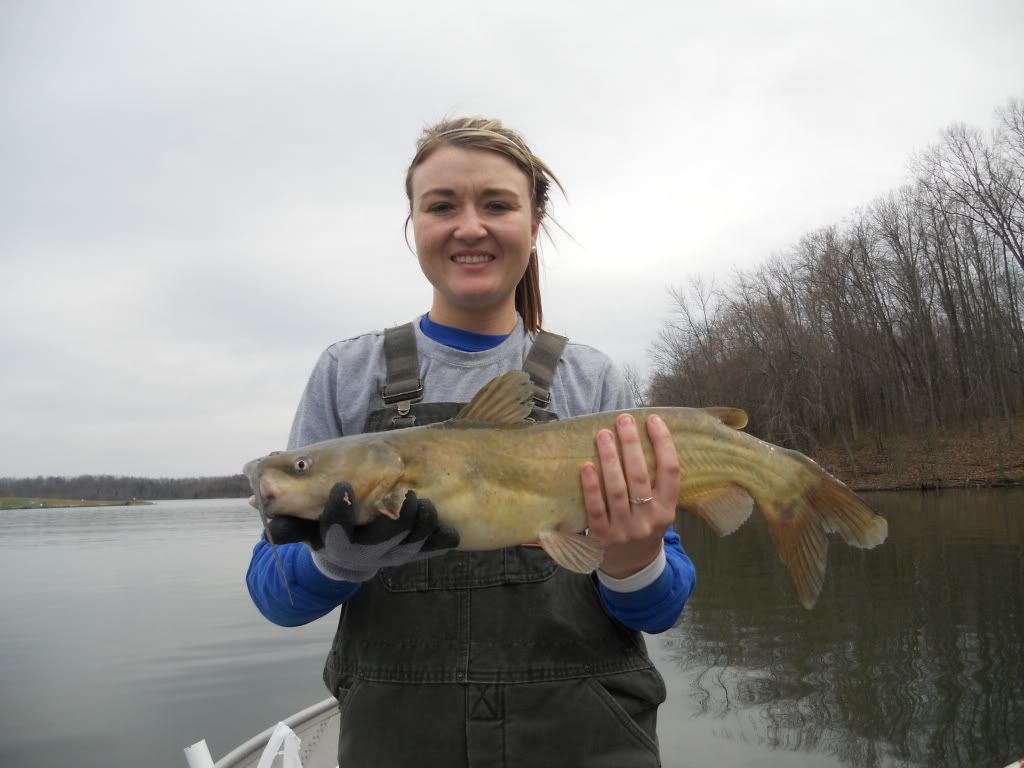 Rylan, Amanda, and I decided to head out and fish the Ohio River Saturday. We got set up around 11am and fished until 9pm. Within an hour of having our rods in the water, Amanda's furthest rod loaded up. It turned out to be a 34 inch, 17lb 3oz Blue cat. Not a Fish Ohio Trophy but a good start to the day at least. We took a few pics, weighed it, measured it, and released it. With high hopes we waited patiently for our next bite, which happened to be a long wait. Rylan ended up reeling in a baby blue cat while checking one of his baits, and I caught a small hybrid striper with a white twister tail while trying to catch skipjack. Other than that the rest of the day was real slow. We knew we were on the fish, because every time a boat came by it would come to a dead stop over our lines and we'd here them yell something about the fish finder being loaded with fish......I guess they must have been really suspended. In the spot we were fishing the current is too swift to use floats so I tried to use the santee rig to hold my bait a few feet off of bottom and see if I could get my bait up to them, which didn't work out either.
A few guys down the bank from us managed some hybrid stripers, a few channels, and a 4lb. flathead. They were using live shad about 5" long. Surface temps were 55 degrees in the tributaries, and 50 degrees in the river.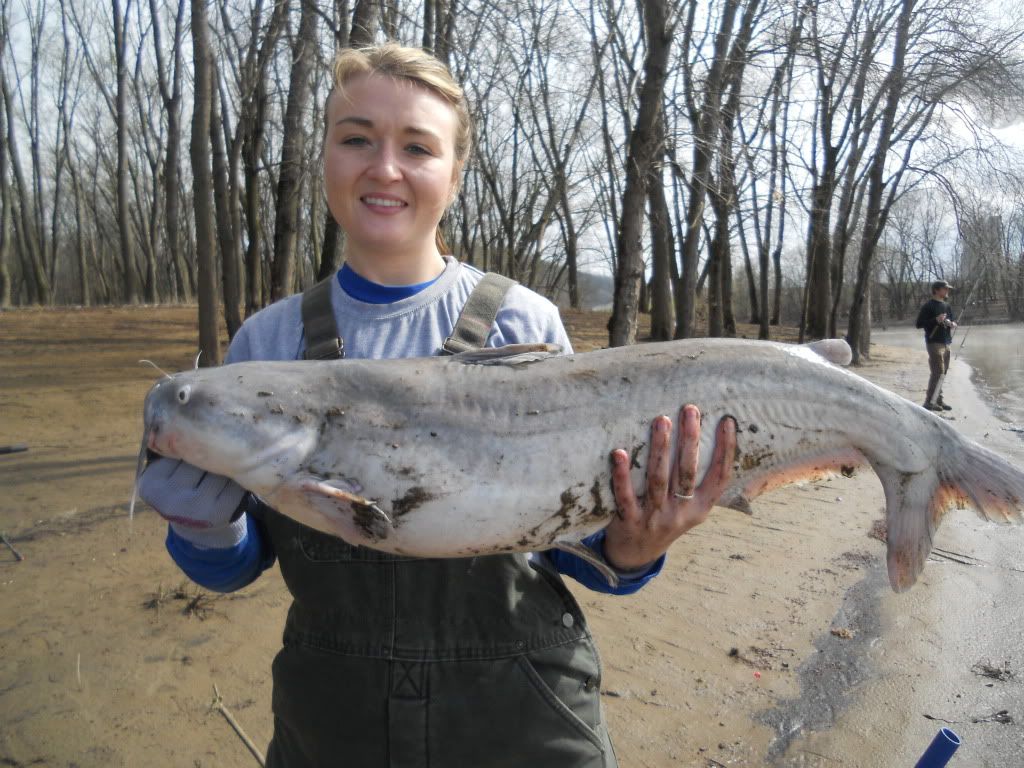 I'm sure we have all heard the saying, "Its better to be lucky than good." I have often dismissed this saying and argued that someone who is more skilled and puts forth the most effort will always do better in the long run. However after the last 3 years of fishing I have began to seriously re-consider my stance on this saying. Albeit, Amanda fishes the same spots as Rylan and I, uses the same rigs, and for the most part the same bait; she tends to consistently catch larger fish regardless of the situation. She even manages to sleep a couple hours each trip. While we fish over 1200 hours a year individually, combined Rylan and I sleep less than 5 hours while fishing all year. I guess the point I'm trying to make is that Rylan and I put significantly more effort into fishing and still fall short of her catches. Regardless of whether it be luck or skill, I'm glad at least one of us can find the fish.