Made a couple trips to my pond after work this week. Since the weather has been so ridiculously warm this year (over 60 degrees two days this week) I knew that it would be free of ice. On the 31st I went up with hopes of catching my first bass of the year as well as my first bass ever in January. I came in with the mindset of fishing deep and slow as those are the typical methods for catching Largemouth and many other species in the winter. I started out tossing a slip float with a small piece of nightcrawler. I set the depth in ranges of 7-11ft fishing right off of the bottom (the ponds max depth is about 12ft). With a second pole a tried jigging a piece of nightcrawler in the deeper parts of the pond with no luck. I also tried throwing a spinnerbait and running it slow along the bottom with no luck.
After exploring the edge of the pond for a while I soon found that the fish were not deep as I expected. They had actually surfaced near the top on the shallow side where a small creek flows in. This is the same trait that the fish usually show in late February early March when the ice has just melted. I adjusted my float to only 6 inches deep and tossed it out near visible fish and tried working a floating crankbait with my other rod. Soon thereafter I was getting nibbles on the float but the bites were light and hesitant. I managed to catch 3 bluegill with this method. Didn't get any takers on the crankbait and my hopes of January bass were lost for this year. I measured the water temperature at 42 degrees.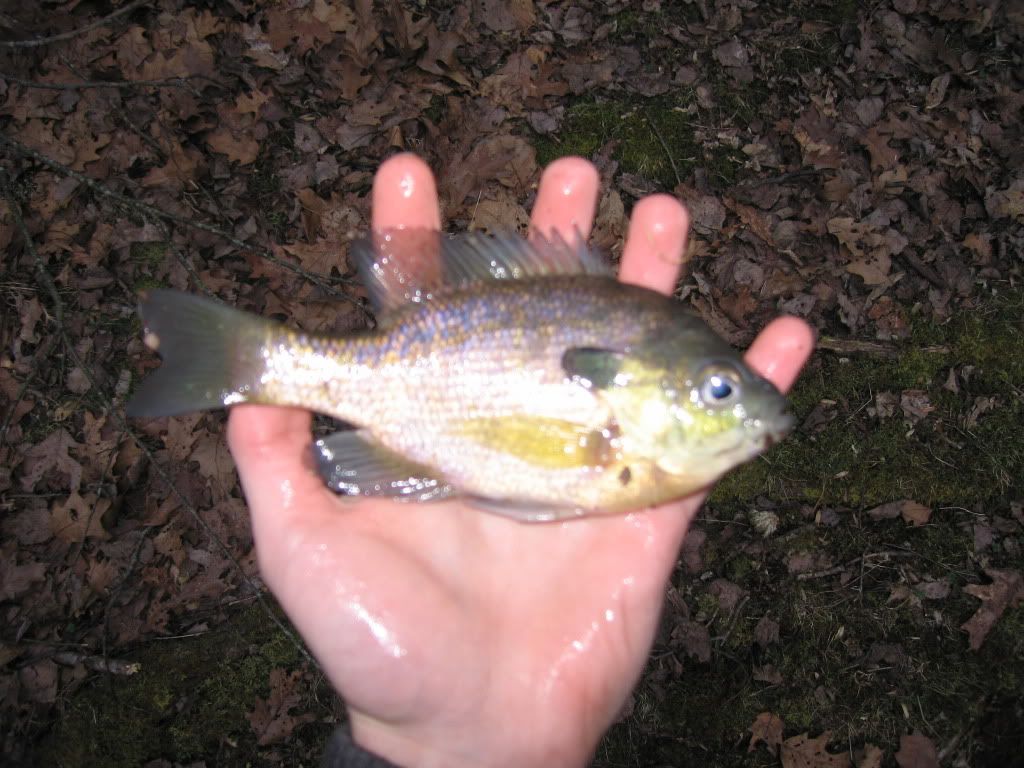 6 inch Bluegill
The next day since the weather was nice again I decided to have another go. This time I brought the big guns... crappie minnows. I worked two floats, one with a minnow and one with a small piece of nightcrawler suspended about 6 inches again. It wasn't long and I had my first Largemouth of the year.
10 inch Largemouth Bass
I ended up catching 2 Largemouth and 2 Bluegill on the day, both Largemouth on the crappie minnows and both bluegill on nightcrawler. This day the fish were noticeably more active and could be seen swimming around near the top. Once I seen how active they were I tried a floating crankbait again. I had one bass nip the crankbait but no hookups. I measured the water temperature at 46 degrees, surprisingly 4 degrees higher than the previous day. The air temperature was around 60 both days but the first day was overcast while the second day was sunny. All in all some productive first trips to the pond.