Thursday night I took a look at the weather and they were calling for 100% chance of rain Saturday, knowing that Saturday was more than likely a wash I decided to fish Friday morning. So Amanda and I headed out to the river Friday while Rylan was at work. I grabbed some frozen skipjack, a tub of chicken liver, and a bag of frozen cooked shrimp. We got set up at around 8:30am. The river was running about 4 feet high, so bank access was very limited. Amanda ended up fishing off of a cut bank, and I took the beach area to the right of her.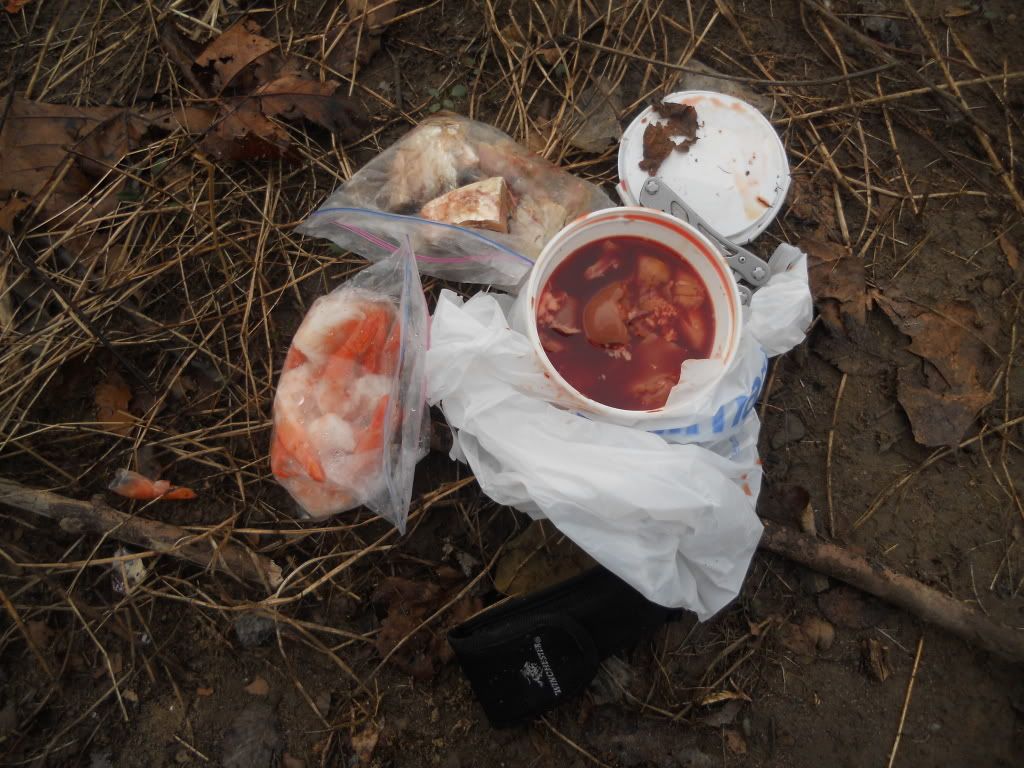 Shrimp, chicken liver, and cut skipjack herring.
It didn't take long to figure out that I had chosen the worse of the two spots. Amanda managed to catch 6 Hybrid Striped Bass and 1 Channel Catfish. Four of the six Hybrid Stripers weighed over a pound, and one of the four was two ounces short of three pounds. Her Channel Catfish weighed 2lbs and 13oz. Every single fish that Amanda caught was on shrimp, for some reason the fish didn't want liver or cut skipjack.
2lb 14oz Hybrid Striped Bass
At one point I thought I saw one of Amanda's rods start to bow, I looked over at her and thought she had fallen asleep. I quickly got my phone out and started recording. At first I thought the fish had stole her bait, but after a minute it came back.
2lb 13oz Channel Cat
As mentioned before, I didn't have quite the luck she did. I managed 7 small Channel Catfish and 1 small Blue Catfish. With the exception of the Blue Cat, all of my other fish were caught on shrimp drifted under a small float. The baby Blue catfish must have been really hungry and motivated because he took a piece of shrimp on a 6/0 gamakatsu circle octopus hook, weighted with an 8 oz no roll sinker. It was quite possible that the sinker weighed twice as much as he did.
A very motivated baby Blue Cat.
All in all we had a decent trip when you consider that its the first week of February. Maybe next weekend we'll find a few sizable fish.