At an early age I was very competitive, I played games to win. I continued playing games if I won more often that not. My hobbies were my hobbies because I was good at them, or better than average. I quit anything that I found to be challenging, or too difficult for me to master. I joined my schools band in 5th grade, turns out I didn't have a musical talent, so I quit. I went through a phase of playing video games, and for a while I thought I was good at them....well until my younger brothers mastered video games quicker than I. I too also quit that. I bought a bow last fall because I thought since I was good at shooting guns, maybe I could do well with archery. The bow is now up for sale. Throughout my life I have quit more hobbies than I have kept, mostly because I didn't initially have the talent that made me better than others.
Fishing for me began at an early age, when I caught my first fish from my car-seat as a child. Fishing then took a back seat as my parents raised 3 children. When my youngest brother was old enough to behave himself, we began fishing once again. We went through periods of intense fishing, mostly during summer and fall. We'd head out to the lake and fish for catfish and carp. At this point fishing was still just fishing, just enjoying the family outing and having fun. However when I turned 16 and I received my license, fishing became more, it became a passion. I fished every moment I could, even cutting my sleep to a few hours a weekend. Which inevitably led to my first car wreck, which ended up costing me a summers worth of wages. At this point fishing became serious, If I had a bad night of fishing I would be a pain to be around the next morning. Or so I was told. Depression is a strong emotion, but to some extent I became depressed during fishing droughts. I have seen my fishing partners go through similar phases, and it simply shows how passionate about the sport they are. We've all heard it, maybe even said it, "I'm done, I don't wanna fish anymore." (Or something like that.) In fact I have a great uncle whom I'm told fished as much as I do, but after losing a huge bass one day, packed his rods away for good. It's been nearly 20 years since he's fished.
Now I haven't always been the best at fishing, and I don't claim to be. In fact within the last few years I have been introduced to fisherman from all over Southern and Central Ohio that are leaps and bounds greater fisherman than I. Some of which I admire and look up to for their passion of the sport. For one reason or another fishing has been something that I have stuck by through the thick and thin.
Fishing is (to me) a sport, one that takes constant effort and practice. Lebron James doesn't quit playing basketball after the playoffs, he continues to practice and hone his skills. He doesn't quit thinking of basketball when he's off the court. When he lays down to sleep at night, he thinks of what he could have done differently to help his team win. This is the attitude I have toward fishing, and thus the reason for the name of the blog, Eat, Sleep, Breathe Fishing. After every fishing trip I think about what I could have done differently to catch fish. (Maybe they wanted this bait?, or, we should have fished there instead., why did that fish come from that area?, etc. )
One of the things that I have found to lay my mind at ease has been to do research. Research allows me to further my knowledge as well as pass the time when I can't be fishing for one reason or another. Over the last two years I have accumulated a small library of fishing articles, books, and videos. Most of which have an emphasis on catfish, in particularly flathead catfish. For some reason the flathead catfish has been one of the most elusive fish of all of the available game fish that swim in our local waters. Even after reading thousands of pages of literature and watching a dozen dvds, I still can't consistently catch flatheads.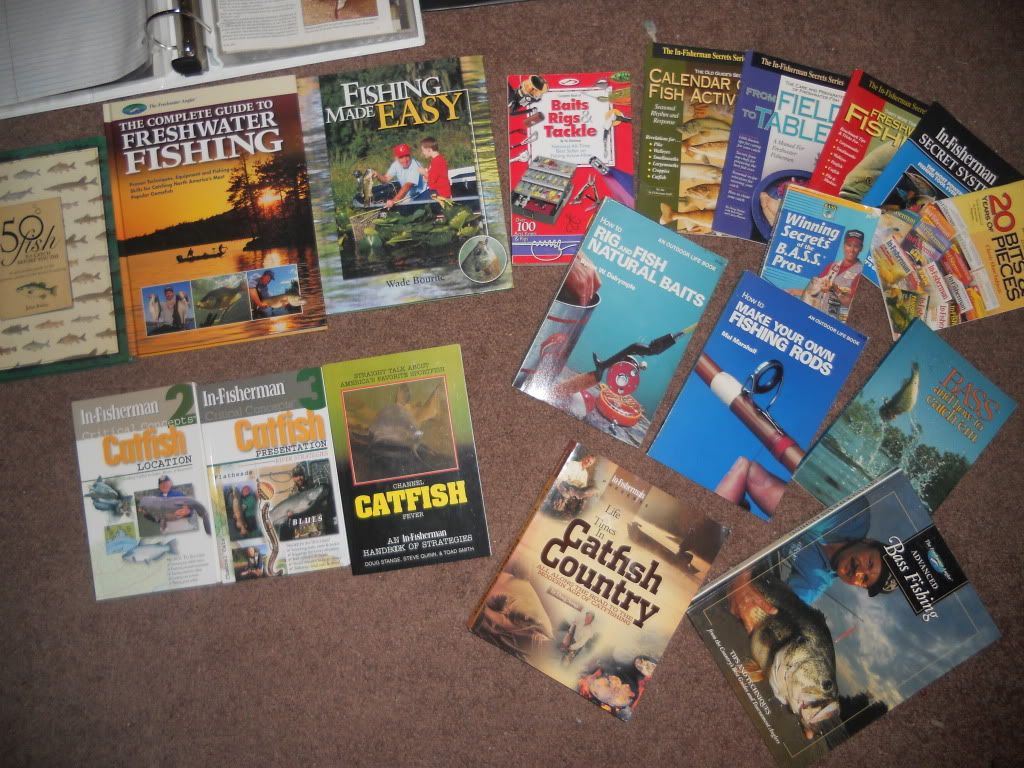 Shown above is my collection of books related to fishing. I have read all but 2 entirely cover to cover. The collection includes introduction to bass fishing books, basic rig books, a rod making book, catfish books, and so fourth. Not pictured here is the first of the three In-fisherman catfish series books. Rylan borrowed it this summer. Of the books I would highly recommend reading
Baits, Rigs, and Tackle
and
The Life and Times in Catfish Country.
However I also recomend picking up a few older books on fishing for they are far more simple and easier to understand. Pictured above are 3 books I recieved from a garage sale,
How to Rig and Fish Natural Baits, How to Make Your Own Fishing Rods,
and
Bass and How to Catch Em.
It's fascinating to read books that are 30 or more years old and find tactics that seem new to them, at the time, that are still in use today. For example there a dozens, if not hundreds of similarities between the
How to Rig and Fish Natural Baits
and the
Baits, Rigs, and Tackle
books.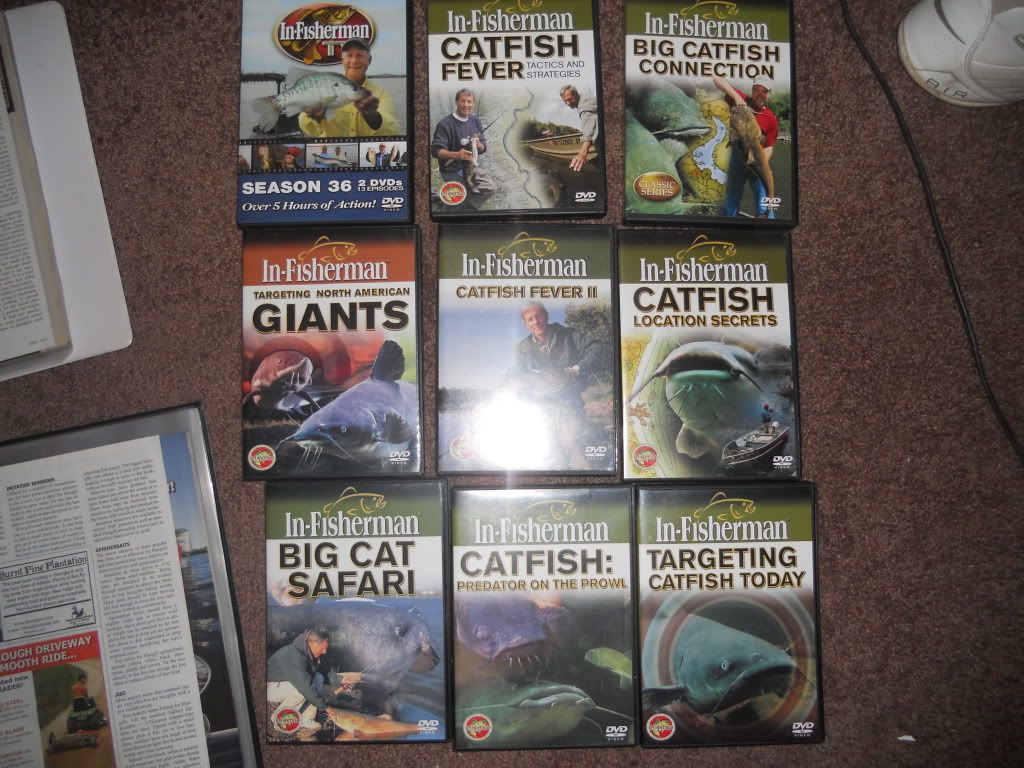 Here's a collection of my dvd's, all of which are catfish related except the In-fisherman season 36. Not shown here are In-Fisherman seasons 34, and 35 dvds. Rylan is currently watching those. In fisherman has been for some time one of the leading innovators on catfish and cat-fishing. The story of the beginning of cat-fishing as we know it are both highlighted in many of the dvd's and the In-fisherman books.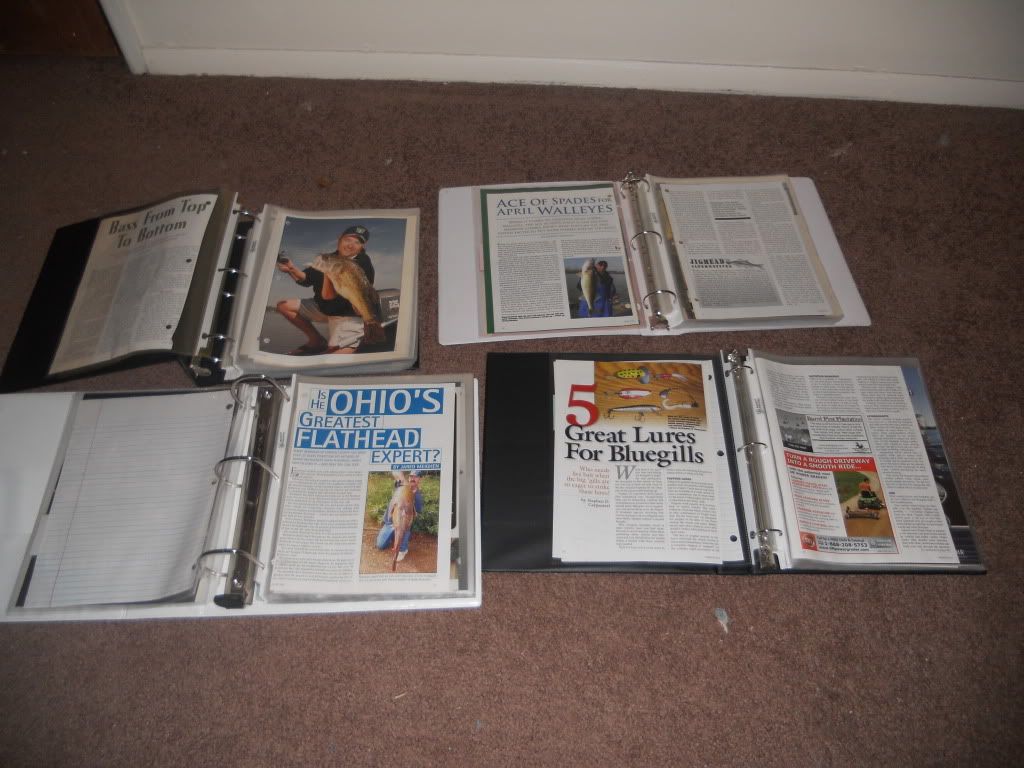 And the final part of my collection is a set of three ring binders. In these binders I keep articles I find useful from the magazines I buy. I simply cut the articles out, place them in a protective sheet, and put them into a three ring binder by category. The binders are grouped by Panfish (Bluegill, Crappie, Perch), Bottom Feeders (Catfish, Carp), Fish with Teeth (Gar, Musky, Pike, Sauger, Saugeye, Walleye), and Bass (Largemouth, Smallmouth, Striped Bass, White Bass). I constantly refer to these binders when I can't find what I'm looking for online. I also use them to share ideas with Rylan and friends on online fishing forums.
Even with all of these resources at my fingertips, I still find that the most useful information you can get comes from the people who are out on the water where you live. Especially those with many years of experience. Anytime someone that has 20, 30, or even 40 years of fishing experience has something to say or something they want to share, I try to listen.