For the past month or so it has seemed like every time the river has started to fall back to its normal pool levels that we'd get another good rain. Finally we got a chance at some nice weather and fishable river levels. So we decided to give the crappie a break and head down to a nearby warm water discharge on the Ohio River. We got our lines in the water at about 10:30am and fished until we could no longer see....which happened to be at about 6:00pm. We didn't prepare ahead of time so we were forced to fish with store bought bait. We stopped by Wal-Mart and picked up a tub of chicken liver and grabbed a bag of cooked shrimp. We began by casting spinner baits, small swim baits, and jigs to see if we could find active fish. Rylan quickly caught a small hybrid striper, but the action soon died. And with no success we set out bottom lines in home-made rod holders to run circle hooks, tight-lining shrimp and liver. It wasn't long and we were getting plenty of bites, but we were having a hard time getting the fish to load the rods completely. Every now and then we'd find a fish that was capable and willing to take our bait. I turned and looked to my rod as it bowed slowly toward the water. I figured that maybe a log had drifted into my line, and then it loaded. The hybrid striper ended up weighing 2 pounds and 13 ounces.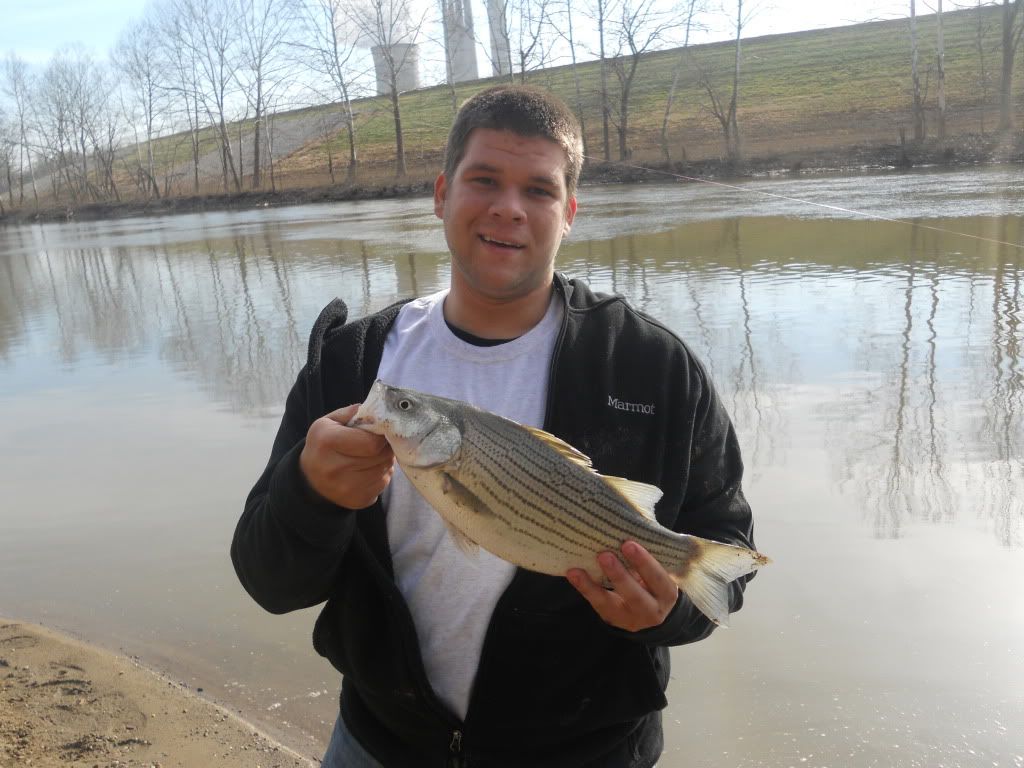 2lbs 13oz Hybrid Striper
As I posed for the quick picture a game warden appeared from the edge of the woods to check our licenses. We're always happy to show our fishing licenses, because it makes us feel like the $19 we spent for fishing licenses wasn't in vain. We spoke briefly and began fishing again. It seemed like hours in-between fish, and after getting cleaned over and over, Rylan announced that he was going to "plan b." "Plan B" was switching from a size two hook to a much smaller hook, which would in turn allow him to catch whatever was stealing his bait. It worked; he quickly landed a few 7-9 inch channel catfish. I quickly changed my hooks and tried my luck with the dinkers. An hour later and I had caught a channel cat, and a couple baby blue catfish. At this point Amanda had awoken from her sleep and re-baited her poles. It wasn't long before her ugly stick tiger began to bow. A quick few bursts of speed and a slip or two of the drag, and we landed the fish. The scale read 3 pounds and 8 ounces, and it was 19 inches long.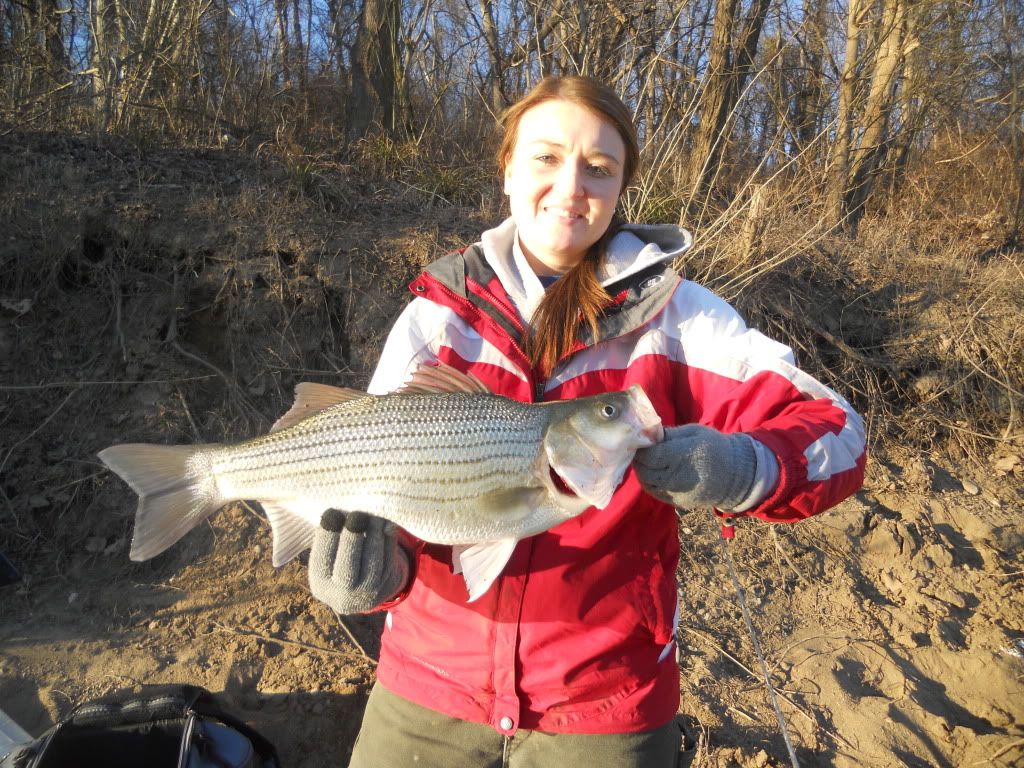 3lbs 8oz Hybrid Striper
To say that I wasn't annoyed about her being asleep and then catching the largest fish of the day, well that just wouldn't be telling the truth. About 20 minutes later it happened again, this time she had landed a 1 and a half pound hybrid striped bass. I quickly changed my hook once again, in order to capitalize on this hot bite. Sure enough the bites stopped. It began to get dark and Rylan started fiddling with his tackle box, and the next thing I know he's 100 yards down the bank fighting a fish. After a few quick sporadic jumps I knew that he had hooked into a skipjack herring. He landed it and began walking toward me. I asked him if he was going to weigh it, and he stated, "why not?" The Skipjack weighed 2 pounds and 6 ounces.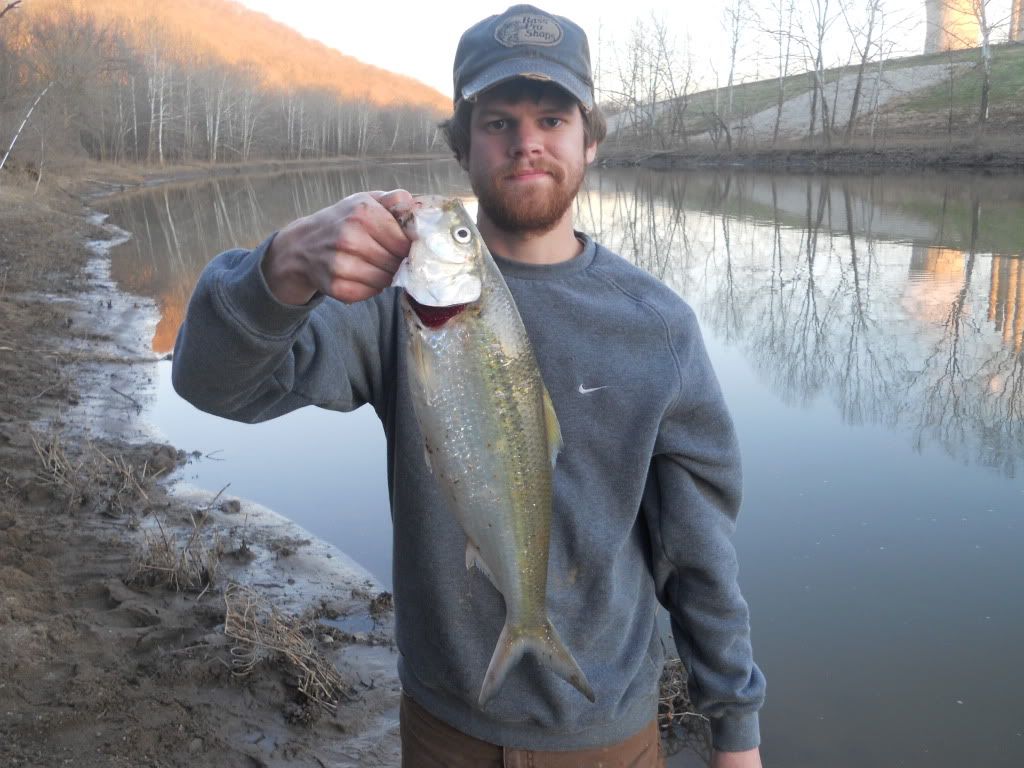 2lbs 6oz Skipjack Herring
At this point the plan was to release the fish unharmed, but as Rylan began to put the skipjack on the scale the fish began to jerk violently and ended up bleeding really badly. We didn't want to waste the fish, so we decided to take it home and freeze it for later use. We didn't catch any Fish Ohio Trophies, but we were happy just catching a few fish here and there and enjoying the 60 degree weather in January.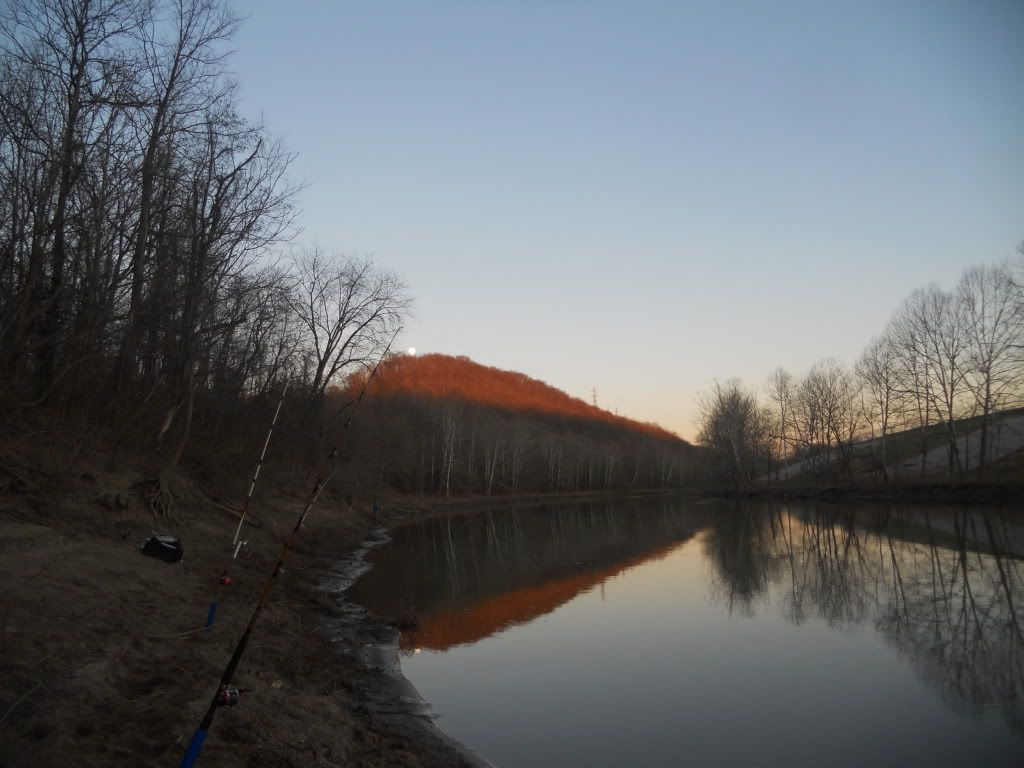 Here's a pretty cool picture I took while Rylan was fishing down the bank. You can see the moon beginning to rise as the sun is setting across the sky from it.