Picture of boat I recieved from the owner.
This weekend I picked up my first boat, a 14 foot modified v Jon boat. It came with a trailer, 7.5hp Ted Williams outboard motor, and a 35lb. thrust trolling motor. The idea of getting a small boat came to mind when talking with a local bait store owner. He informed me that the reason why we weren't catching flatheads in a particular stretch of stream was because it was trot-lined from March until November. Well that didn't sit well with me, but I think I figured out how to outsmart those pesky trot-liners. I'll just go where they can't. That's the plans anyway. So after a week or two of debating and doing some research on boats I found out what I needed. I reached the conclusion that a Jon boat would be the most cost effective method for us.
I began looking at 10 foot flat-bottom Jon boats. They were light enough for us to carry across shallow riffles (around 150lbs) that would prevent others from further upstream movement. They sit about 5 inches deep, which would also aid in our shallow water travel. However, I quickly realized that the maximum weight ratings of these boats ranged from 300-400lbs. I'm 250 pounds, when you start adding trolling motors, batteries, gear, food and beverages, and bait, the weight quickly exceeds the maximum of the boat. It wouldn't have been possible to even bring another person along, and what's fishing.....I mean bragging, without someone to brag to?
So I quickly ruled out a 10 foot Jon boat as an option. When I began looking into 12' flat bottom Jons I was informed by a few friends that I would do better to get a modified v bottom boat. I was warned that if I took a flat bottom Jon boat on choppy waters, that I'd soon be swimming for the bank, leaving my boat and gear behind me. Being a multi species angler, I like the option of fishing wherever I want, and whenever I want. Modified v boats have the benefit of holding heavier weight loads, and navigate better through choppy water. On the down side was the fact that they sit deeper and weigh more than their flat-bottom counterparts. It was a decision I was willing to make for safety.
Home-made Motor Stand
I began searching craigslist, asking friends on
Catfish Freaks
, and searching the
Ohio Game Fishing
Marketplace. I made a few posts inquiring about Jon boats, and after a week I became discouraged. Most boats were either too small, or too expensive for my budget. I soon found a post on Ohio Game Fishing's Marketplace that had a 14 Jon boat with trailer, outboard, and trolling motor for $550. It was a little larger than I wanted, but it was in my price range. At first I was only interested in the boat and trailer, but after a few days I decided that if I ever wanted to fish big waters that I'd need an outboard motor. The guy only wanted $250 for the outboard and trolling motor. So instead of wasting time shopping around for weeks and driving hundreds of miles, I figured I'd just get everything now. He let me have it all for $500. But before I went to pick up the boat I knew that I would need a motor stand to keep my outboard and trolling motor inside out of the cold. So I built my own out of wood I had lying around.
7.5hp Ted Williams, and Prowler 35lb thrust trolling motor.
I met him last Friday and picked up the boat. I was informed that the boat had a small leak near the front, and that it wasn't enough to worry about. However I felt that small leaks would rust and turn into big leaks. I brought it home and made a list of what I needed to make the boat "sea worthy." I would need a bow light for navigation, a stern light for night fishing, anchors and anchor ropes, battery tester, and something to seal the leaks. I had read previously on an online forum that a guy used a "do-it-yourself" rhino truck bed liner to coat the bottom of his Jon boat. His intent was to deter rocks and trees from harming his hull. I began to research the do-it-yourself bed liners and found that they were indeed water proof. If I bought a kit, I would essentially kill two birds with one stone. Sealing the leak, and adding a layer of protection to the boat. On my way to Wal-Mart I stopped in AutoZone to see what they offered. They had a Dupli-Color kit on sale from $110 for $79. I got it and headed to Wal-Mart to get the other boat essentials.

Truck Bed Liner
I got home and called Rylan after he had gotten off of work. He came over and we inspected the boat. We lifted it off of the trailer to establish that we could indeed carry it over shallow water. We carried it uphill about 100 yards and put it in my garage. After he went home, I quickly began prepping the boat for its first coat of the bed liner. I began by hand washing the bottom of the boat with a 5 gallon bucket and dawn dish liquid. The next step was to scuff the surface of the boat. The kit came with a scuffing pad, but Amanda and I used 180 grit sandpaper and lightly sanded the desired area. While sanding I would periodically use the air compressor to blow away the metal shavings. I then washed the boat a second time. It was then time to tape off the area that I wanted to cover. I used a ridge near the stern of the boat to judge where I wanted to stop. It just so happened that the ridge sat about 9.5 inches from the rim of the boat. For a guideline I tapped off the entire boat at this distance from the rim. I then began applying the first coat of bed liner. By the time I had finished the second side, it was time to re-apply a second coat to the other side. At about midnight I took a break and let the liner set up. At about 3am I gave the boat its final coating of bed liner.
Saturday I had plans to sell/trade my Xbox 360 for a fish finder, so in the morning I brought the trailer up to the garage to let it melt off the ice that had accumulated over night. I knew that I had some wiring to do and rod holders to install so while I was off selling my Xbox it would have time to dry so I could later put the boat on the trailer and begin working. I met my man in Chillicothe but with the ice storm the guy didn't make it to his barn to retrieve the fish finders. Instead I got $130 and drove over to Menards and began buying pvc pipe, pvc fittings, electrical wire, clamps, etc. for my rod holders and wiring needs. Spent about $50 there, and headed back home.
Rod Holders
I arrived home and put the boat on the trailer. I then called Rylan over to examine the possible rod holder placement on the boat. We both decided to anchor the rod holders to the inside bench seats rather than drilling holes in the side of the boat. He wanted to install 12 pvc rod holders, 4 to each bench seat, but I had only bought 10 feet of 1.5 inch pvc pipe. After a few measurements I found that I could only add about 8 rod holders at this point in time. He went home and I began working. I cut and mounted each pvc to the bench seats with heating duct straps. I found that one strap was enough to support the rod holders. If in the future a rod holder fails, I have the option to add another strap. After about 2 hours I had installed all 8 rod holders.
Bow navigation light and Pvc pipe.
It was now time to start mounting the navigation light. I drilled two holes and found a couple screws lying around to mount the light. My next step was to run wires from the light to the battery. In order to decrease the amount of speed it takes to get a boat to a plane the boat must be balanced. Therefore I decided to put the battery toward the front of the boat. I ran my wires through 1/2 inch pvc pipe to a T fitting where I figured I would put the battery. Since the battery would be near the front of the boat, I would have to run wires for the trolling motor. This was my next step, I fed wires through the pvc and then through the T fitting. I then added fittings to the end of the wire to connect to the battery. I did the same at the end of the boat for the trolling motor to connect to.
T fiting where the battery will sit.
At this point it was getting late so I decided to call it a wrap for the weekend. This is how the boat sits now. I do however plan to add a false floor for the battery to set upon and a trolling bar with driftmaster rod holders at the stern. I also plan to add an instrument panel with battery life gauges, toggle switches for lights, and mount the fish finder to it. I may even paint the boat a hunter green color in the future, but I want to make sure that all leaks are fixed, before any painting occurs. I have a month and a half before ice out, so I should be able to get her "sea worthy" by then.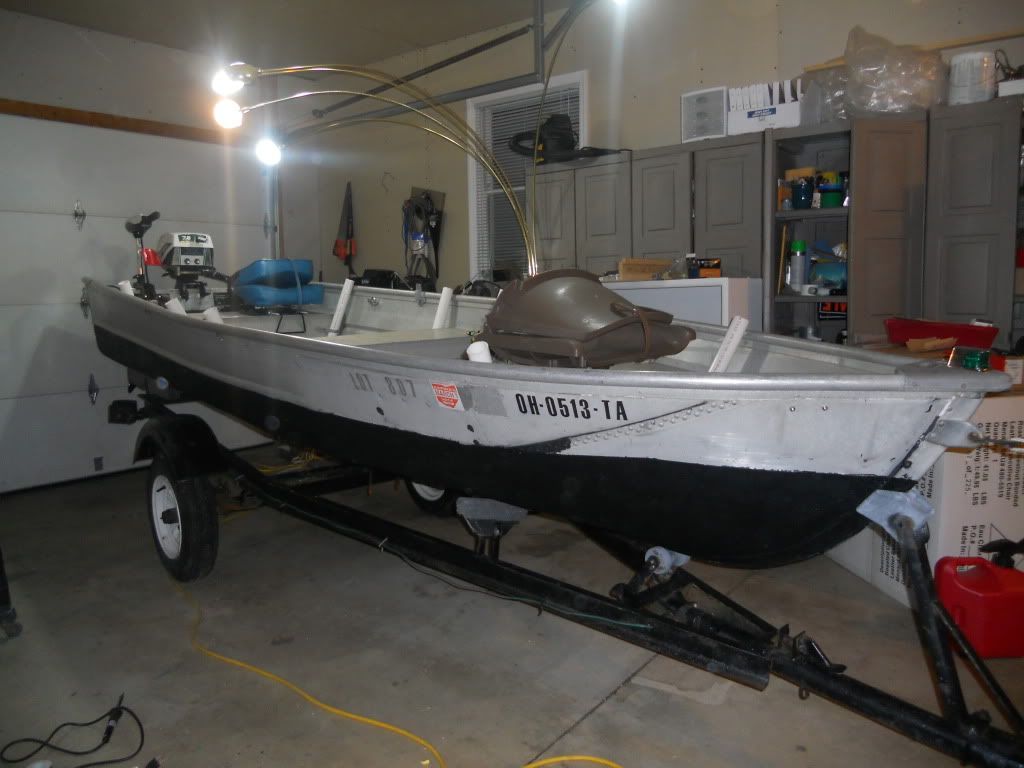 Week 1 final product.