As mentioned before, we are multi specie anglers. This means that we need to have the equipment to fish for panfish such as crappie, bluegill, and perch one moment and fish for catfish and carp the next. Within the last several years we have accumulated over a dozen rod and reels each and hundreds, maybe even thousands of dollars in terminal tackle. Therefore organization is pertinent. We have found that the backpack style of tackle boxes have enough room for our equipment as well as are the easiest to carry over long distances. Which is useful when bank fishing. Below is a picture of my tackle box and its components.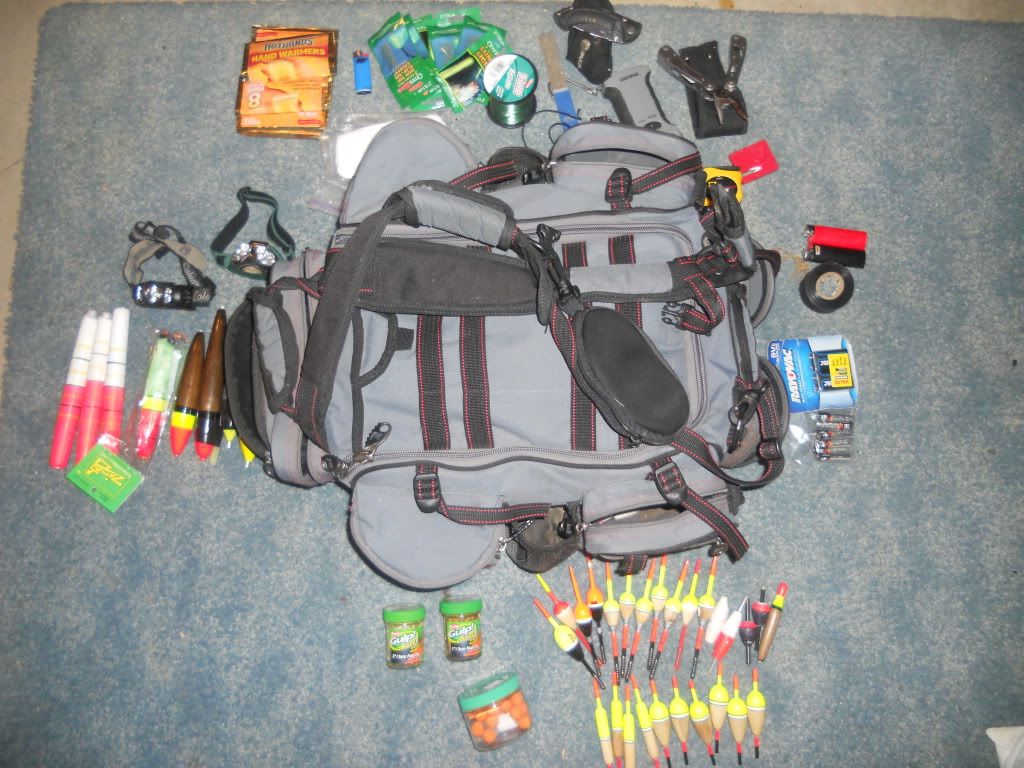 My tackle box and its contents.
Starting from bottom and working clockwise: The first pocket contains slipfloats and springfloats. The pocket at 7 o'clock contains gulp alive products and boilies...common carp bait. The pocket at 9 o'clock contains catfish floats and headlamps. The pocket at 11 o'clock contains hothands, glow sticks and clips, a lighter, and a ziplock bag containing a list of current state records. The pocket at 1 o'clock contains a multi tool, a knife, hook sharpener, knife sharpener, 20lb big game fishing line, and a 50lb digital scale. The pocket at 3 o'clock contains lighters, electrical tape, and batteries for headlamps and digital scale.
Inside of the tackle box there is a saw, filet knife, gloves, 100lb spring scale, and various smaller tackle boxes. As mentioned above we have tons of tackle, more than what can fit in our backpack style tackle boxes. Therefore we have several boxes that we interchange depending on our fishing interests.
Here's a look into my individual boxes. Not pictured is of course my camera.
| | |
| --- | --- |
| Hooks, Swivels, knots, beads, etc. | Sinkers, sinker slides, and styrofoam |
| swimbaits, grubs, spinner-baits, jigs, etc. | Crankbait Box |
| Swimbaits, crawdads, and frogs | Worm box |
At any given time our tackle boxes can weigh in excess of 25 pounds. Here's a picture of what my tackle box weighs now with just three boxes. Often times I will pack 4 or 5 when I am unsure of what species I will be targeting during our fishing trip.
Since we target fish large and small we need to have rods ranging from 4 foot ultra lights to 9 foot medium heavy rods. Since our rods vary so much in size its hard to find a manufactured rod holder that accommodates for the wide range of sizes. Therefore I have found the best way to store my rods is on a simple home-made rod rack. Below is a picture of my rods on the home-made rack.
The bottom consists of a 1x6 inch board with 1.75" holes cut every five inches apart. This serves as the base of the rod rack. The top is a 1x4 inch board with 1" holes drilled with offset groves cut to allow the rod tips to slide into them. Here are two pictures of the cuts described.
Last year Rylan invested in some plastic storage containers to store his excess fishing supplies in, and I liked it so much that I stole his idea. Here's a picture of the containers.
Storage Drawers.
From top to bottom:
The first shelf contains floats, tools, and extra bags for storage. The second shelf contains spools of line, reels, and reel parts. The third shelf would normally contain the clear tackle boxes containing my hooks, sinkers, and panfish lures. The fourth shelf contains the crankbait box, worm , and swimbait boxes. The fifth box contains boilies, blood bait, etc. The last box contains miscellaneous fishing supplies such as tarps, cast net parts, old tools, etc.